Aisha was the star at a recent party where she performed as a belly-dancer.  Through several dance routines, I had the luxury of having enough time to move from just the safe shots, to playing around and getting more diverse images …
The 'safe shots' would be where I used flash to light her up, and help freeze action somewhat.  This would give representative photos, while still retaining most of the ambiance:
Switching the flash off, or just turning the power down .. and concentrating more on the ambient light, gave me much more interesting images.  Of course not every image worked now, but I was pleased with the wider range of images.  I felt they were more intriguing, like the opening image at the top.
Without flash, it was a little tougher, with focusing not being as sure in the dark, and excessive subject movement spoiling some images … but for some, the movement added to the mood ..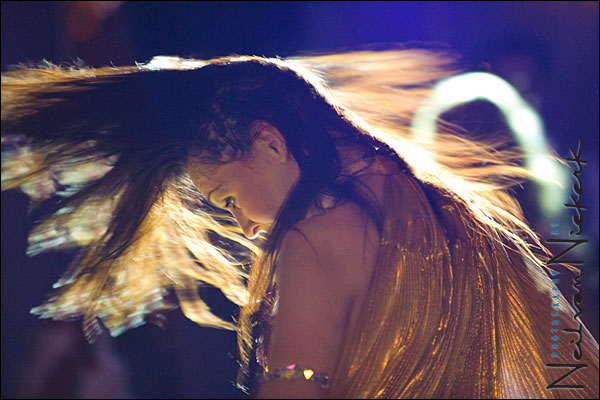 [ 1/1ooth @ f2.8 @ 25oo ISO ]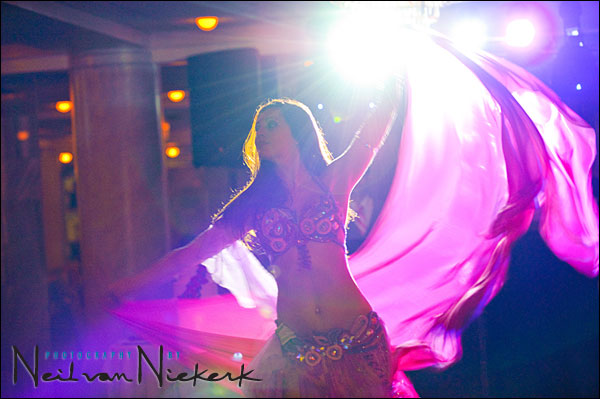 equipment: 
Nikon D3;   Nikon 24-70mm f2.8 AF-S   or  Nikon 70-200mm f2.8 AF-S VR;  SB-900 at times.
settings: 
all at 1600 ISO, except as noted for the 3rd image at the top.
apertures  f3.2 – f2.8  //  shutter speeds ranged from 1/30th to 1/100th
newsletter / forum / workshops & seminars
Stay informed of new articles via the monthly newsletter.
Also join us on the Tangents forum for further discussions.
If you need more direct help or instruction on flash photography,
I do present workshops & seminars and also offer individual tutoring sessions.
If you find these articles interesting and of value, then you can help by
using these affiliate links to order equipment & other goodies. Thank you!