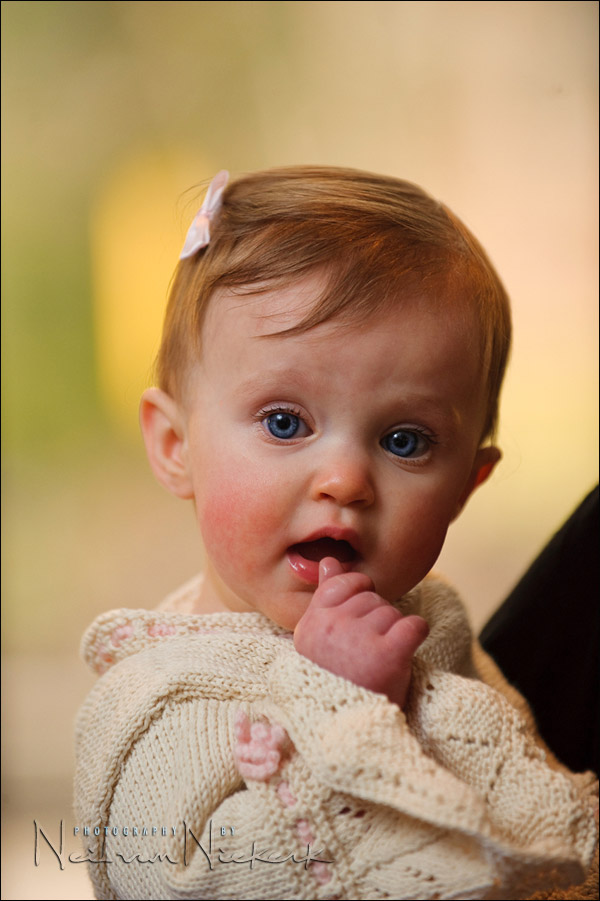 Bounce flash – balancing foreground and background exposure
Lighting for the impromptu portrait of this little cutie was simple – just an on-camera speedlight, bounced up and over my left shoulder.  This gives soft directional light.  A simple technique that works every time when using on-camera flash indoors where there are light ceiling and walls around.
Settings: 1/250th @ f4 @ 1000 iso; TTL flash
My exposure settings was determined by the out-of-focus garden area outside, seen through a large window. It was over-cast, and therefore not super-bright. This meant that the bounce flash had a chance at balancing my exposure for my subject, with that of the background.
This little girl's mom asked me for a few quick portraits of the two of them.  So to keep the background simple (and avoid the other guests and the food tables in the frame), I had her hold her baby with the two of them standing in front of (but away from) a large window.   The green in the background are the out-of-focus trees outside.  The yellow patch is a reflection of one of the tungsten spotlights in the ceiling inside the room.  In composing this portrait, I purposely positioned the out of focus yellow highlight right there.
This is when it all comes together for a simple and effective portrait – the expression (or moment), deliberately combined with a complementing background and beautiful light.  And this is the point I wanted to make with this post .. look at your background. Move yourself and move your subject until your background, at the very least, isn't distracting.   But better yet, look at the background and frame your subject such that the background enhances the image.
Video tutorials to help you with flash photography
If you like learning by seeing best, then these video tutorials will help you with understanding flash photography techniques and concepts. While not quite hands-on, this is as close as we can get to personal instruction. Check out these and other video tutorials and online photography workshops.