bounce flash for portraits of a bride
Deep into the busy part of the wedding season, the articles posted recently will be more wedding-centric than usual. But, as I've mentioned before, many of the techniques translate to other fields of photography.
This photograph of a bride, Christine, received some very favorable comments when I posted it on Facebook. So I thought it might make a good topic here, as well as being a good recap of some essential bounce flash techniques. The portrait is quite straightforward in execution – the lighting was quite simple, but effective. It was also super fast to set up.
Photographing Christine, the bride, in her parent's home, she wanted a photo here at the bottom of the stairs. Instead of setting up off-camera flash, I knew I could shoot much faster and get similar results by bouncing my on-camera flash in a specific way. The trick to using on-camera bounce flash, is to bounce it toward the direction you want your light to come from. It's not an efficient way to use flash since much of the light is lost. However, the light that returns looks very sweet indeed. And of course, I used the infamous black foamie thing to shield direct flash from hitting my subject. I bounced the flash toward my left shoulder into the room behind and to the side of me. I wasn't bouncing off a specifically chosen surface … but rather, a specifically chosen direction.
Here is the straight-out-of-camera image for comparison.
Click on the image to see a larger version.
Aside from the Exposure and WB adjustment of the RAW file, I also edited out the wall and phone plugs and piece of carpet in the JPG that I generated from the RAW file. This kind of retouching of the JPG is something I only do for posting on the blog and on Facebook, and of course for album and print orders.
camera settings: 1/60 @ f4 @ 800 ISO … TTL bounce flash
Nikon D3,  Nikon 24-70mm f2.8 AF-S (B&H)  … at 32mm
Nikon SB-900 (B&H);  Nikon SD-9 battery pack (B&H)
My camera settings were chosen such that enough of the ambient light registers to give a greater color palette to the image.
My WB setting somehow was set to Auto, which I rarely use. But since I shoot in the RAW format, it was of no consequence. I finessed it in post. Simple. Bouncing my flash off the colored surfaces in this lobby, would also have affected any WB preset I might have used. Ultimately, I had to shoot in RAW. In fact, I think I should create a new terminology for WB settings. What WB am I using? "Daylight RAW" … or, "Cloudy RAW" … meaning that my WB setting, while chosen, is a flexible setting exactly because I am shooting in RAW.
Something else to note – in bouncing the flash like this, above and to the side of me, there are no flash hot-spots in the wood. The light from the flash is now a large diffused light source. Soft and directional – just like we want the bounced flash to be.
In line with my recent observations that it is more interesting to use a diverse way of lighting our subjects, here is a portrait of Christine lit by hand-held video light.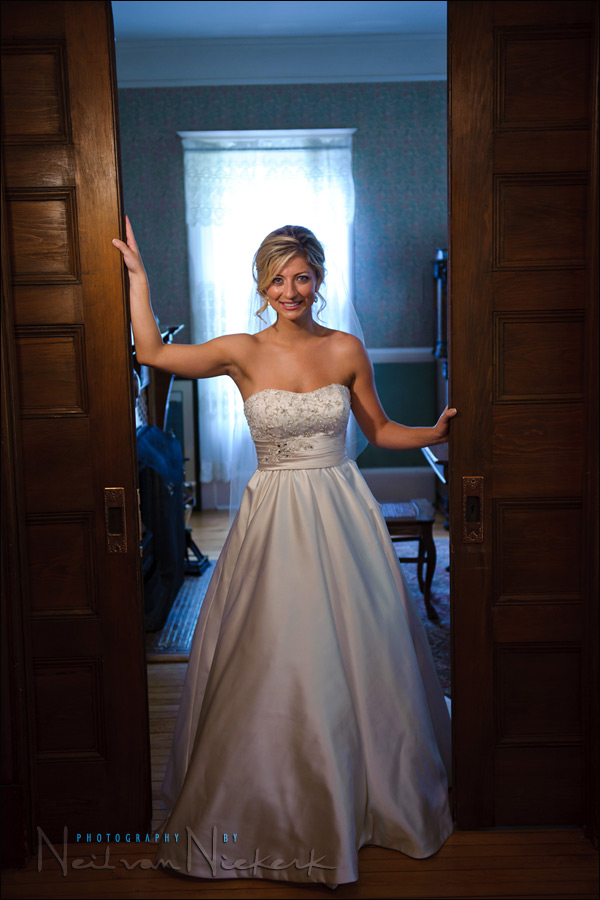 camera settings: 1/80 @ f2.8 @ 800 ISO
As always, the video light gives dramatic lighting with how quickly the light falls off to the edges. I had the Incandescent gel over the video light, and this gave that distinctive blue hue to the background which is daylight filtering in through the curtains. I commandeered the bride's dad to hold the video light for me. Nice guy!
more articles on wedding photography
more articles on flash photography
more articles on the use of video light for photography
newsletter / forum / workshops & seminars
Stay informed of new articles via the monthly newsletter.
Also join us on the Tangents forum for further discussions.
If you need more direct help or instruction on flash photography,
I do present workshops & seminars and also offer individual tutoring sessions.
If you find these articles interesting and of value, then you can help by
using these affiliate links to order equipment & other goodies. Thank you!