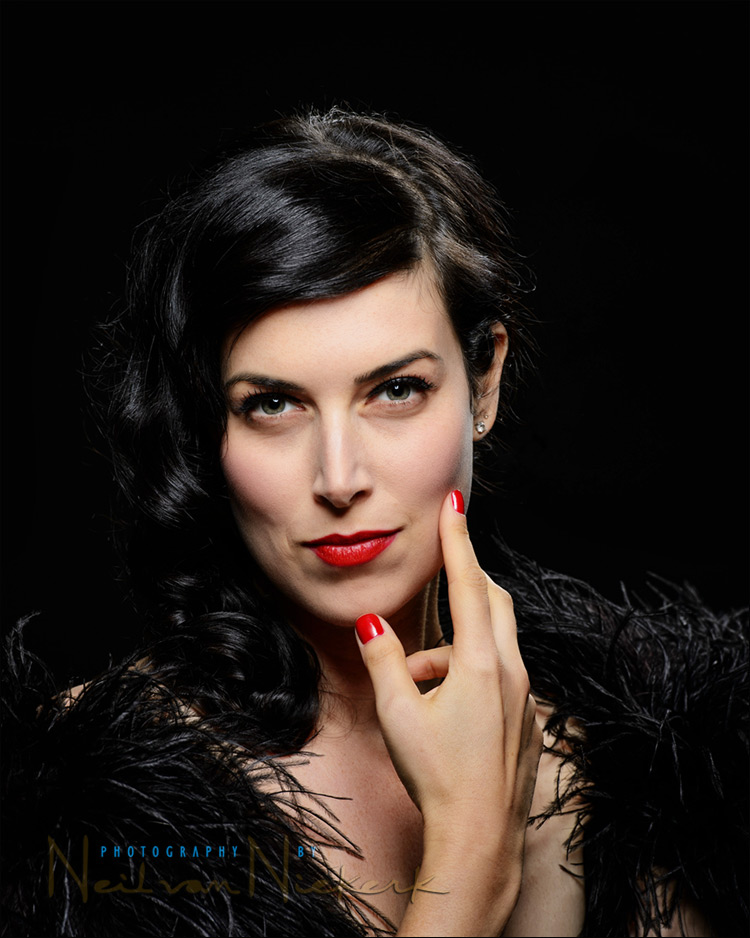 studio photography: low-key lighting – vintage portrait – Randy
Randy has a look reminiscent of Ava Gardner, so I asked her to be a subject for my book on Portrait photography. I wanted to create a portrait of Randy in the Hollywood Glamor style of lighting, similar to the vintage styled boudoir photo session (with Olena). And it looked great! But while I had someone so photogenic and with such dramatic styling, I wanted to take further photos of Randy, and she happily indulged me.
For one of the setups, I wanted to explore again using the Profoto beauty dish (B&H) as a single light source. As mentioned in a previous article - thoughts on using a beauty dish - a beauty dish is best used with a grid to contain the light spill. This does mean a beauty dish has to be used in a specific way – close up to your subject, and with specific posing. Without additional light from other light sources to give fill-light, a beauty dish can be fairly challenging as a single light source.
I wanted a low-key look, so I used a dark grey backdrop, and worked well ahead of it so that the light from the main light (beauty dish) had very little effect. (The Inverse Square Law helps here with the non-linear light fall-off to the background.) But to not have Randy's dark hair melt away into a black background, it needed a hair-light of some kind. I set up a gridded Profoto RFi 1×3 softbox (B&H) behind her light from the back (and above).
{ 7 comments }