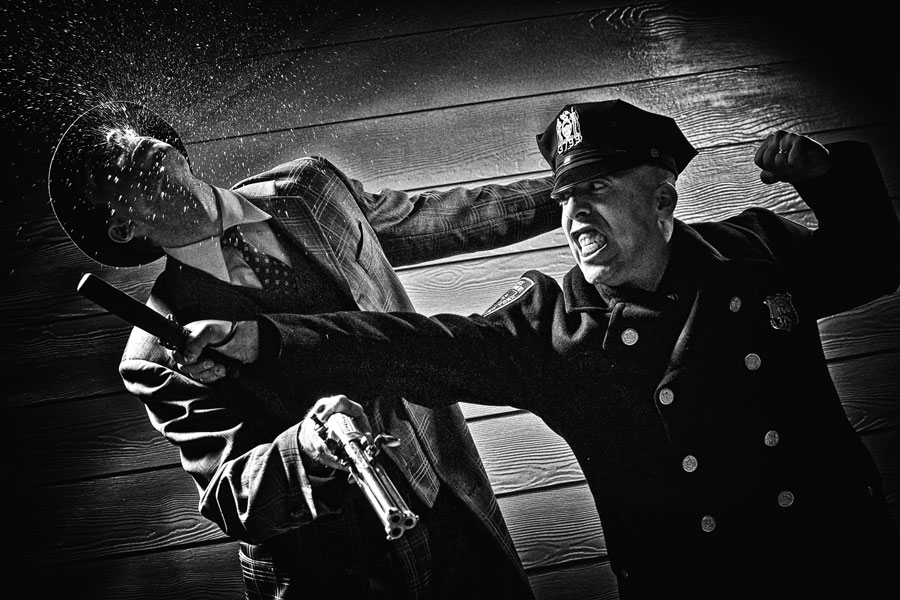 photography inspiration: Film Noir Fight Scene
The Hudson Valley Click is a group of photographers in New York who arrange photo shoots for photographers who are interested in learning more or who would like to build their portfolios. I've mentioned them a few times in the past – photo shoot / haunted fashion / pin-up photography. With these photo sessions, they arrange for models and hair stylists and make-up artists, and for a small entry fee, you get to play. They are also pretty cool bunch of people to hang out with.
At the most recent shoot-out, the one organizer, Nuby DeLeon, showed me an image that he had set up, and my jaw dropped. With great pre-visualization of the intended shot, Nuby had set this dramatic scene up. Even the color image on the back of his camera looked perfect! Nuby was gracious enough to allow me to share this with everyone, including the lighting diagram …
setting up the photo shoot: Film Noir Fight Scene
a guest post by Nuby DeLeon,
portrait, wedding & commercial photographer – New York
Recently, I've had the opportunity to explore dramatic lighting when Hudson Valley Click did their monthly themed shoot at Mountain View Manor in Glen Spey, NY. The theme for the month was Film Noir so having a beautiful Victorian mansion to shoot in was a treat. There were a number of models, all dressed in period costume.
My inspiration for the shot is Frank Miller. I wanted to match the dramatic lighting with some dramatic, almost over the top action.
{ 2 comments }