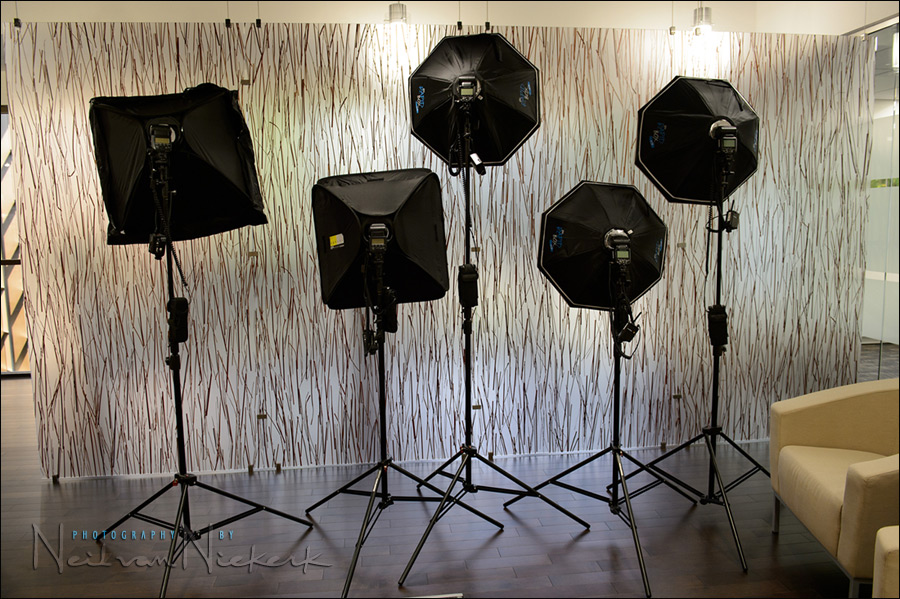 on-location corporate headshots – aiming for efficiency and speed
That's me, all set up for on-location corporate headshots last week. Five speed light & Softbox set ups, to be placed in a different area each, to efficiently give 5 different looks. My client wanted head-shots of a list of people, with varying backgrounds around their offices. And also with different sets of clothes. We decided that 5 different looks would work best, and give them variety.
I considered the options I had. Two of them amounted to too much disruption:
– dragging one light around, and setting it up every time for each person, or
– setting up in one spot, and then having everyone file past. And then setting up again, and having everyone file past me.
The best and most elegant option immediately seemed to be to  set up lighting in 5 different spots, with pre-determined exposure settings and flash settings … and then walking each person to each spot. This sounds like a mission, until you realize that 3 of the spots were within 20 yards of each other in the main lobby area.
Instead of moving a light-stand around, I would walk up to the already set up light-stand & speedlight, and switch on the radio trigger for that spot. All setting up and testing done before-hand. Fast and efficient. Then, at 30 minute intervals, the next person would join us.
Here is a close-up shot of one of those setups:
{ 26 comments }