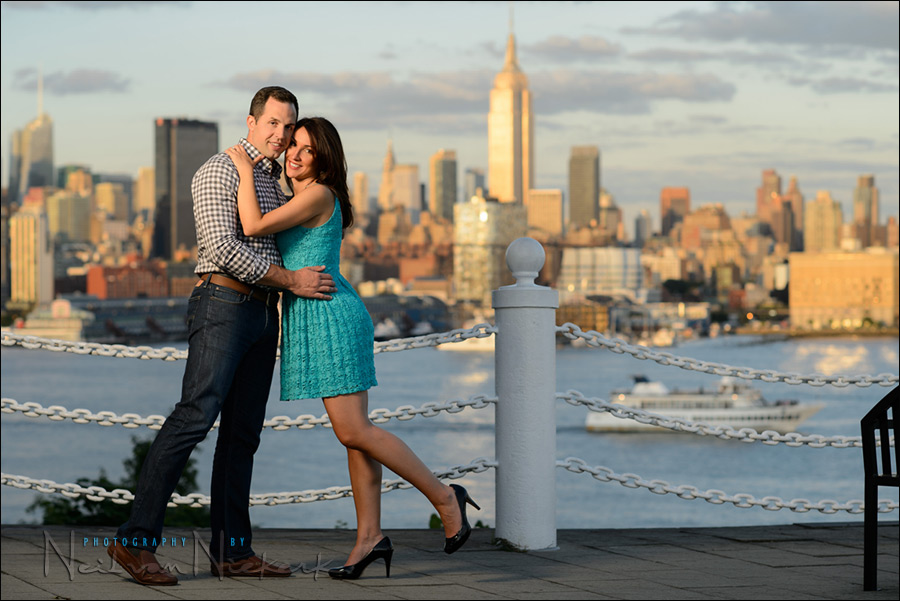 gelling your flash for the warm light at sunset
Since the light from a speedlight is relatively quite cold, (ie, blue-ish), it can create an unpleasant color cast when you use flash with existing warm ambient light. A typical problem situation would be the Incandescent environment that we often find ourselves in at night. But there are other times when the WB from our speedlights (typically around 5400K) is just too cold (blue) compared to the light we have at sunset. (The Daylight WB preset relates to color of daylight during the middle of the day.) Then we need to do something with our flash to help match those warm hues at sunset. Gelling is the answer.
With this photo session of Lauren and Chris, we were at this breath-taking vantage point overlooking Manhattan. The sun was starting to set and taking on those very warm tones that look so gorgeous. Blue-tinted flash would've spoiled this. Since they were in a shaded spot, I had to use additional lighting here. I had to try and make it appear as if they were bathed in the same warm light.
I normally keep 1/2 CTS gel taped to my lens hood, so that I have ready access to gels. The 1/2 CTS is measured for 3700K which would've been too warm in this instance. So instead of covering the entire face of the flash-head with the gel, I only partially covered it, by turning the gel sideways. In other words, taping it down vertically instead of horizontally over the flash head … and this was just enough to have the same warm light on the couple, as there was on the city. A much better balance.
{ 21 comments }