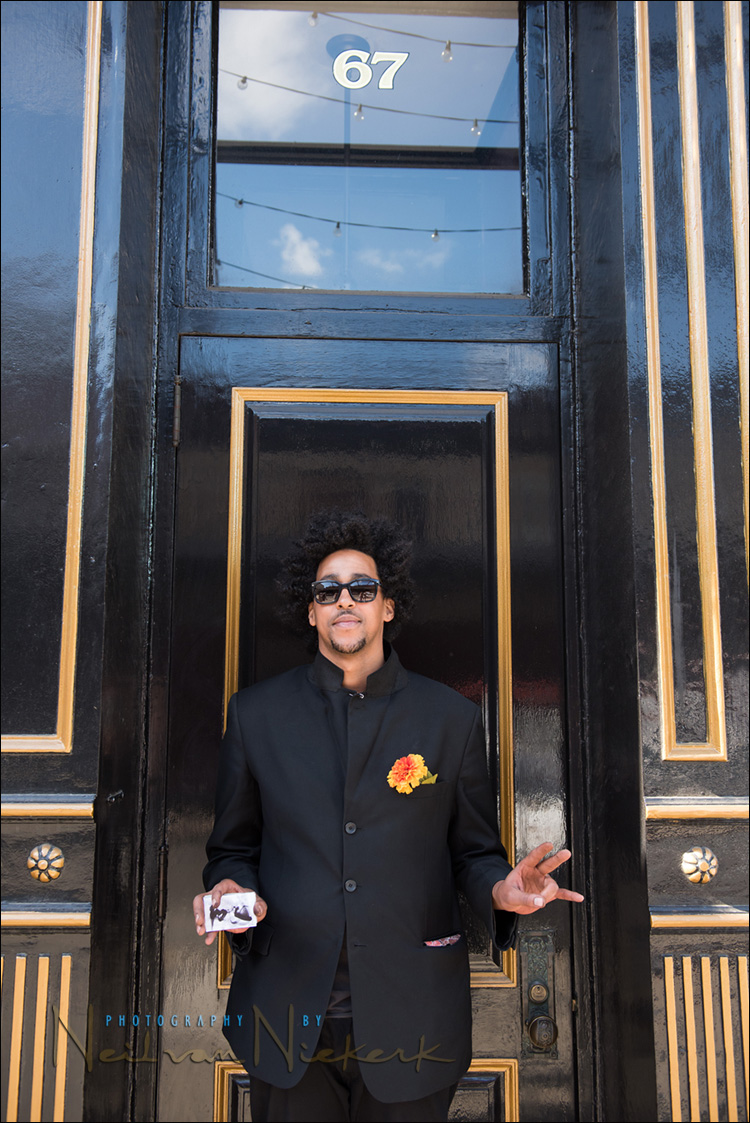 informal / candid portraits on the street – applying what you know
New York City abounds with characters – interesting and colorful people. This is one of those constants if you're out on the streets in NYC, especially when taking photos or busy with a photo session … or as in this case, during one of the individual photography workshops in NYC. This man approached us to sell his artwork … and we ended up taking a few photos of him. With a few quick, automatic steps, the informal portrait is improved.
I'm one of those people, who, if tourists in Times Square give me their cameras, I will also pose them and correct a few things. Adjust an awkward pose. Hide shopping bags. Any quick fixes that will immediately improve even a camera phone snapshot.
Similarly here, I immediately asked him to go to this doorway a few yards away – the gold trim and black of the facade would perfectly match the dark suit and warm tones of this flower and his skin. Working in this doorway also meant we had shade – no struggle with hard sunlight. The pose is all his! He immediately went to this pose.
If you look at the 4 images in the entire sequence, you will notice the first image he had his left hand out in the sun. I asked him to drop his hand a bit so that he was entirely in the shade. Then another 3 quick photos, as I adjust my composition slightly to pull in more of the blue sky reflection. I knew the blue tones would balance the warmer tones to the bottom of the frame.
All of these micro-decisions to adjust an informal portrait, are done in a few seconds. Decisively, but gently. This is all done with the idea of elevating a random snapshot into an informal portrait that could hopefully stand on its own as an interesting photo of an interesting character we met out on the street.
{ 2 comments }