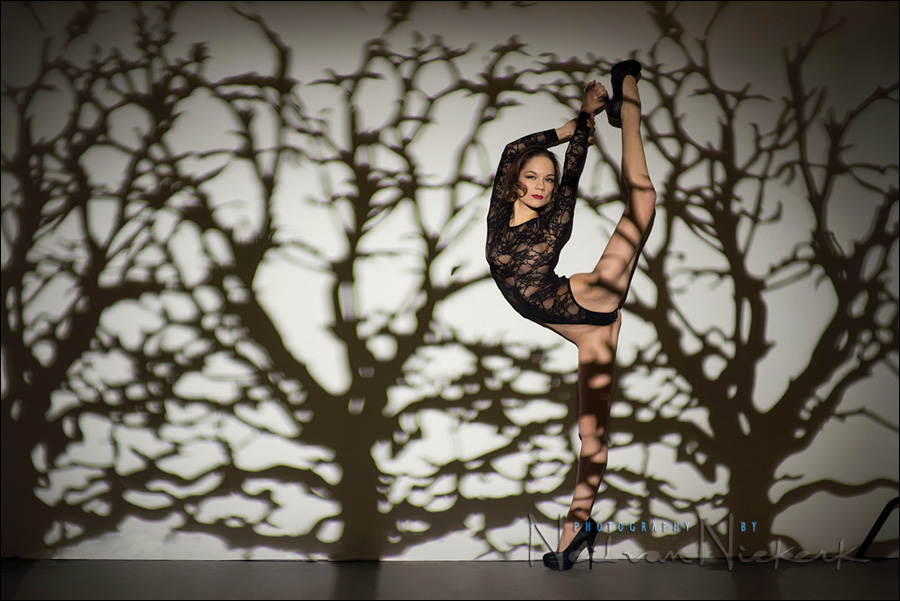 in-camera special effects with gobo projection
I still have this old-school preference for effects done in-camera and effects achieved with interesting lighting, over effects achieved nearly entirely through digital manipulation. Absolutely no disrespect to digital artists who create astonishing work. However, my jaw drops when I look at the sheer scale of the work of a photographer like Gregory Crewdson. Naturally then, my hero is Gregory Heisler, who has a true genius for creating diverse work through amazing lighting. So that would be my inclination – how much can I achieve in-camera to create an image that grabs attention. Of course, having a striking looking model helps a lot.
Still exploring the possibilities of projection effects with the Light Blaster (vendor), a speedlight based projector, I met up with Viktoria in my studio. The Light Blaster has several effects kits, but I still prefer the stronger and starker outlines of the gobo kit over the various gel kits. With previous experiments in the studio, I used the Light Blaster to project patterns on the background, or into smoke. Working with an idea I saw from my friend Josh Lynn, I projected the pattern onto the wall in the studio, and had Viktoria in the mix there somewhere.
{ 7 comments }