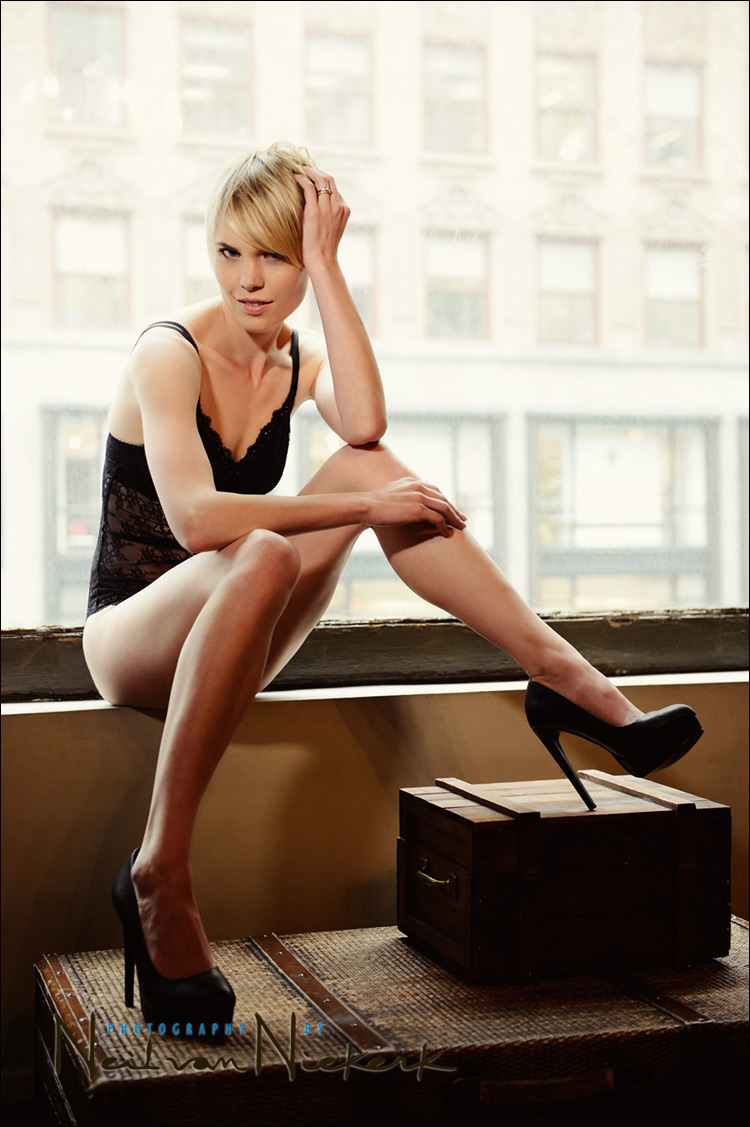 boudoir photography: dealing with mixed light – daylight & incandescent
Boudoir photo sessions can be nerve-wracking – not just for your subject or client who undoutably feels vulnerable, but also for you as the photographer. You have to juggle speed in shooting, with meticulous posing and (hopefully) impeccable lighting …. and still keep the flow of the shoot going, and also keep your subject's confidence up. With this boudoir photo session in a NYC studio, I photographed my friend, Jessica Joy.
I wanted to use this window of  course, and incorporate the boxes. It all just begged to have my friend Jessica J sit on the window sill. The mixed lighting – daylight from outside, and incandescent from inside – seemed like it might be a challenge. One way would be to embrace the different color balance between daylight and incandescent light, or try to even it all out somehow.
I tried a stripbox with speedlights, but the light was too flat. Not bad, but all the nuanced available light was lost, and I wanted to retain the mood of the venue. I put away the flashes and softbox, and grabbed my Litepanels Croma LED video light (vendor). The Croma has adjustable WB, which was a big help here in finding a color balance that best suited the transition from window-light to Incandescent. I did allow the image to go much warmer for the interior and for Jessica, and not let the background go blue.
Here's the setup, and let's also look a bit at the pose …
{ 6 comments }