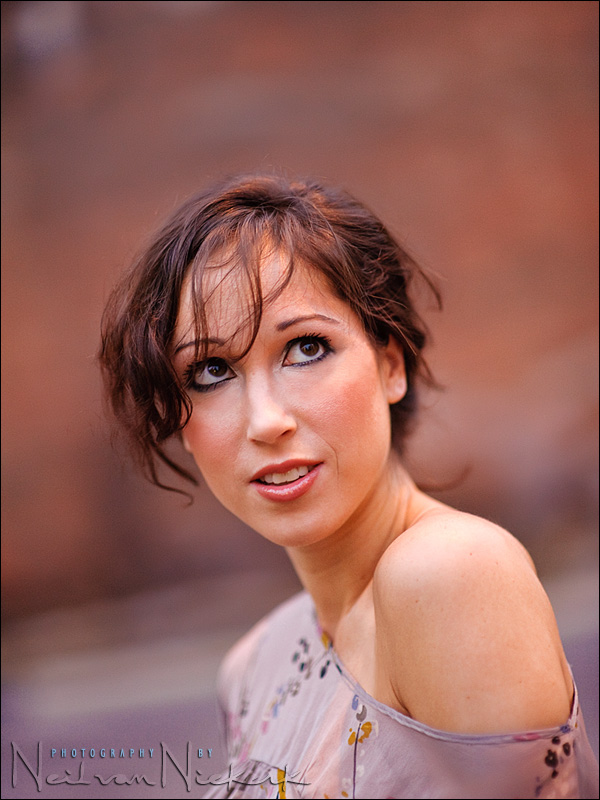 The light on Valerie here is from the evening sky, some city lights, and some of the parking lot's lights.  All of this added up to give me enough light to use for a lovely impromptu available-light portrait of her, right there in the middle of the parking lot. 
My settings were: 1/160th @ f1.4 @ 1250 ISO
My equipment: Nikon D3 and Nikon 85mm f1.4
The light was soft, but wasn't necessarily the best for a portrait where she is simply looking at the camera.  Because of the surrounding buildings, the light was fairly top-heavy.  So I asked Valerie to lift her gaze slightly – and in this way more light fell onto her face and kept her eyes from being shrouded in shadow.   I controlled how the available light appeared in this image, by directing Valerie and positioning her.
This brings me to a point which bugs me when I see it mentioned on the forums – the idea that using a high-ISO capable camera will necessarily free you from using flash.  This simply isn't true.  Being able to shoot in low light doesn't necessarily mean the lighting on your subject is good.  Very often you can improve on the existing light, whether with some flash or video light or a reflector.
Here's an example from the same photo session out on the streets of Nashville, where Valerie and I were roaming around in the early evening, seeing what interesting portraits we could come up with.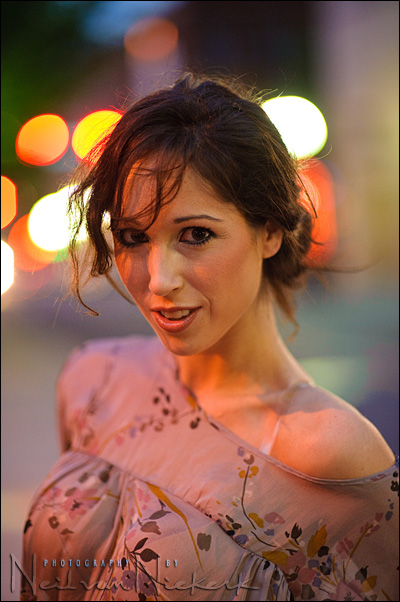 Using the same camera and lens, I liked how the defocused background lights (traffic lights, cars and buildings), appeared behind her. The background looks great, and I have a beautiful model .. but the lighting on her is very uneven and unflattering.
I decided to improve on this by bouncing flash off that side of the building you can see in the top image. It is quite far away – maybe 5 car lengths or so – a fairly extreme example of on-camera bounce flash.
But what gave me the ability to do so, was the fast aperture lens, and the high ISO.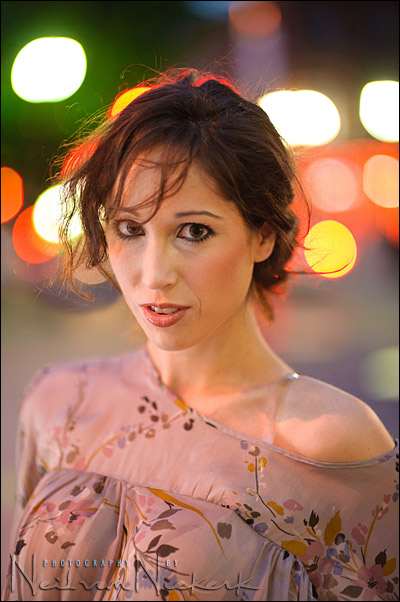 The additional light from the bounced flash, opened up her features.  The lighting isn't perfect, but to my eye it is a huge improvement on the original image where I simply relied on the available light as presented to me.  I do like the way though that the light on her now varies and creates a soft random pattern on her skin.
The point I am trying to make (or perhaps labor here), is that simply having a camera that gives you the freedom to shoot in low light, (and having fast lenses), doesn't immediately imply that you can forget about looking at the quality of light that you have.
You still need to figure out if the light is ideal or interesting or complements your subject … and then supplement your lighting if you see fit.  In other words, having the ability to shoot at a high ISO is no substitute for continuing to look at the direction and quality of light.
newsletter / forum / workshops & seminars
Stay informed of new articles via the monthly newsletter.
Also join us on the Tangents forum for further discussions.
If you need more direct help or instruction on flash photography,
I do present workshops & seminars and also offer individual tutoring sessions.
If you find these articles interesting and of value, then you can help by
using these affiliate links to order equipment & other goodies. Thank you!