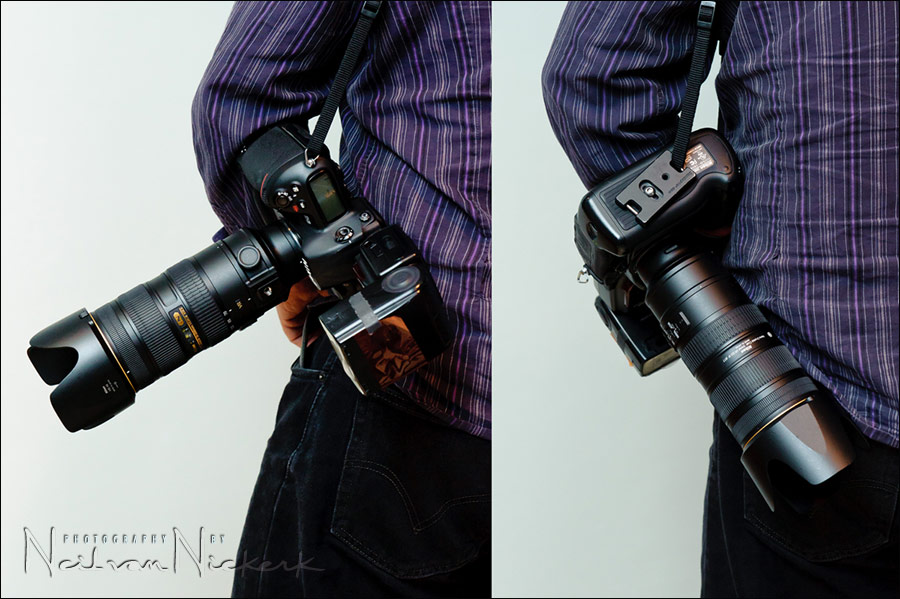 how to carry your camera over your shoulder
An interesting comment came up in the article on choice of lenses for wedding photography. The observation was that the photographer, Lou, felt like he was the proverbial bull in a china shop when he carried two cameras over his shoulder. With the lenses protruding on either side, it was tough going through doorways without knocking something.
There are numerous camera strap solutions available on the market – rapid straps and holster systems. Most of them work well. I still like the old-fashioned camera strap on the camera. One thing I should mention here is that I really got to like the way the Canon bodies work. Attaching the strap to the bottom of the camera makes absolute sense. Then the camera dangles vertically, and it is easy to swipe the camera to the side under your elbow when it hangs from your shoulder.
I liked this so much that I got thise Camdapter plate  to attach to the bottom of my Nikon bodies. This allows my Nikon cameras also to dangle vertically from my shoulder. Perfect. If I had to choose from scratch again, I'd probably settle for the Kirk plate. This too has a place for the camera strap to loop around, at the bottom of the camera. Perfect.
Now, it might not be immediately obvious when you pick the camera up and hoist it over your shoulder, but there are two ways to sling the camera …
You can have the lens dangling outwards, catching on everything, and knocking stuff over, and smacking little kids in the face … or you can turn the camera around, and tuck it behind your body under your elbow. Out of the way. Simple, and less of a hazard to people around you, and less of a danger to your own equipment.