modifying the Nikon SB-800 speedlight
One of my major frustrations with the Nikon SB-800 flashgun (other than the clumsy controls to get into the master/slave settings), is that it doesn't twist 180′ in either direction like the Canon 580EX speedlites do.  The SB-800 rotates 180′ to the left, but only 90′ to the right.  This difference is huge!
If for example you wanted to photograph a vertical portrait and bounce the light from your SB-800 over your left shoulder, you wouldn't be able to. Instead you'd have to accept that the flashgun only rotates 90′ and you'd have to accept the paltry compromise that you'd have to bounce the light from your flashgun upwards into the ceiling from where you are.
Here's an example of where it is essential to throw the light from the flash in a direction which is limited by the SB-800 ..
On the left, just the ambient light. On the right, light from a Canon 580EXII that was gelled for tungsten with a 1/2 CTS filter. In getting the correct angle that I needed the light from the flash to bounce back from, I had to bounce over my left shoulder .. NOT into the ceiling.
As I said, this limitation of the SB-800 has been a real frustration .. until now.
A while back Peter Gregg (of the 'A Better Bounce Card' fame), sent me this You Tube link ..
… to show how he had forced the flashhead of the Nikon SB-800 past the natural stop point.  Yes, he had managed to twist the SB-800 an additional 45′ which is perfect for what I had always wanted from this flashgun.
Well, when Peter told me about this on the phone originally, and later on showed me the clip, I was skeptical. Well, to be honest, I wasn't so much skeptical as that I just didn't have the balls to do it. Until now. I tried it …. and well … seriously, as Peter advises, don't do this!  He can't, and I certainly can't take responsibility for this.  But here it is …. my Nikon SB-800 now rotates 135′ to the right.  Just enough for what I have always wanted it to achieve .. it's now an SB-850.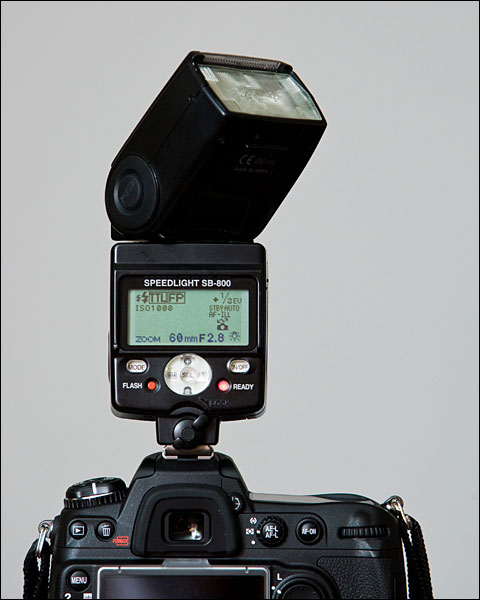 Now here's the irony – I finally managed to pull together the guts to do this … on the eve of the release of the Nikon SB-900 which will rotate a cool 180′ to either side. That alone would make the SB-900 an automatic upgrade over the SB-800.