Digital infra-red B&W photography
The ghostly beautiful infra-red B&W landscapes have always drawn me. Something ethereal and other-wordly about them. So I'm not sure why it took me this long to pull the trigger on getting an infra-red converted digital camera. But I end up buying a used Canon 5D mark II that had been converted to infra-red. The conversion was been done by Life Pixel, adding a Deep B&W Infra-Red (830nm) filter. They also adjusted the camera for 'universal lens calibration' to help with the focusing accuracy of the infra-red light.
Today was the first time I took the camera out for a proper spin, but instead of seeking out landscapes, I ventured in to Manhattan, to see what it looks like … and I'm blown away. I love this. I love this effect more than I had anticipated.
Here I purposely kept to a slow shutter speed to blur the movement. That ghostly figure right in the front is a cyclist. One of the first things I discovered – the camera's light-meter has no correlation to what is going to happen with exposure. In the end, the exposure was anywhere from 2 to 5 stops more than the meter would indicate. This is especially true for the shadow side of a building.
In the end, I found Live View mode to be the most helpful in getting to the right exposure. I kept the blinking highlights ON as well.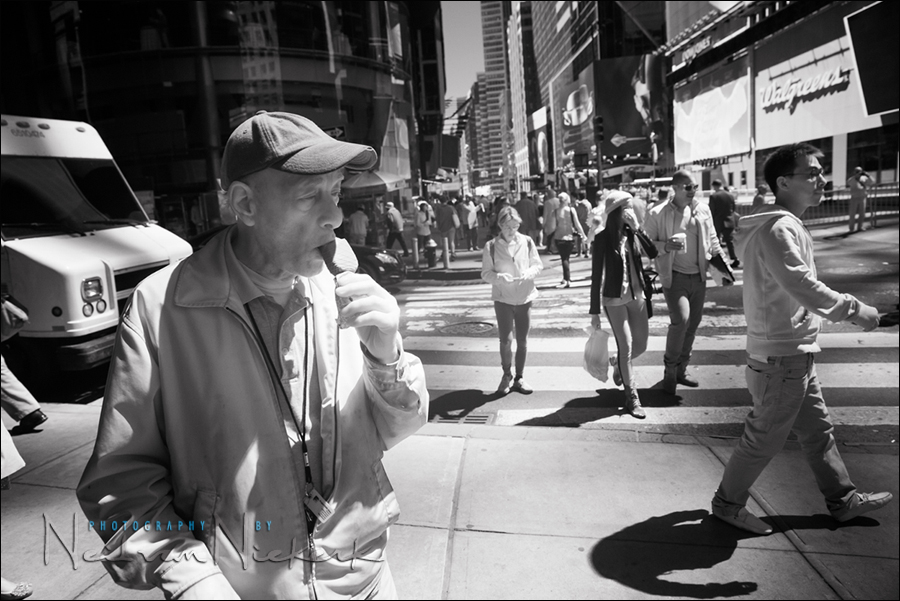 Street photography, as infra-red, just has a slightly more surreal element to it, with random pools of light reflected from the glass buildings surrounding this scene.
This policeman in Times Square very gracefully allowed me to take his photograph. And really, he was friendly and not as formidable as he looks. I was fascinated that his dark blue uniform would appear as this white tone, due to all the infra-red light reflected.
Even as a newbie to infra-red B&W, I'm already convinced that you can't really emulate this look via Photoshop filters. Just taking changing the various tones around – eg, green tones to be very bright levels, and brightening red tones, and darkening blue tones – can't effectively give you these kind of infra-red surprises.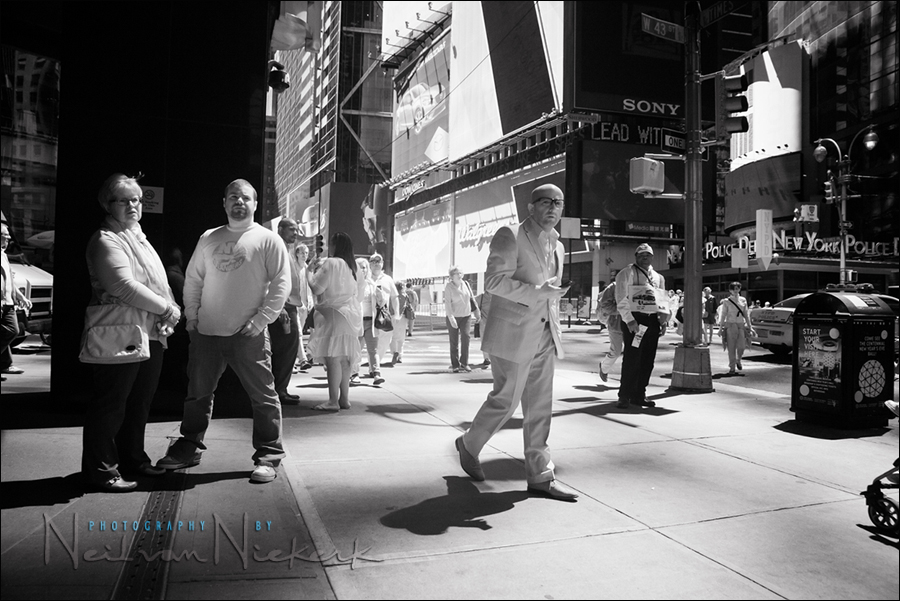 What fascinated me here, is how the sun's reflections from the various buildings, and the corresponding shadows areas, created these pools of light. This was one of the images I shot in Aperture Priority, with the EV set to +2. It's pretty close when the light is bright.
Back to this image that was shown at the top – the guy with the balloon is Israel, and he was also very gracious and worked with me until we got the balloon just right in the frame. Thank you for helping!
I must say that I am pretty excited showing these few initial images – it feels like there's a whole new strange world awaiting.
Converting your camera for Infra-Red capture
If the look of Infra-red photography appeals to you, then you can have your camera converted by Life Pixel. On their website they list all the options, as well as which cameras are suitable, and which lenses might be a problem. There's a ton of useful information on infra-red photography! Check them out.
Related links