lighting for boudoir photo sessions
The one type of photo session where I work the most at getting my lighting just right, is with a boudoir session.  I find these intimate photo sessions quite a challenge.  I have to get a variety of looks in a short time.  For this I have to not only concentrate on posing and angles but also concentrate on the lighting.  On top of that, I have to make sure my model or client is comfortable and relaxed at all times.  The session has to be fun and really show her off at her best.
I bring a variety of lighting equipment to these shoots – speedlights to be used on camera,
and as a softbox setup.  I also favour  video lights.
But I keep the equipment portable and compact and easy to set up .. which means that I mostly use available light where I can.   By closely looking at the direction of the various light sources in a room, I can position my subject in relation to the light (eg, a window), or simply move the light source if it is a bedside table lamp.
With the light levels fairly low indoors, this necessitates fast optics and high-ISO capable cameras.  The style that I prefer is sensual and romantic.  Sexy without being overly sexual.  With boudoir photography, I feel that a 'hint' works better than being more direct.  But styles and tastes vary of course.
An example of where I used the soft light coming through the window as the main light source.  I didn't add any light to this.  The window light was soft, and it was the dominant light source from this viewpoint.  Easy to use.  Now I could concentrate on directing the flow of her movement.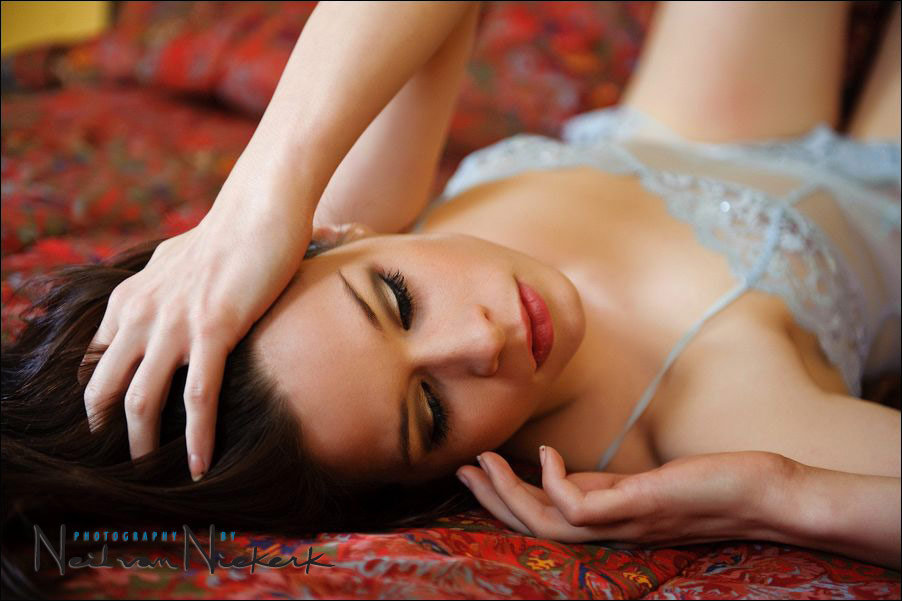 1/30 @ f2.8 @ 1600 ISO
Nikon D3; Nikon 24-70mm f2.8 AF-S (B&H)
The image above was shot 'with' the direction of light, giving even light on her.  It is also good to break it up a bit and shoot 'against' a light source, or at an angle to a main light source …
In this case I positioned her so that the bedside table lamp gave a beautiful rim lighting on her.  Her reflection is lit up directly, but from my point of view, I get a more dramatic light.
1/250 @ f2 @ 1600 ISO
Nikon D3; Nikon 85mm f1.4 (B&H)
Before specifically directing her, I loosely positioned her so that I can figure out the direction and quality of light falling on her.  The background is of huge importance as well.  Only when I am sure there is something there to work with, do I guide my model or client, and then start shooting a few frames.
It helps immensely to show her on my camera's preview what we're getting.  This reinforcement is a huge boost to everyone's confidence in the shoot.
Another image where I shot against the main source of light.  I specifically wanted those highlights in the background to blow out like that, and positioned her for that.
1/160 @ f1.6 @ 1600 ISO
Nikon D3; Nikon 85mm f1.4 (B&H)
Choice of lenses obviously also have an influence on the final look of the images.  The change in perspective forced by a different focal length, helps breaks things up again.  The change in depth-of-field between using a fast prime lens and using a zoom, also helps create variety in the images.
Two images from a recent boudoir photo session, where I changed to different lenses for parts of the session.  A 50mm f1.4 optic and a 105mm f2.8 macro lens.  Again, both where taken with just the available light from the window in the hotel room.
1/100 @ f3 @ 1250 ISO
Nikon D3; Nikon 105mm f2.8 AF-S macro (B&H)
.
1/160 @ f1.6 @ 1250 ISO
Nikon D3; Nikon 50mm f1.4 AF-S (B&H)
.
Bounce flash
I do use on-camera bounce flash during these sessions, but I  concentrate on using the existing lighting in the room.  Part of the problem in using bounce flash, is that it can open up the scene too much.  You quite often lose the interesting lighting patterns and the interesting way that the available light falls onto your subject.
But it can work, if that's the effect that you want …
1/100 @ f3.5 @ 1250 ISO
Nikon D3; Nikon 24-70mm f2.8 AF-S (B&H); Nikon SB-900 (B&H)
With that image above, my settings were such that the ambient light in the room registered.  I could've used a much lower ISO and smaller aperture, but that would've given a different effect than I wanted.
With this next image, I had her stand in a doorway.  This kept the rest of the room from 'opening up' with the bounce flash.  But I then had to carefully position her against the background to create some separation.  I also wanted some interesting defocused elements in the background.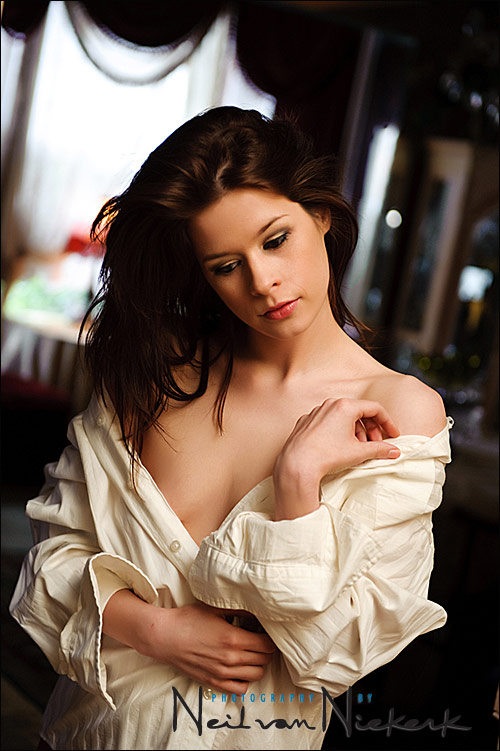 1/250 @ f3.2 @ 1250 ISO
Nikon D3; Nikon 24-70mm f2.8 AF-S (B&H); Nikon SB-900 (B&H)
.
As mentioned in a previous post, one of my favourite piece of lighting equipment at a boudoir photo session is the video light.  I use the Lowell iD-light.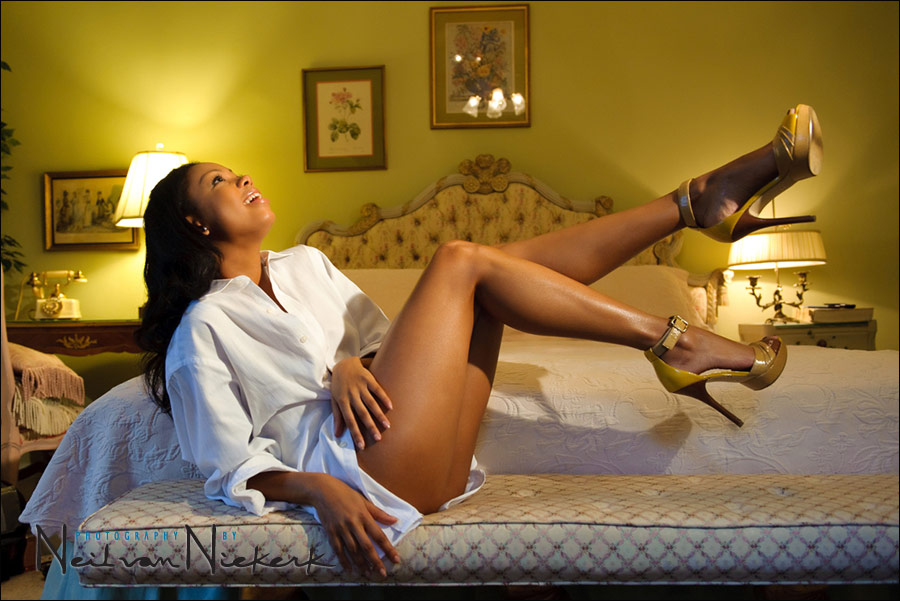 1/60 @ f3.5 @ 1250 ISO
Nikon D3; Nikon 24-70mm f2.8 AF-S (B&H)
The video light gives a concentrated light, which can be quite dramatic if used carefully.  The key is to look at the way the light falls on your subject's face, and how the shadow of your subject's nose falls.  It is best if you avoid the shadow of your subject's nose falling over their mouth or across their cheek.  With this in mind, I always instruct my assistant to follow my subject's movement with the video light .. and to carefully look at how the nose's shadow appears.
To counter-balance that effect of the video light, I often add bounced flash to the equation.  But I dial down the flash exposure compensation so that the flash merely helps to lift the contrast of the scene.  And it is also essential that I gel my flash for Tungsten in a case like this.
1/250 @ f2.5 @ 1600 ISO
Nikon D3; Nikon 50mm f1.4 AF-S (B&H); Nikon SB-900 (B&H)
But then, just to mix it up, here I used  video light and ambient light.  I diffused the video light with a coffee filter to give a softer light.
With the video light diffused like that, and mixed with the daylight filtering through the curtains, it gave a nice warm mix to the scene.  And it works.
1/250 @ f3.2 @ 1600 ISO
Nikon D3; Nikon 24-70mm f2.8 AF-S (B&H);  Nikon SB-900  (B&H)
.
The idea remains then that it is crucial to really consider the existing light.  Look at the direction of the light.  See how many light sources you have.  Then figure out whether you need to add additional light, and what kind of light you want to throw into the mix.  In the end it always comes back to the quality of light you have … and how you use it and supplement it.
For more examples of my boudoir / intimate sessions photography, please check out my gallery.
recommended lenses for boudoir photography (B&H affiliate links)


Canon 85mm f/1.2L II


Canon 50mm f1.2L


Canon 100mm f2.8L macro IS



Nikon 85mm f1.4G AF-S


Nikon 50mm f1.4 AF-S


Nikon 105mm f2.8 macro VR