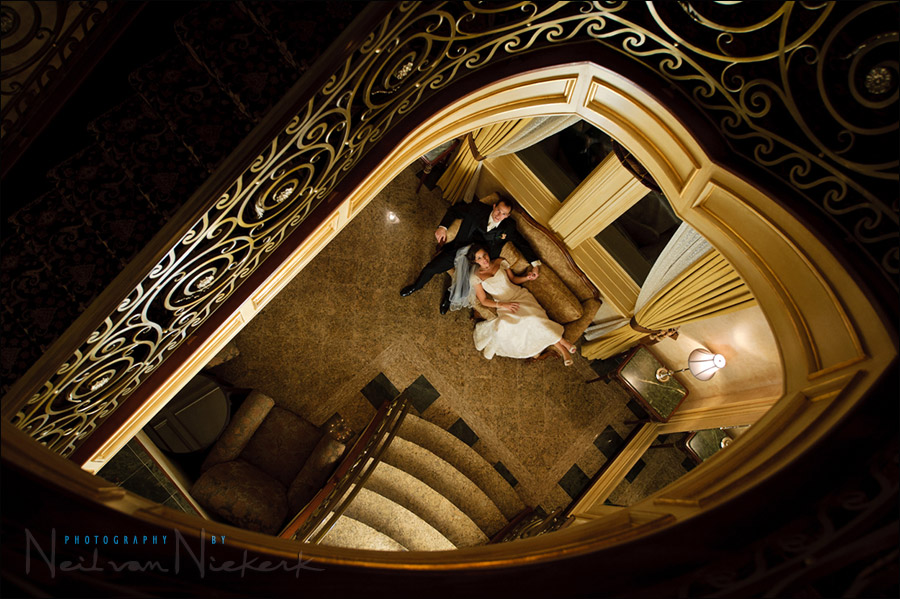 lighting the romantic portraits of the bride & groom
Scouting around the location during dinner time, I peered over the edge of this spiraling staircase and thought it would be a good idea to get some light on the couple, seated on the couch. I posed Melissa so that  she lounged back with her head on Dennis' lap. There is no way to get light on them from my position with on-camera bounce flash, and definitely not if my intention is to get light only on them. It needed off-camera flash.
To add some variety,  I also thought of a few other things to try with the lighting, using the same set-up and pose.

First there was the setup as shown in the photo above, with the intent of having the couple within the geometric shape of the staircase. I bounced flash off a wall. The speedlight was set to full manual power, and tripped with a PocketWizard. The flash had to be in manual output since these older style pocketwizards don't allow for TTL capability. No problem however. I just used the flash as a manual flash. Metering was done by making sure there were no blinking highlights on the bride's dress. Since that is the brightest relevant tone, and I didn't want to lose detail there, I checked that I wasn't getting an over-exposure warning on her dress.
camera settings: 1/80 @ f3.5 @ 800 ISO
Anticipating an extreme wide angle for the top image, I used the Nikon 14-24mm f2.8G ED AF-S (B&H), but ended up using it at 24mm.
Here is a shot of the flash on the ground, held up with the foot that comes with the speedlight.
Next I wanted a more straight-forward photograph of the couple, but still leggy and sexy.
In the first of these two images, I still fired the off-camera speedlight via the Pocketwizard, but I also bounced flash behind me, flooding the place with even light.  It looks good … but looks a little flat in terms of the lighting. My FEC was set to 0 EV.  (Actually, -0.7EV on the Nikon D3 & Sb-900 combination, which is my 'zero' FEC for this combo.)
Camera settings for image above:  1/80 @ f4.5 @ 640 ISO
I wanted less of my camera's bounce flash, so needed to dial it down. I ended up at -2EV … but I also knew this would now mean the image is under-exposed. So I opened up a little bit to allow more of the manual flash in and had my settings at 1/80 @ f4 @ 800 ISO … which is just 1/3rd stop away from the image right at the top which was lit by only the off-camera manual flash. So now the TTL bounce flash just lifted the shadows a bit, with the off-camera flash giving the majority of light.  And since it is off-camera, it has directional and more interesting here.
Finally, I oped for video light for a more intimate and dramatic look.  If the bounce flash completely 'opened up' the image, video light goes the opposite way – giving a spot-light effect.
different lighting ideas for the romantic wedding portraits
Normally I would tone down the brighter spot next to the groom, so it doesn't distract … but I wanted the images here to be faithful in terms of what can be achieved with the specific lighting.  So no dodging and burning or local corrections.
Camera settings:  1/60 @ f4 @ 1600 ISO
video light: Litepanels MicroPro LED video light (B&H),
as used in other previous examples
Here is the pull-back shot to show Jessica, my assistant-with-an-attitude, holding up the video light.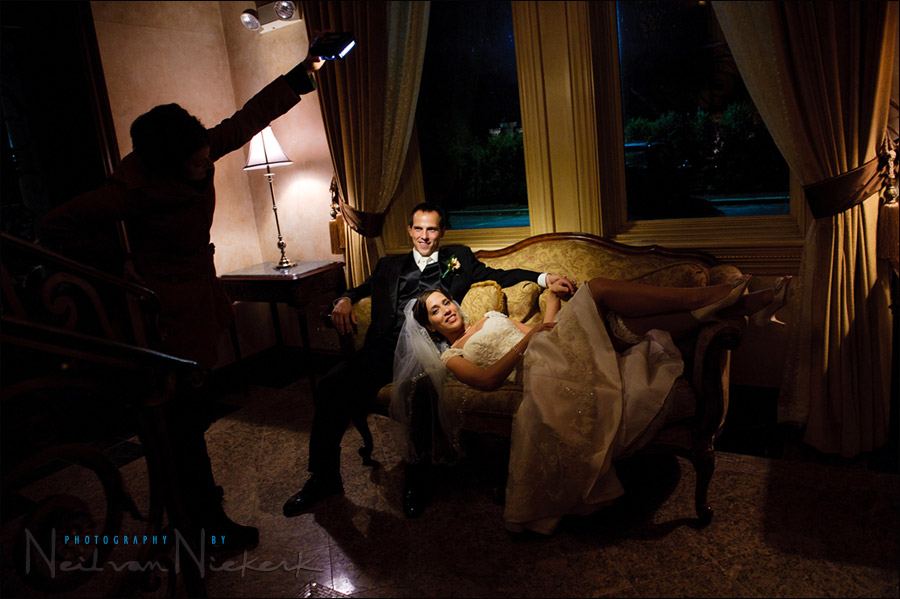 Within these different ways of lighting the same set-up, there are of course other angles and compositions – all of which allows for a variety of images within a very short space of time.  And that is how it usually is with wedding photography – pressure to get great images within tight time constraints.
help support this website

newsletter / forum / photography workshops
If you find these articles of value, please support this website
by ordering equipment & other goodies via these affiliate links.
You can also purchase video tutorials on photography. Thank you!
I also offer photography workshops and individual tutoring sessions.
Join us on the Tangents forum for further discussions.
Stay informed of new articles via the monthly newsletter.