multiple speedlite portrait setup using Rogue Flashbenders
The PDN Photo Plus Expo in New York took place last week. As always, it's it's always a bit of a head-rush walking around, overwhelmed by all the photography goodies and people. Of course, you'll inevitably bump into old friends and catch up a bit. One of them, is Michael Corsentino who I met during the After Dark photo conventions. (Sadly, the After Dark events have been put on indefinite hold.)
Not only is Michael Corsentino a pre-eminent wedding photographer in San Francisco, but has also written a book – the Canon Speedlite System Digital Field Guide (Amazon). If you like his style, follow him on Twitter @corsentino
When I randomly saw this photograph later on on his FB feed, my reaction was … damn!
He had photographed Anelisa at the Rogue Flashbenders stand for a demo. So I was curious about the exact lighting setup, and asked him if I could repost it here, along with an explanation and the lighting diagram …
If you find these articles interesting and of value, then purchasing your photography equipment & other goodies through these affiliate links would be a great help in maintaining this site. Thank you!
Michael used multiple Canon 600EX-RT speedlites (B&H) and Rogue Flashbenders for this portrait.
camera settiings:  1/125 @ f10 @ 100 ISO
Canon 5D Mark III (B&H);  Canon 24-70mm f/2.8 @ 65mm
The set up with the 4 Speedlights positioned and modified as follows: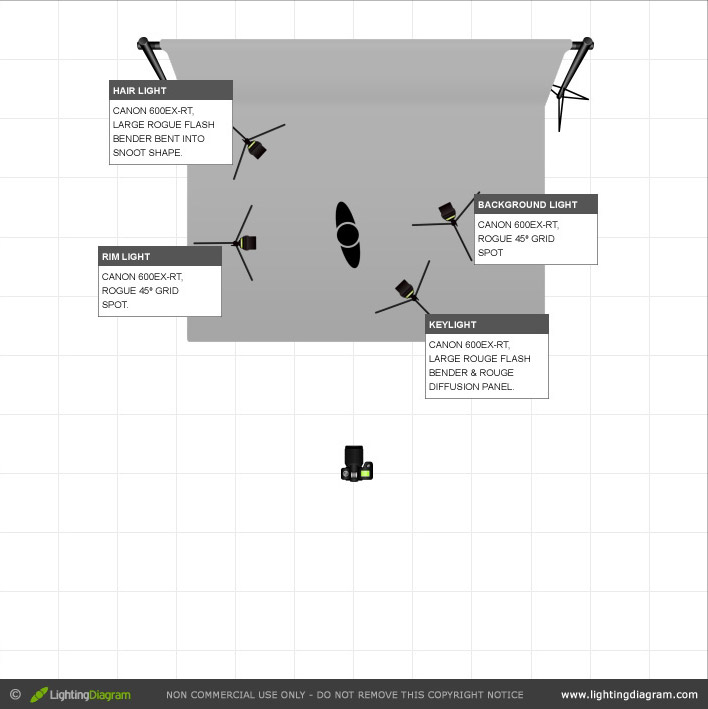 newsletter / forum / workshops & seminars
Stay informed of new articles via the monthly newsletter.
Also join us on the Tangents forum for further discussions.
If you need more direct help or instruction on flash photography,
I do present workshops & seminars and also offer individual tutoring sessions.
If you find these articles interesting and of value, then you can help by
using these affiliate links to order equipment & other goodies. Thank you!