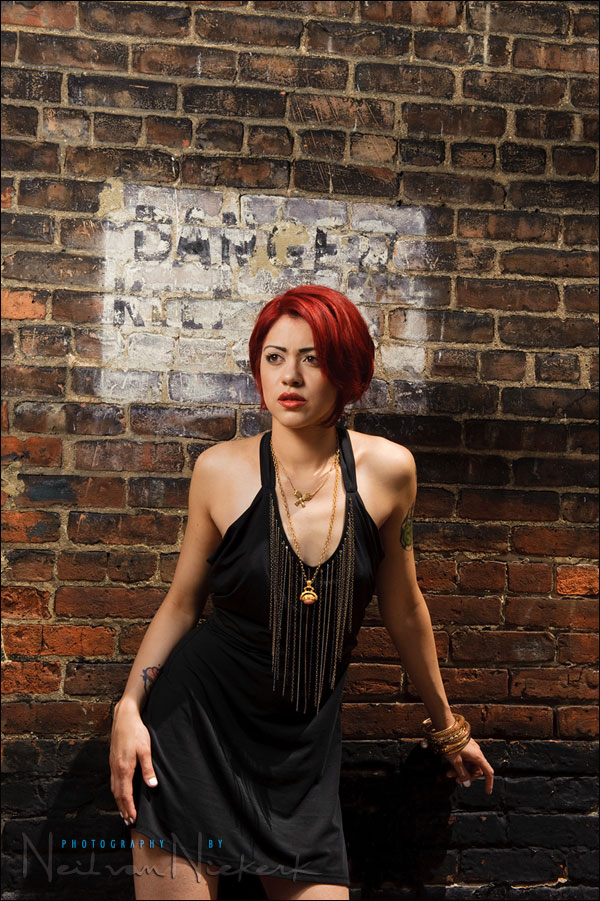 For this part of a photo session with Johannie, we worked in an alley.  The light was very uneven, with some swathes of sunlight falling directly on her.  (See the image below for the photo without flash.)  To get rid of this uneven sunlight falling on her, we have to add at least as much light on her as the brightest areas lit by sunlight. In the example above, our exposure is set to 1/250 @ f13 @ 200 ISO and we can see from the bright patch of light on her shoulder, that we're at the edge of acceptable exposure. Any wider on our aperture, or higher on our ISO or slower on our shutter speed, and we'll start to lose detail in the sunlit areas.
overpowering hard sunlight with flash
In the example above, our model's pose helped hide the uneven light due to her face being in shadow and her shoulder being in sunlight.
Here is the same image, without flash.  This will give you a better idea of how much flash was added, and how uneven the available light / sunlight was.
In this following image, we can see the uneven light below her chin, casting strange shadows. Even though I had pulled out one of the two baffles inside the softbox, we still couldn't deliver enough light from the softbox to completely over-ride the daylight. In other words, I had to set an aperture / ISO combination where the daylight still registers to a large extent.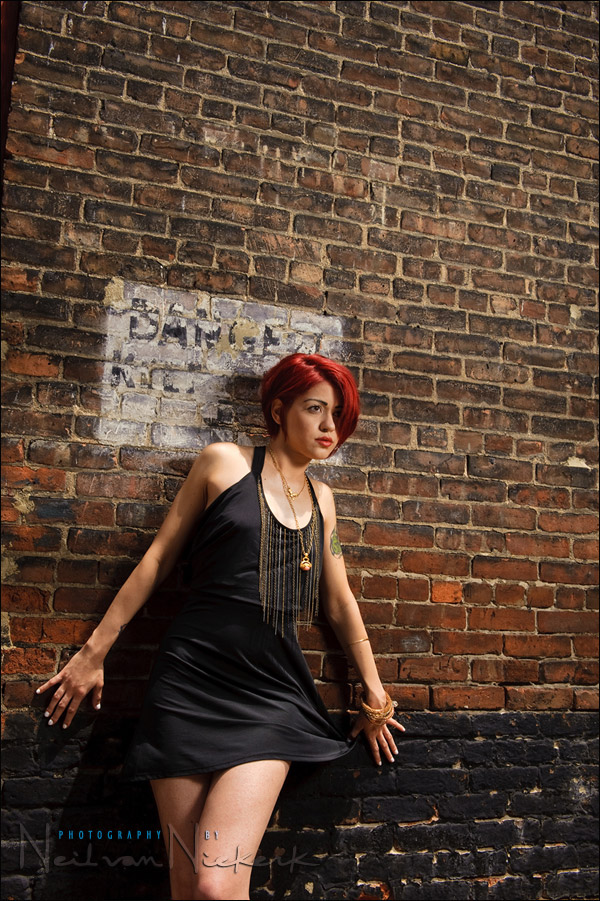 Ideally, to lose the dappled or uneven or harsh available light, we need to under-expose it by around 3 stops. Then the flash exposure will completely dominate.
For our lighting here I used a softbox on a monopod, with a slaved speedlight attached. The Slave flash was triggered by an on-camera flash set to Master. I disabled the output from the Master slave so it didn't add anything to the final exposure. It was there just to communicate the camera's instructions to the Slave flash.
The key in overpowering hard sunlight, is to under-expose our available light to some extent, and then use flash to make up for the slack. In this case we could get away with a softbox held closely to our model, but in these examples, I used:
- a powerful on-location flash setup to overpower the sun,
- use bare flash, ie, use your speedlight off camera, and without modifiers.
more articles on off-camera flash …
Equipment used during this photo session:
Nikon D3;  Nikon 24-70mm f2.8 AF-S (B&H);  Nikon SB-900 (B&H)
Lastolite EZYBOX 24×24 softbox (B&H); Quantum SC battery pack (B&H)
Manfrotto 680B monopod (B&H);
brass stud to attach softbox to monopod (B&H)
newsletter / forum / workshops & seminars
Stay informed of new articles via the monthly newsletter.
Also join us on the Tangents forum for further discussions.
If you need more direct help or instruction on flash photography,
I do present workshops & seminars and also offer individual tutoring sessions.
If you find these articles interesting and of value, then you can help by
using these affiliate links to order equipment & other goodies. Thank you!