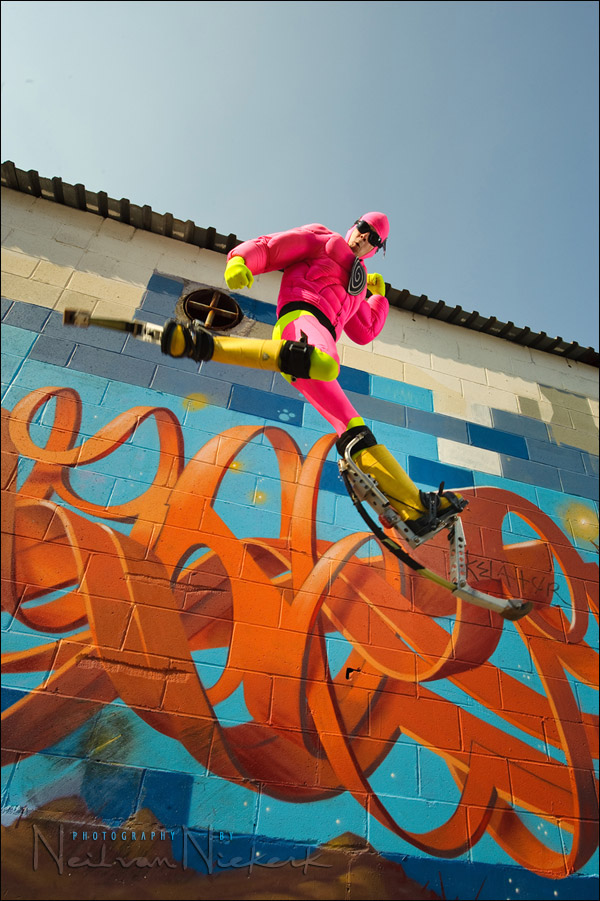 Pinkman!  More from the recent extended photo session with the Modern Gypsies.  After the photo session with Martin on stilts, we moved to one of the many colorful areas in Brooklyn where we started with Dread Eye. Working in the same spot, Michael Saab fitted his character, PinkMan! out with jumping stilts. Absolute lunacy!
Working in such bright light, I thought the best approach would be to cross-light the sunlight with off-camera flash …
As you can see in this image below, I removed the front baffle on the Lastolite Ezybox softbox. It cut down too much of the light. But with just the one baffle, I was able to match the sun at that working distance.
Camera settings for all these images: 1/250 @ f11 @ 200 ISO
The flash was set to full output, in manual mode. That was the only way I was sure to get the most juice from my flash, with every shot. I used PocketWizard Plus II units to fire the flash.
More articles on off-camera flash …
Equipment used during this photo session:
Nikon D3;  Nikon 14-24mm f2.8 AF-S (B&H);
Nikon SB-900 (B&H);  Nikon SD-9 battery pack (B&H);
Pocket-Wizard Plus II Tranceiver (B&H);
Lastolite EZYBOX 24×24 softbox (B&H)
The first time I saw Michael on these jumping stilts (Amazon) at an event I was photographing, I wanted a set! It just looked so much fun. But then, common sense prevailed … as a working photographer, I can't risk any injury, especially to my hands or wrists. But still, they look fascinating.
Here are Amazon links to a few of the brands of jumping stilts:
newsletter / forum / workshops & seminars
Stay informed of new articles via the monthly newsletter.
Also join us on the Tangents forum for further discussions.
If you need more direct help or instruction on flash photography,
I do present workshops & seminars and also offer individual tutoring sessions.
If you find these articles interesting and of value, then you can help by
using these affiliate links to order equipment & other goodies. Thank you!