Here are two photos that I trawled from the archives …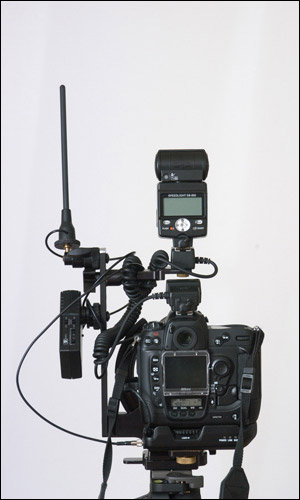 Firstly, I never used this set-up like this. No, really!
This was honestly all assembled just to see how crazy it would look.
And even I have a sense of proportion about things, and realize I would've looked like the photo-geek cousin of The Terminator if ever I slung this around. It does look truly hardcore though!
That's the D2H with the WT-1A wireless transmitter.  The antenna sticking out on the side is the extended range antenna … and this is actually the reason why I slammed all this together.  When the extended range antenna arrived I realized that that there was no good way of attaching this to a camera, aside from attaching it to a flash bracket. So I used a Monfrotto ball-head to attach the antenna to the flash bracket. 
The radio transmitter (which only appears in the rear photo), is used to trigger other remote flashguns.
I tried the WT-1A in the studio a few times (without the extended-range antenna), and it was pretty amazing to see the images roll in on the computer while I shot. I even had parents check out the photos of their kids on the laptop, as I was shooting. It helped with the proofing of the images, since the parents had already seen every image by the time I was done.
The downside of using the WT-1A is that I am not a network engineer … it just needed one tiny setting somewhere to be off, for the thing not to work. And it was a headache then to track through every step and figure out what had changed. In the end I sold the WT-1A and the antenna, and never actually used the combination on a shoot. So that took care of my problem of how to actually use the extended-range antenna on a shoot.
The bracket is a Custom Brackets bracket that I modified by lopping the extraneous bits off. Some of it with an angle-grinder. (Actually, I AM hardcore!) These days I don't use a flash bracket that much anymore. (It depends though.) And mostly I just have the Quantum radio transmitter velcro'd to the top of the strobe.