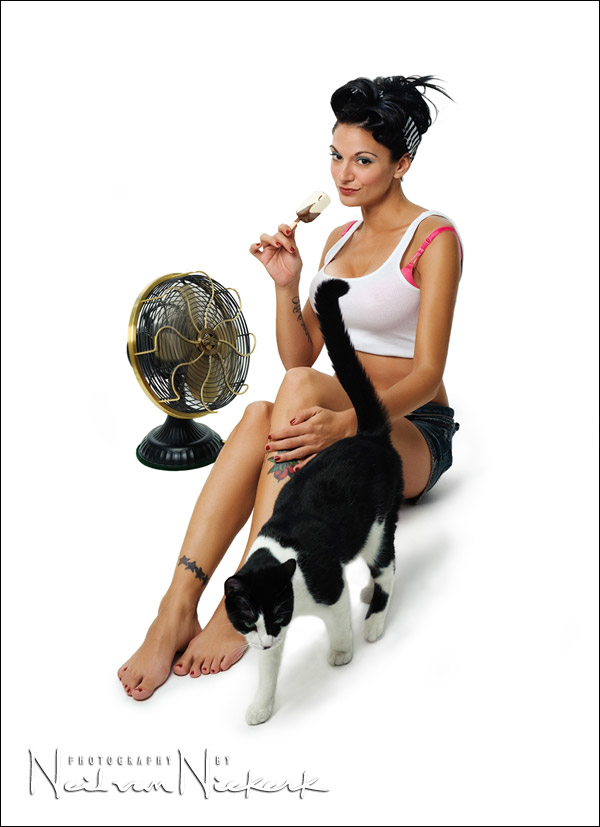 pin-up style photo session – a hot day
Continuing on with the pin-up series with Jessica, we decided on the concept for this session as 'A Hot Day'. Skimpy summer holiday clothing; ice cream; a fan (with the blades made whirly in Photoshop) .. and incongruously, one of my cats walking through the set, looking for attention …
OllieKat came and went for a few photos, but only that one really worked with him in it.  But there was one other moment that had us in hysterics.  Like any other cat, he has a wild imagination, and at some point came charging through for no real reason, determination on his face, effectively "photo-bombing" us.
That expression on my cat's face is just priceless!
On the topic of photo bombs, I assume everyone has seen this clip explaining the new Photo Bomb Tool in Photoshop CS5 ?  This is going to prove invaluable.
The setup is exactly the same as shown in the previous post – a Profoto 3×4 softbox nearly in line with the camera to provide soft even light.  Two Quantum flashes to the side to light up the background.
Equipment used during this photo session:
Nikon D3;   Nikon 24-70mm f2.8 AF-S (B&H);
Profoto AcuteB 600R power pack (B&H);  Profoto 3×4 softbox (B&H)
Red-Wing light-stands;  Pocket-Wizard Plus II Tranceiver (B&H)
.. and a bunch of Quantum gear.
newsletter / forum / workshops & seminars
Stay informed of new articles via the monthly newsletter.
Also join us on the Tangents forum for further discussions.
If you need more direct help or instruction on flash photography,
I do present workshops & seminars and also offer individual tutoring sessions.
If you find these articles interesting and of value, then you can help by
using these affiliate links to order equipment & other goodies. Thank you!