In testing cameras these days, they are rated not just for specification, but for their primary qualities in helping you take great photographs.  And for that, judging the camera according to handling, image quality and auto-focus speed and accuracy, becomes even more important than just the list of specs.
Nikon D5000 hands-on review
So with that in mind, when I recently got my hands on a brand-new Nikon D5000, (B&H), I thought I'd hit the streets and see how it performs.  I took it for a late-night stroll around Times Square in New York, armed only with a Nikon 50mm f1.4G AF-S, (B&H), lens to see how the camera handled the low light levels there.
Nikon D5000 image quality
And of course, late night in Times Square is when you see and even meet the interesting people, the gorgeous people and the usual mix'n'match that Manhattan throws at you.  So let's see how the 12.3 megapixel Nikon D5000 performed in low light, at high ISO settings; all hand-held, using just the light from the billboards ..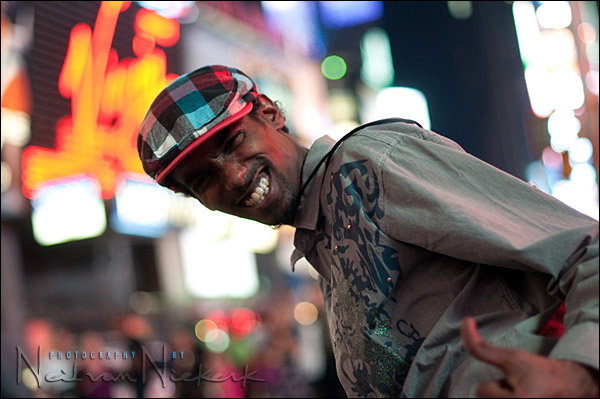 Here is Blueberry Studmuffin, posing for the camera.
1/250th F1.8 @ 1000 ISO; no flash
As you can see, the camera responds fast enough for a candid portrait in low light.
Impressive so far …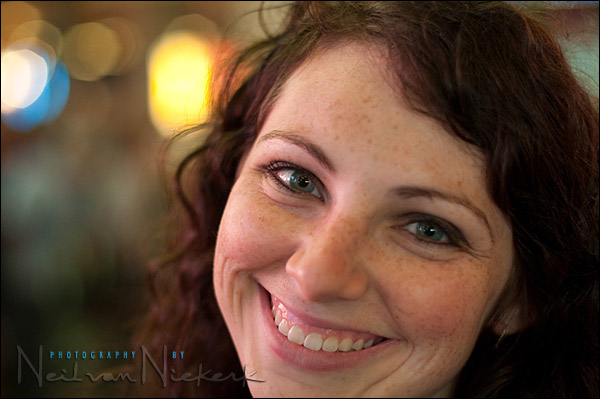 Jennifer, a visitor to Times Square, who kindly let me take her photograph.
1/125th @ f2 @ 1000 ISO; no flash
And now I know you're wondering how the high-ISO noise looks.
So here's a 100% crop of part of that image ..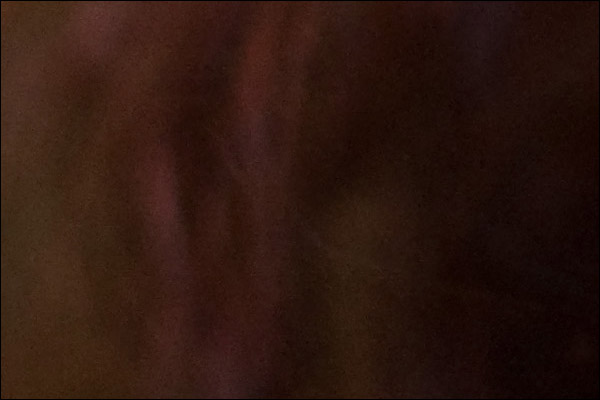 I purposely chose a darker part of the image (as processed in ACR / Bridge CS4)  I know that the high-ISO noise appears differently for different tonal values … but this should give you a rough idea how the camera performs at 1000 ISO.
Let's take it a step up to 1250 ISO ..
1/125th @ f1.6 @ 1250 ISO .. and I never quite did catch his name …
Here's a 100% crop of some area just above his cap.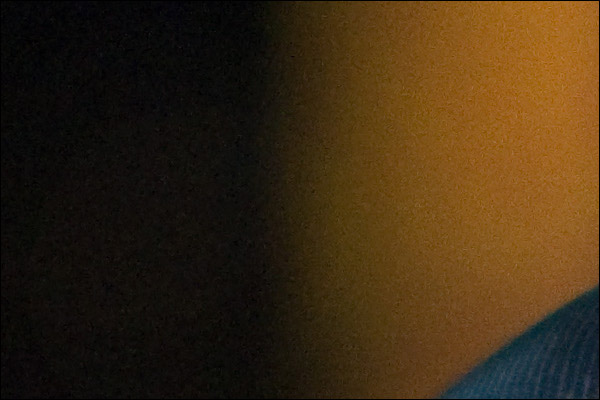 Noise is starting to come in, but still nothing I'd be concerned about on a professional shoot.  Which means I am quite impressed with this.
So let's take it another step up to 1600 ISO for a candid shot  out on the street where Elmo made a shy appearance by now!
Looking at a small portion of that image as a 100% crop ..
Here we are starting to see that mottled effect of high-ISO noise really creeping in.  And yet, I'd say this is about a stop away from the high-ISO killer, the Nikon D3.  In other words, very impressive for a camera that retails at US $730.00.
.
Nikon D5000 AF speed and accuracy
Keeping in mind that my day-to-day camera is the Nikon D3, then it will be obvious that no camera that I work with or play with, will quite match up to that beast.  With the Nikon D5000, I had more misses and focusing inaccuracies than I would've had with the D3 .. but that is an unfair comparison.
For where the camera is pegged at, the AF speed is solid.  I was able to get many grabshots that were keepers.  Fleeting moments where I just turned the camera towards people and snapped the scene …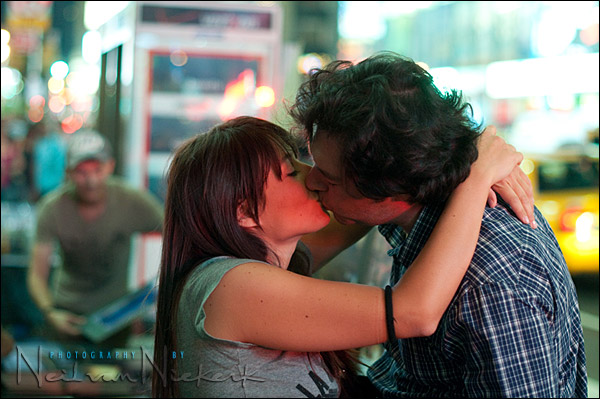 1/125th @ f2 @ 1600 IOS
In perspective, I'd say the AF performance is solid, especially considering the light levels I was working in, and shooting with a fast lens where the depth-of-field is very shallow.
btw … One of the billboards threw a heavy red color cast on them, which I partially corrected for in RAW, hence the background going towards a cyan tint.
.
Nikon D5000 handling
The camera is small and lightweight.  Very easy to carry around.  It is too small for my large hands though, and if I were to use the camera regularly, I would be looking at one of the off-brand grips to give something larger for my mitts.
One feature that makes the camera very interesting, is the fold-out LCD panel.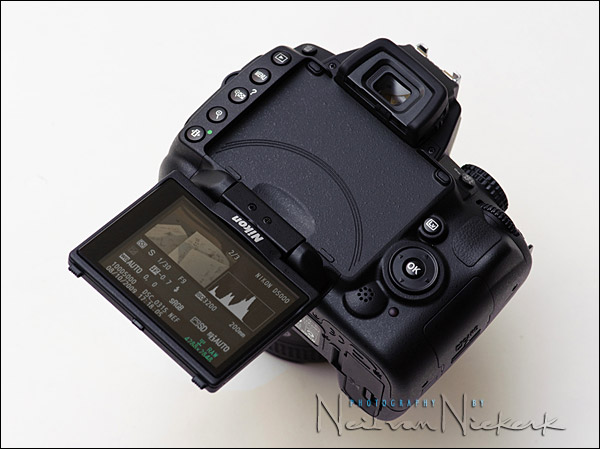 It folds close to protect the LCD, and folds and swivels open to reveal the settings and image preview.  You can use the LiveView function to surreptitiously take candids without taking the camera to your eye.  However, the auto-focusing is much slower with LiveView enabled.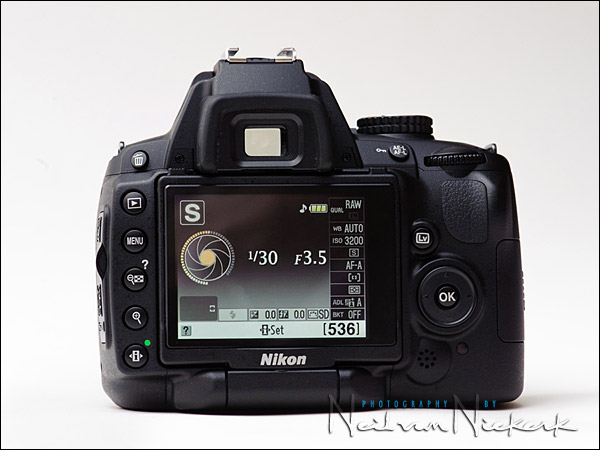 And I like that the display on the back also rotates when the camera is rotated.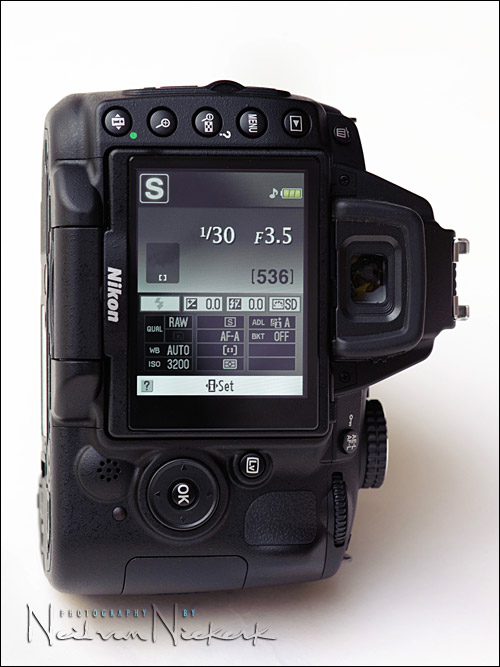 The Nikon D5000 has all the exposure modes you could ever want, from fully manual, to Scene modes.  This is a camera that would allow you to grow.
Shooting in manual exposure mode is more clumsy than in a higher-level camera, in that you have to push more buttons to change settings.  The rear dial controls the shutter speed.  But by pressing the +/- button and simultaneously controlling the rear dial, you change the aperture.  Changing the ISO is slow though, since you have to go through the menu.  Most people won't find this an issue, but if you want easier access to change the ISO on the move, then you can change custom function 1, so that the Function button (Fn) controls the ISO.
.
Nikon D5000 specifications (a quick overview)
The Nikon D5000 features also includes the following specs:
-  movie mode, in the AVI format at 720p and mono audio,
- a self-cleaning sensor,
- Live View with contrast-detect AF, face detection and subject tracking,
- 11 AF points with 3D tracking,
- 4 frames per second continuous,
- in-camera retouching.
.
Nikon D5000 – final comments
It should be obvious that I found the Nikon D5000 to be a likable little camera with surprisingly good image quality.  And that should be the most important aspect in deciding on a camera.
For another thorough review of the Nikon D5000, which includes a comparison with the Nikon D3, check Frank Nuernberger's site.   You might just be surprised.
.
If you are interested, this camera is available from all camera retailers, including B&H and Amazon: