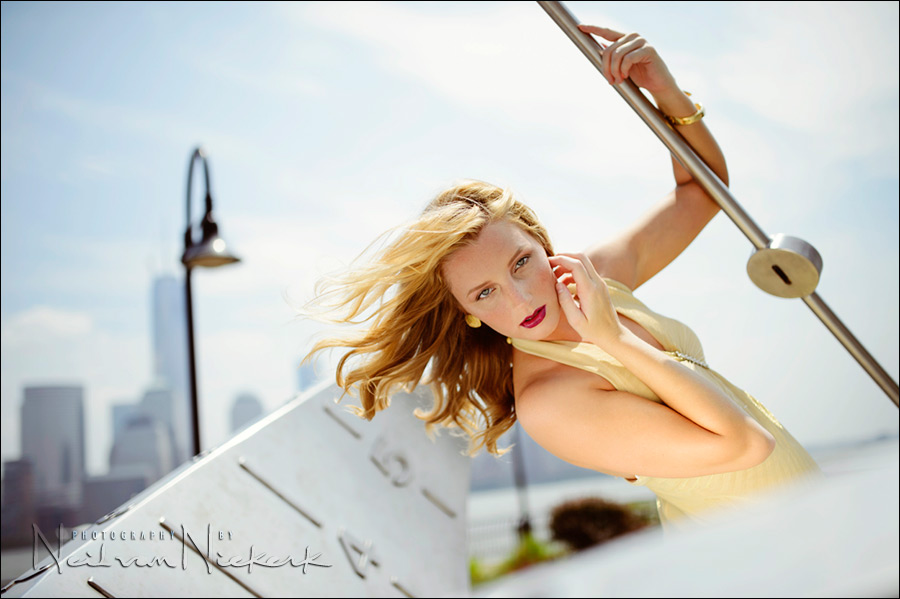 review: Sigma 35mm f/1.4 DG HSM wide-angle lens
I have to admit upfront that I am a lens snob. Not so much for a lens being esoteric or collectible, but rather that I have a particularly strong preference for the name brand lenses. When I shot with Pentax way way back, I only used Pentax lenses. Similarly, I only have Canon lenses for my Canon bodies, and Nikon lenses for my Nikon cameras.
Part of it is that the styling of the lens and camera is more consistent. Yes, I do like my cameras to have a certain aesthetic appeal. I know, I know … how pretty a lens looks has no real correlation to how spectacularly it performs. But actually, there is a correlation of sorts. The spendier equipment (which performs well), tend to be designed to look good. But I digress.
The main reason though why I keep within a certain brand, is that the top names tend to have the top lenses. A recent test I did between the Sigma, Tamron and Nikon 24-70mm f/2.8 zooms, showed once again that the Nikon optic had the edge: photography: how good do your lenses need to be? Therefore, most often, it is a simpler choice to just get the lens which has the brand name, and forego a lot of testing. Of course, there is always the possibility of an expensive disappointment. But generally, staying with the big camera brands is a decision that can be made with confidence.
My interest was piqued though by the news that Sigma is releasing new lines of lenses, and tightening up their quality control. From Sigma's website: "all newly produced interchangeable lenses from Sigma will be designed for and organized into one of three product categories: Contemporary, Art and Sports. Each line has a clearly defined concept to guide shooters in the selection of the right lens for their photographic interests".
One of the first lenses to be released, is the Sigma 35mm f/1.4 DG wide-angle prime lens, and I was able to get a copy for review purposes.
Sigma 35mm f/1.4 DG HSM for Canon mount (B&H)
Sigma 35mm f/1.4 DG HSM for Nikon mount (B&H)
The lens has a noticeably different look than Sigma lenses in the past, and actually looks quite sleek and modern, but this all wouldn't mean much, if the lens didn't perform spectacularly, and was at a more affordable price point than the Canon and Nikon equivalents: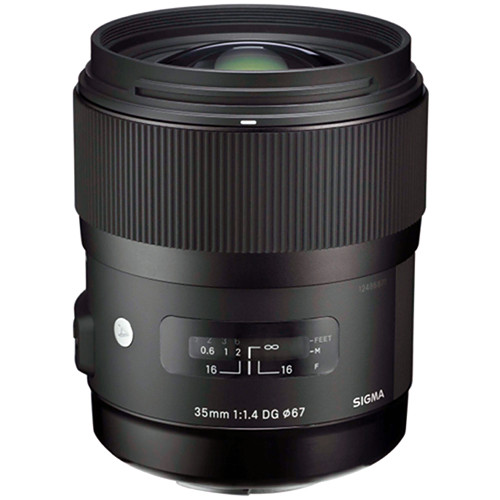 I mean, this lens really looks good. It also feels like it was crafted with precision, and it has a nice heft in your hand. It feels solid.
price for the Sigma 35mm f/1.4
The Canon lens has an excellent reputation.
Canon 35mm f/1.4L USM (B&H)  -  $1480
The Nikon is a comparatively recent release than the Canon,
and as expected, it's an excellent optic
Nikon 35mm f/1.4G AF-S (B&H)  -  $1620
The Sigma comes in at a very favorable $900 in comparison.
Sigma 35mm f/1.4 DG HSM for Canon mount (B&H)
Sigma 35mm f/1.4 DG HSM for Nikon mount (B&H)
Sigma 35mm f/1.4 DG HSM for Sony mount (B&H)


optical performance of the Sigma 35mm f/1.4 DG lens
This lens is sharp. In comparison to the Nikon lens, I couldn't really distinguish a difference. If you were to mix the files, (for each aperture), it would be difficult to tell them apart in terms of center and edge sharpness.
I added a folder with a sequence shot with the Sigma lens, from where the high-res RAW files can be downloaded. The images where shot with the Nikon D4. The images are obviously not proper test images with calibrated charts shot under controlled conditions. But they will give you and idea of what to expect.
At f/1.4 there is the expected reduction in contrast compared to the other images. The very edges have a slight image softness compared to the center, but it looks really good for a fast prime. There is also the expected vignetting when shot wide open, but this is quite mild. Anyway, vignetting is rarely a bother. We know this happens, and most often, it enhances the look of the photograph's wafer-thin depth-of-field. I never lose sleep over the fact that lenses show vignetting wide open. It's just another characteristic we embrace … or at least accept.
This lens, like most (or all?) wide-aperture primes, lose some light at widest aperture. Meaning, there is about 1/2 stop less light at f/1.4 than you might expect.
Keep in mind that f/1.4 isn't really f/1.4 for most (all?) wide-aperture primes.
This means you very well might not get that extra shutter speed / ISO setting you desire when you open up.
For example, with these wide primes, if you have: 1/125 @ f/2.8
it doesn't directly translate to: 1/500 @ f/1.4
when you look at the brightness of the image, or the histogram.
You lose about 1/2 stop. This is true for this lens as well.
Regarding the bokeh – it is surprisingly smooth for a wide-angle prime. I really liked how this lens rendered busy backgrounds.
using the Sigma 35mm f/1.4 DG during a photo session
I had the pleasure again of photographing Nicole Jolly, a model I met during some of the After Dark Edu events where I taught classes. By the way, the After Dark Edu events are invigorating experiences for any photographer wanting to learn.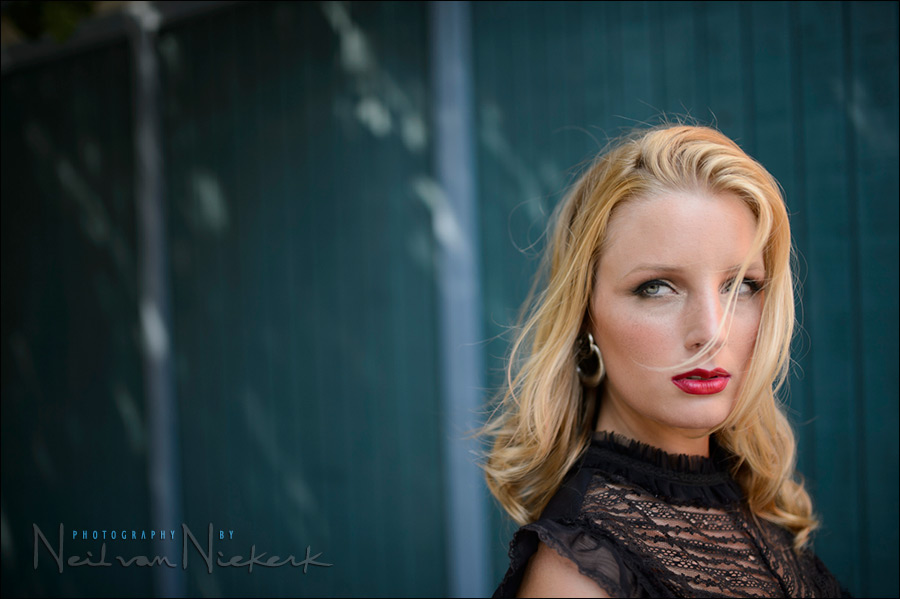 Nicole and I took photos in and around Jersey City and Hoboken. This image with the blue background was shot at f/1.4 and the high-res file is super-crisp. As much detail as you could want. Of course, even with the background so close to her, it starts melting away with the shallow depth-of-field that the wide aperture allows.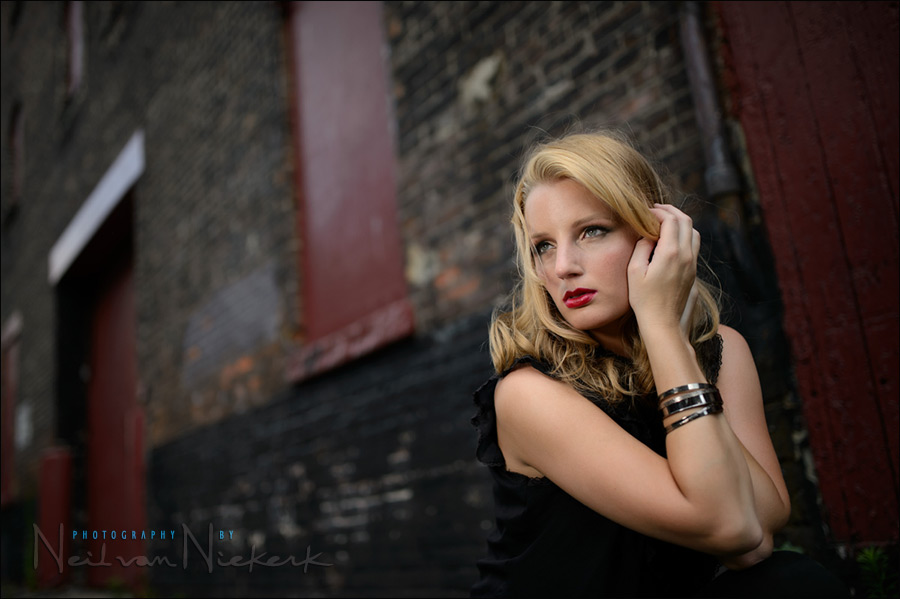 This image was shot at f/1.4 as well, but with off-camera speedlight in a small Lastolite 8.6″ Ezybox (B&H). Again, the super-shallow depth-of-field should be noticeable … even for these photos scaled down to web-size. That minimal DoF definitely adds a certain look to photographs that f/5.6 just can't. For this flash-lit portrait, I had to go into high-speed flash sync.
more details: off-camera flash with a small softbox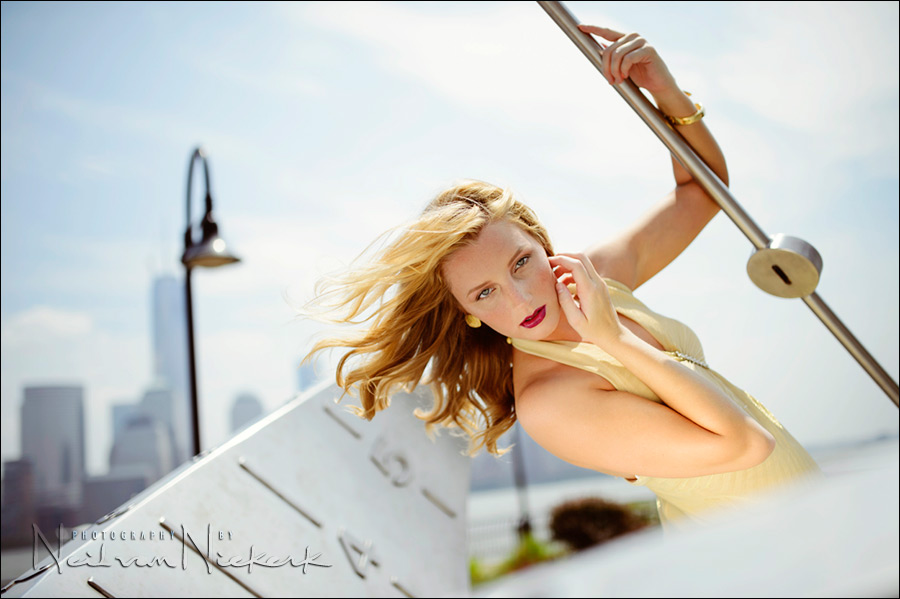 This photograph, also shown at the top, was shot at f/1.4 in very bright light. Of course, the shutter speed had to be 1/8000 (at 100 ISO) to allow such shallow depth-of-field. The light on Nicole is from the metallic sundial below her, reflecting light upwards.
Checking the sharpness of this lens continually during the shoot, by zooming in to 100% magnification on the camera's preview, it was reassuring to see how sharp the photos were. You could count eye-lashes. It's that kind of sharp, even with the aperture wide open. The lens' focusing is also fast and confident.
review summary
In summary, with numerous test images I shot with this lens, and in using it on a photo-session with a model, this lens was stellar. I'd easily recommend it. And that is saying something coming from a name-brand lens snob.
For the official specifications of this lens, check these B&H links.
Sigma 35mm f/1.4 DG HSM for Canon mount (B&H)
Sigma 35mm f/1.4 DG HSM for Nikon mount (B&H)
Sigma 35mm f/1.4 DG HSM for Sony mount (B&H)