romantic wedding portraits – working with an idea
I was down in Baltimore last weekend, photographing a wedding there. The groom, Chris, follows the Tangents blog, and he and Lindsay sought me out as their wedding photographer. While this is hugely flattering, there is now a little extra pressure to live up to and even exceed expectations!
We snuck outside during dinner time, and walked around the Lord Baltimore hotel, to get a few urban portraits. During dinner there is a bit of a lull in the reception while the guests enjoy their meals. A good time to get additional romantic portraits without taking the bride and groom away from the party. Outside the hotel, we worked in the subway station's entrance, and a few spots on the streets of downtown Baltimore. Then in the distance on a street intersection, I saw a wisp of steam rise up. A familiar sight in New York, and I had always hoped to photograph a couple through the rising steam, but never had the opportunity.
But this was a bit of a gamble for me. There is the idea … but it depended on the steam rising up in a way that augmented the photograph. The steam was very erratic in how it rose – the wind would waft it around, and the passing traffic would just blow it away entirely. So the idea would need a bit of good luck to work.
There was also very little light in the middle of the intersection, and I couldn't risk my second shooter's life there to hold up a video light. It would have to be just the available light in the middle of the pedestrian walkway across the intersection.
I took a quick test shot to see if it could work …
Sure enough, 1/80 @ f2.8 @ 2500 ISO
The low-light abilities of the Nikon D3S  (B&H) would save me again. And of course, an f2.8 telephoto zoom with aggressive stabilization.  The
Nikon 70-200mm f2.8G VR II (B&H) is my lens. The Canon EF 70-200mm f/2.8L IS II (B&H) is a wonderful choice as well. Super-sharp with incredible stabilization.
I then told Lindsay and Chris to go to the opposite side of the street, and as soon as the light turned green for them, go to the middle and stop there. The pose would have to be a straight-foward half-hug while looking at each other.
Here is a shot of Lindsay and Chris, waiting to cross the street. There was a fair amount of traffic!
The telephoto zoom at 200mm, would help isolate them against the out-of-focus urban scene … but would also help me *reach* across the intersection to frame them in a sensible composition.
I took about 40 frames in short bursts, of which about 6 are successfully sharp with no cars in the frame. Quite a few images were lost like this …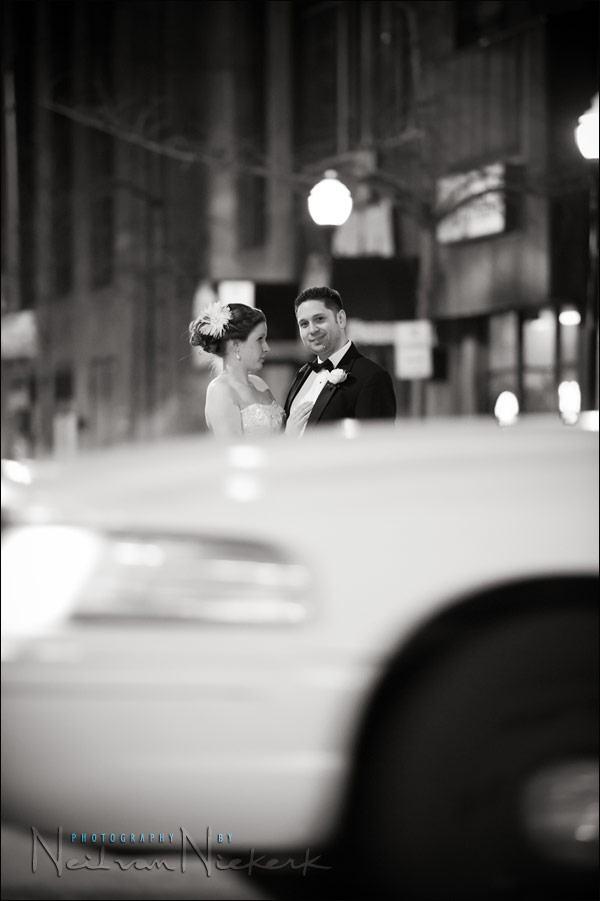 With the distance and city noise, Lindsay and Chris couldn't always hear me properly as I shouted instructions, so there were a few odd expressions that didn't make the final edit either.
I was very happy with that success rate – 6 images – since the light was low, and conditions were unpredictable. It all came together based on an idea; a little bit of luck; photography equipment that was up to the challenge … and a couple that trusted me as their wedding photographer.
other articles on wedding photography
Recommended telephoto zooms:
If you find these articles interesting and of value, then you can help by using
these affiliate links to order equipment & other goodies.   Thank you!
Stay informed of new articles via the monthly newsletter.
Also join us on the Tangents forum for further discussions.