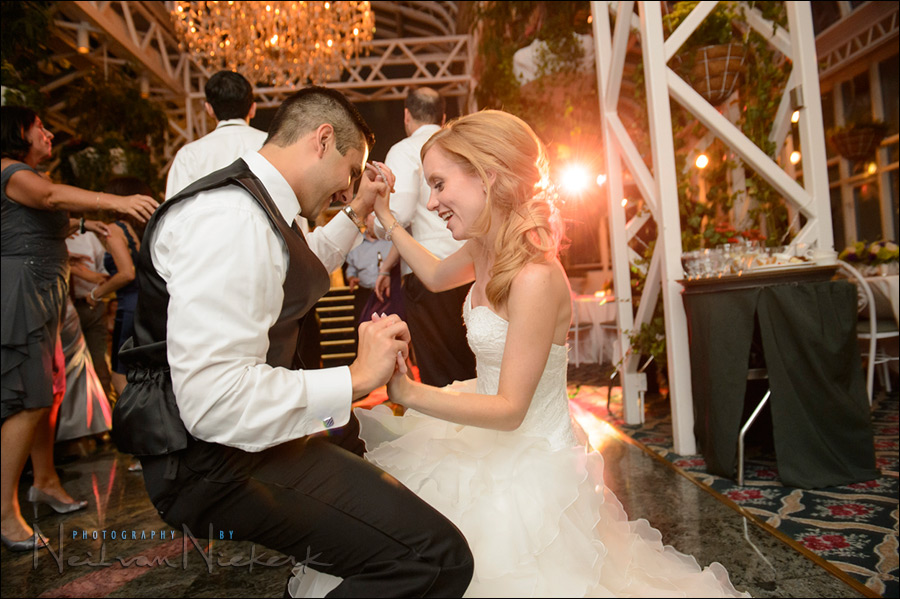 wedding photography: using high ISO and flash to retain ambience at the reception
Chatting with other photographers at the recent WPS convention in Chapel Hill, NC, I was again struck by how there are so many different ways of approaching lighting. In this case, lighting at the wedding reception. The one photographer I was chatting to, set up multiple speedlights around the reception room, and then controls which are fired, from his on-camera Master speedlight.  Very impressive.
In recent years, the wedding reception venues where I've shot on the East Coast of the USA, have moved away from being the dark-hole large rooms, by adding up-lighting, and making the places generally more vibrant and colorful. Coupled with the astonishing high-ISO capability of the last two generations of cameras, I really haven't felt the need to set up additional lighting to lift the general light levels, like I would have in the past, as described in this article:
– wedding photography: TTL flash with off-camera manual flash
Here is a recent wedding at the same venue as the above link … where I was able to effectively light the entire place with just one on-camera speed light.
– bounce flash photography & the inverse square law
By using a higher ISO, and carefully bouncing my flash, I could get away with a much simpler set-up of a single on-camera speedlight.
Here's an example of a recent wedding, where the reception was in a glass-house style conservatory. By shooting against the DJ's lights, I was able to NOT have a dark background, but something colorful instead.
{ 33 comments }