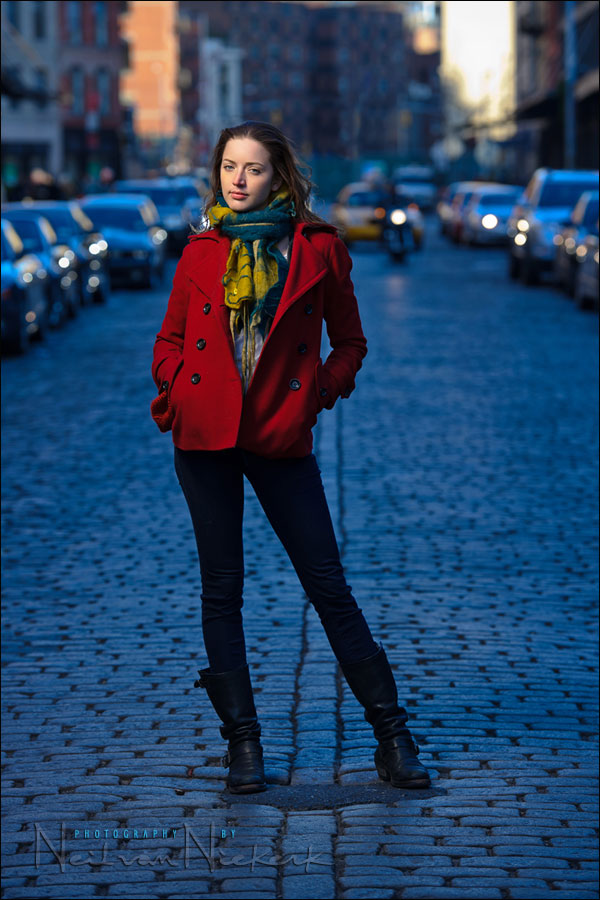 gelling your flash for effect – blue background (model: Anelisa)
The idea of gelling your flash for effect has been a topic here a few times. I most often use gels on my flash to correct my flash when working with tungsten / incandescent light. There are times though when I gel my flash just for effect, creating a shift between my foreground (lit by gelled flash) and my background.
In the examples shown in the several articles here, there wasn't the type of background where the effect can clearly be seen on easily recognizable "neutral" background. In the article turning day into night, we turned the sky a dark shade of blue. With the sequence of photos of a model, Bethany, there was a reflective mirrored wall as background that we changed the color of. The effect looks stunning, but the mirrored wall might not be something that makes the color shift obvious to the casual visitor here.
With that, during a recent individual workshop in Manhattan, while working with Anelisa again, I took the opportunity to specifically take this sequence of images. They will hopefully clearly show how we can create a more dramatic effect by shifting the color balance of our flash in relation to the available light …
{ 18 comments }