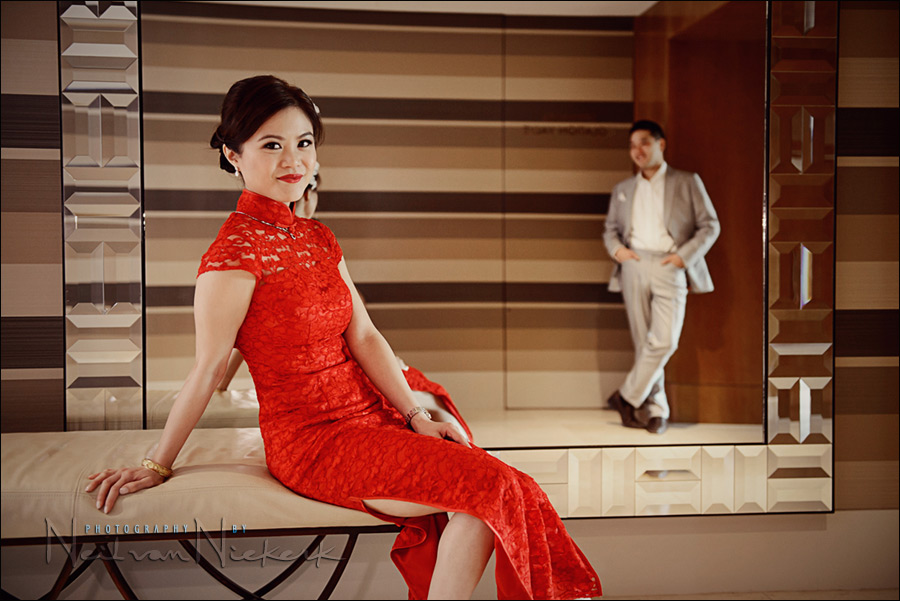 bounce flash photography – adjusting the black foamie thing to be a snoot
During the day, as I photograph a wedding, I am continually mixing up the lighting, adapting and adjusting. It's part of the process of giving my clients as much variety as possible, and also just being flexible in adapting to the demands of the various locations. It's therefore a varied approach in using all kinds of light sources: off-camera flash, on-camera flash, video light and available light. It's part of the fun, and part of the challenge of being a wedding photographer – thinking on your feet. Of course there's extra pressure on you as photographer when you're flown to Melbourne, Australia to photograph a wedding!
The morning after Peiwen and Eric's wedding, they had the Tea Ceremony with the parents, and Peiwen was in traditional dress. I just had to get more portraits of the two of them, and with Peiwen in this striking red dress.
In the elevator lobby on their floor, there were these seats and mirrors and wood paneling that looked like it would make an elegant setting for some portraits of the couple. But the light there was uneven, and not very bright. I needed to add some light, but only had a video light with me, and on-camera flash. With that large mirror, someone holding up a video light would've involved a lot of Photoshop work. So the next option – bounce flash. But again, that large mirror there was a challenge.
{ 15 comments }