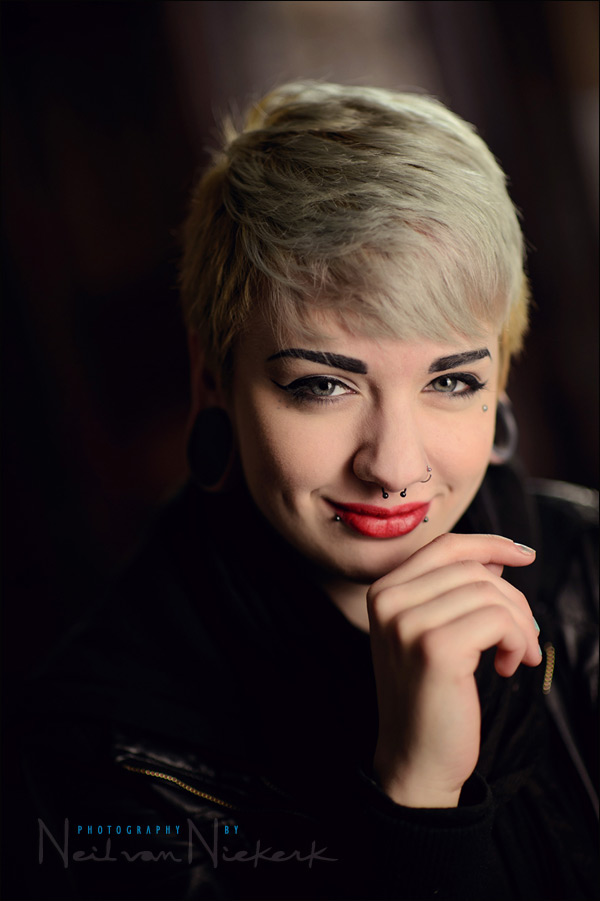 portraits with continuous lighting – Westcott Spiderlites   (w/ model: Lauraine)
This striking portrait of Lauraine is a combination of that sparkling mischievousness … and on the techie side, the selective focus of a wider aperture lens, and the flexibility of continuous lighting. The f/1.4 deliciousness of an 85mm – the best lens to change your portrait photography – really brings her eyes to attention.
During this part of the photo session in the studio, I decided to use continuous lighting. Lauraine is new to modeling for the camera and working in the studio, and the lack of flashes popping, helped in keeping the atmosphere gentle. The shorter telephoto length of an 85mm lens, meant I could work close and give instruction on posing. Slight adjustments to her hand or the tilt of her head could be more easily relayed.
Lighting was with two Westcott Spiderlites:
I used the softbox in the background as a hair light and to spill a little bit of light on the background.
The background is this 4 panel room divider screen (purchased via Amazon). Spilling a bit of light on it, and angling it properly, it allowed a hint of color and texture in the background, making the final setting for the portrait series a little more nuanced.
{ 3 comments }