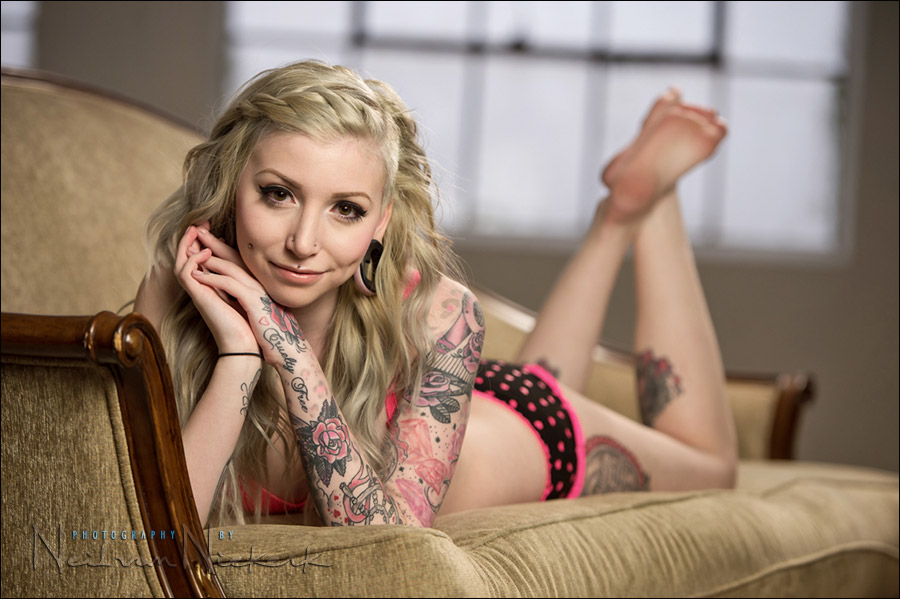 boudoir photo session w/ Westcott Spiderlite TD6 and TD5 (model – Morgan)
When Morgan contacted me, I immediately wanted to do an Inked Magazine style photo session with her. (Check her Model Mayhem portfolio.) We met up in my studio for the shoot to try several ideas.
First, I tried ring-flash, but as usual, disliked the look of ring-flash. I just can't get into it.  A funny thing about style – I like soft light – so I went Westcott Spiderlites (continuous lights) and a large softbox on Morgan, and a Profoto flash head to light up the white paper backdrop. It looked pretty cool. I'll show some images in a later article.
Then, for the final part of the photo session, I continued working with the Westcott Spiderlites, veering more towards a boudoir photo session. Moving the couch to the middle of the carpeted area of my studio, I set up the lights to give a nice flood of light on her. The pull-back shot shows how they were set up …