timelapse photography – a complete introduction
When I got my Nikon D4 and found that it made the compilation of time-lapse clips so much easier, I was hooked. It's a fascinating niche in photography. Here are some of the time-lapse clips I created.
However, as with everything in photography – or as with everything in life really – there is a learning curve. Then you have two options. You can reinvent the wheel, and figure it all out from scratch by yourself … or you can do some homework and study what people before you have done. There are several websites that are loaded with information – and then there is this book by Ryan Chilinski. Everything you want to know about Time-Lapse Photography, neatly encompassed.
Up until now, the book has been available only as a PDF book, which could be purchased directly from Ryan: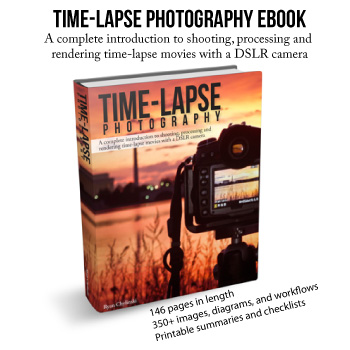 … but it has now been released on Amazon as a proper printed book: Time-lapse Photography: A Complete Introduction to Shooting, Processing and Rendering Time-lapse Movies with a DSLR Camera (Volume 1)
If you're curious about Time-Lapse photography, start with either of those two versions of the book. It's a very thorough primer on this topic.