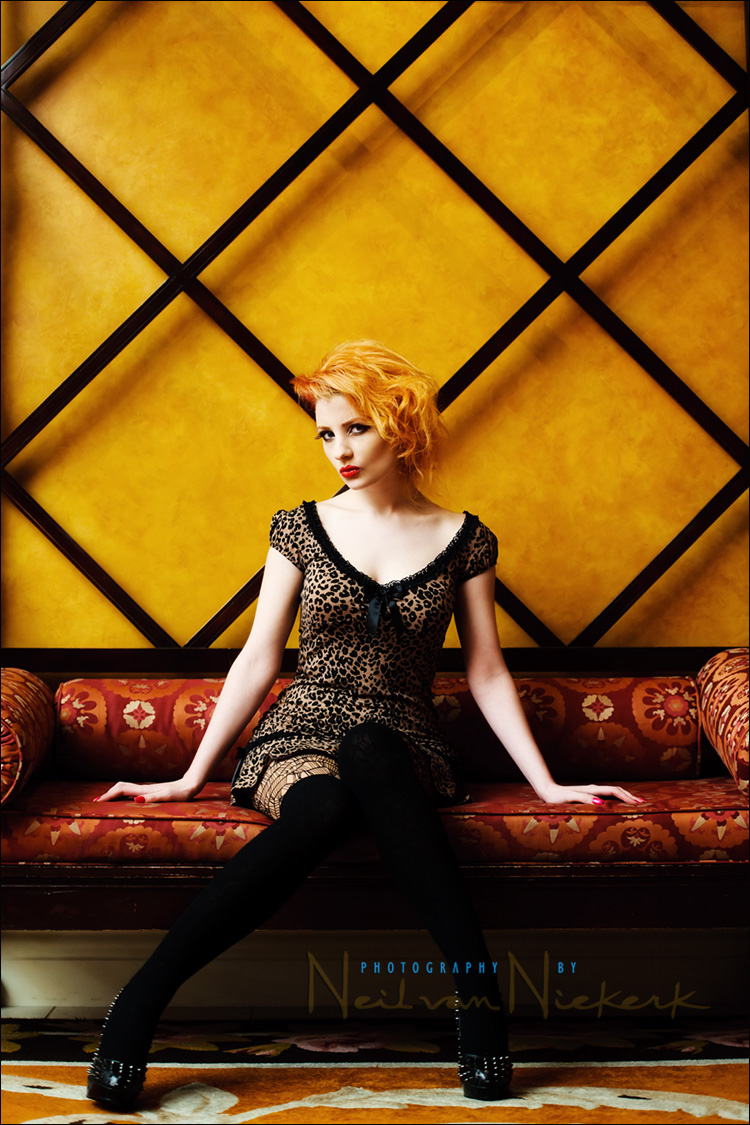 Ulorin Vex – Hotel Monaco foyer (photo session 4)
During the same afternoon that I had the opportunity to photograph Ulorin Vex, I took several other sequences of images of her in other costume. Here we worked in the foyer area of the Hotel Monaco in San Francisco. (If only all other hotels had such a diversity of immediately photogenic areas!)  With this image, I wanted a near-symmetrical image, with just Ulorin Vex's posture slightly breaking the symmetry up. Just enough to make a stunning subject even more eye-catching.
A little more about the train-of-thought to getting to this image …
When I saw that bench in the foyer area, I knew that it would work as a simple backdrop, and that the colors would pop. The pose is mostly Ulorin Vex's … she is supremely professional and easy to photograph, bringing so much to the photo session. Then all it needed was gentle fine-tuning of the positioning of her hands and legs by telling her how I'd like her to place her hands and feet.
In lighting this, I went for a simplistic set-up again – just bouncing an off-camera flash into the ceiling and away from her. The pull-back shot will explain this better:
The off-camera speedlight was controlled with a  PocketWizard FlexTT5 transceiver (B&H) which allows me, with the PocketWizard AC3 Zone Controller (B&H), to change easily from manual flash to TTL flash, and control the power of the flash, from my camera. In the end, I shot with full manual power, since bouncing flash this way lost a lot of light.
camera settings: 1/80 @ f3.2 @ 640 ISO
In the larger image of that pull-back shot, you can see that I had gelled my flash. The light in there was predominantly incandescent, so I just used a gel on my flash. In the end, looking at the comparison shot without flash, so little ambient light registers, that it most likely wouldn't have made much difference.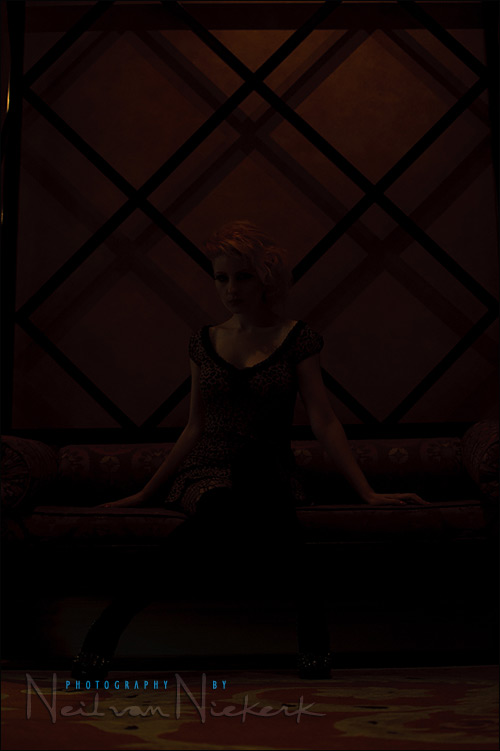 Yet, the shadows of the diagonal beams do show up in the final image. In the end, I'd gel my flash again if I had to shoot in a similar situation. It just makes more sense to have my flash be close to the color balance of the predominant ambient light source.
For the two images shown here, I took my post-processing a few steps further than I usually do.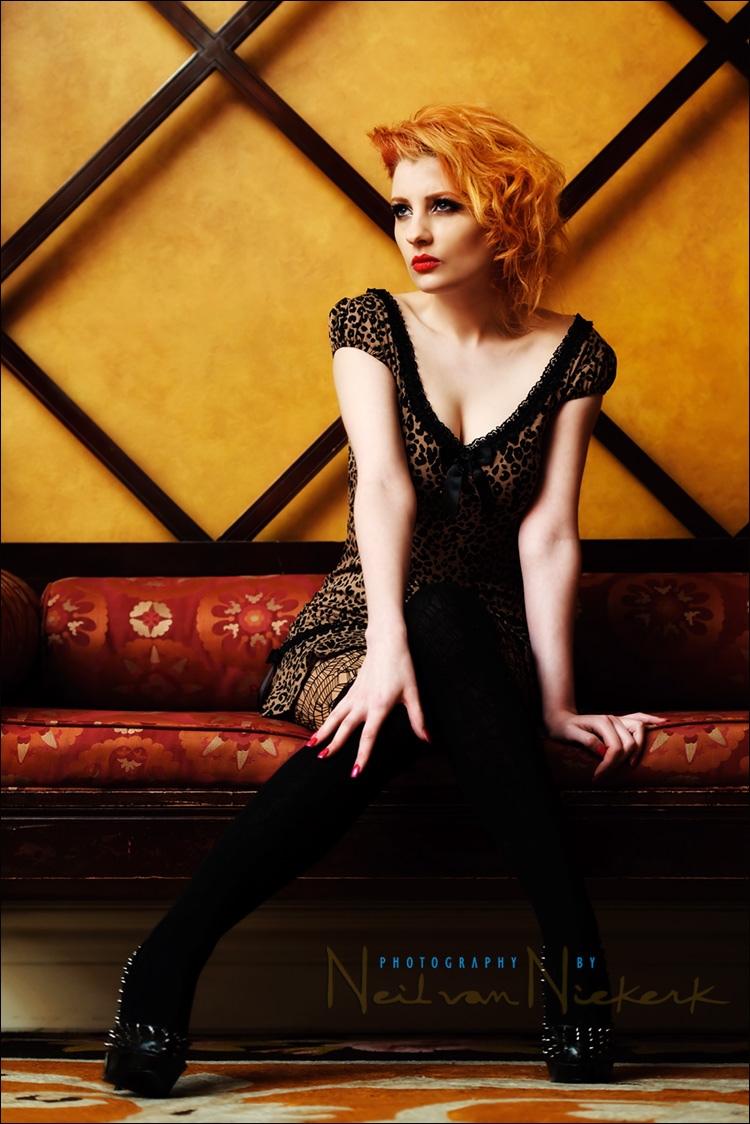 Instead of my usual post-processing workflow for retouching portraits, I changed things up a bit:
I used Neat Image to smooth the image a bit;
then ran a Nik Color Efex filter – Glamor Glow – at reduced opacity;
an adjustment layer which I set to a Soft Light blending mode, also at reduced opacity;
and what gave this image a grittier but glowing look, was the Gradient Map layer, set to Soft Light blending mode, again at reduced opacity.
And that's all it took – a fantastic model, a photogenic spot, simple but effective lighting and some Photoshop fairy dust. Simple really.
other articles on Tangents, featuring Ulorin Vex:
model – Ulorin Vex
Ulorin Vex in red - photo session 2
Ulorin Vex – window light - photo session 3
Equipment used with this photo session:
Nikon D3;  Nikon 24-70mm f2.8 AF-S (B&H)
Nikon SB-900 (B&H);  Nikon SD-9 battery pack (B&H)
(2x) PocketWizard FlexTT5 transceiver (B&H)
PocketWizard AC3 Zone Controller (B&H)
Manfrotto 1051BAC light-stand (B&H)
newsletter / forum / workshops & seminars
Stay informed of new articles via the monthly newsletter.
Also join us on the Tangents forum for further discussions.
If you need more direct help or instruction on flash photography,
I do present workshops & seminars and also offer individual tutoring sessions.
If you find these articles interesting and of value, then you can help by
using these affiliate links to order equipment & other goodies. Thank you!