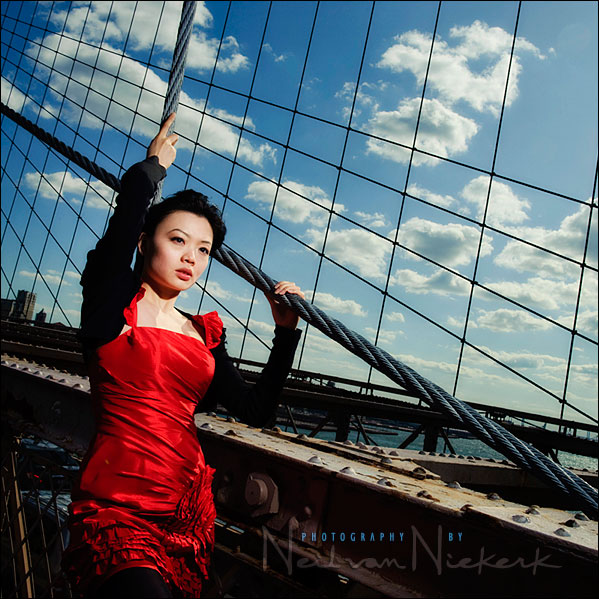 using direct, bare (un-modified) off-camera flash
Last week I had the opportunity to meet up with a fellow South African photographer, Jaco Fourie, who was visiting New York for a few days.  I knew Jaco's work from some of the forums that he posts on, and his work with flash was invariably quite impressive .. so I looked on this as a great opportunity to see another photographer work and learn from him.
I arranged for two models, and we met up in Manhattan for these photo sessions.  Jaco specifically wanted scenic views of Manhattan, and incorporate the model as part of the urban landscape.   It would be less meaningful to reduce the images so that they looked like they could've been taken anywhere.  So he shot wide and allowed the landscape room in his images.  And to make the model really stand out, he used a very simple arrangement of two speedlights on light stands – direct manual flash, triggered by pocket wizards. I was very impressed with his results, which you can see here on his blog.
When working outdoors, my approach has largely been that of using a softbox or some modifier so that my flash is more diffuse - which made it quite refreshing to try something slightly different than my usual method …
… and use direct flash off-camera, instead of the softbox.  It was necessary in this instance to use direct flash, since I only had the one Q-flash with me and nothing larger.
The image at the top was taken at 1/250th @ f18 @ 200 ISO … and with a speedlight or a Q-flash, that kind of aperture isn't attainable when you stuff the flash inside a softbox.  You'd need a much larger flash, or a studio strobe.  So direct flash it had to be.  But taking it off-camera, and positioned in a way to augment the sunlight, and even over-power the sunlight falling on our model, it looked quite dramatic.
The main lesson for the day?  I needed to get out of my comfort zone!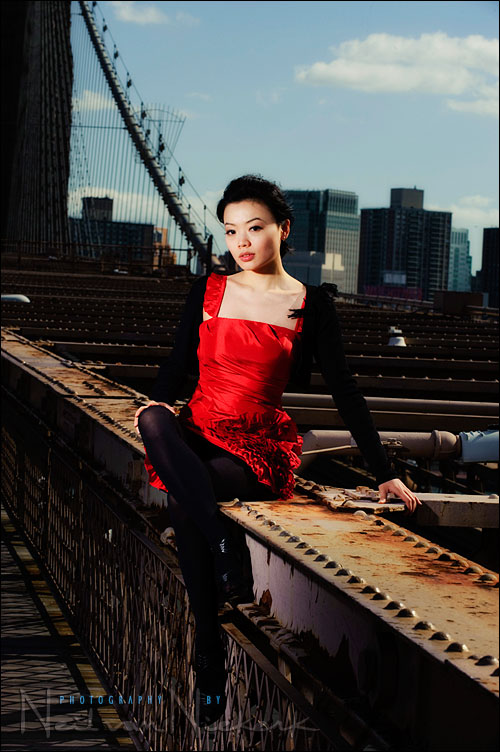 [ settings:  1/250th @ f18 @ 200 ISO, with manual off-camera flash ]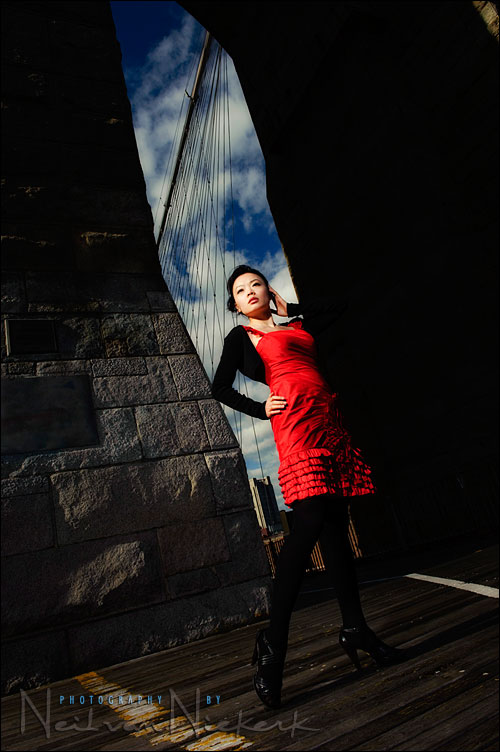 [ settings:  1/250th @ f16 @ 200 ISO, with manual off-camera flash ]
More articles on off-camera flash …
newsletter / forum / workshops & seminars
Stay informed of new articles via the monthly newsletter.
Also join us on the Tangents forum for further discussions.
If you need more direct help or instruction on flash photography,
I do present workshops & seminars and also offer individual tutoring sessions.
If you find these articles interesting and of value, then you can help by
using these affiliate links to order equipment & other goodies. Thank you!