should you use a filter on your lenses?
It's a constant debate whether it is a good idea to use a UV / skylight filter on your lens for protection.  There are viable arguments for either choice.
During this recent shoot with Jeannie Dee, I immediately noticed that with these heavily backlit portraits, I was getting an unusual amount of flare …
… and removing the filter on front of the lens immediately helped.  Noticeably so!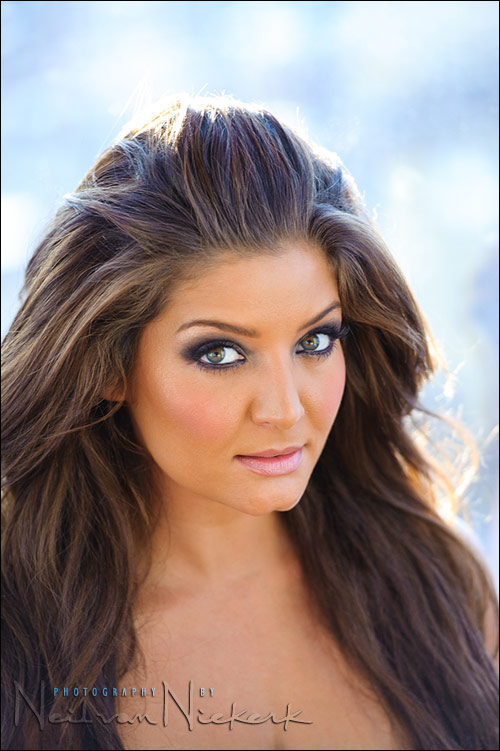 Shooting towards a bright light source or a bright background,
is one time where NOT using a filter makes absolute sense.  
You risk getting lens flare, no matter how good the filter is.
This amount of flare doesn't necessarily mean the image is unusable though …
Here is the image again, but with the levels and contrast adjusted, and the colors warmed up in Photoshop.
Here are the two points that I change on the Levels layer … the mid-tones and the black level.  Then I add some contrast with curves on another layer.  It is an improvement, but with this image there is still a gradation in tones noticeable from the top to the bottom.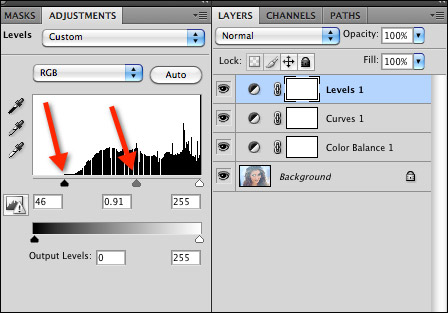 As always, the ideal is to get the best image quality we can, IN camera already.
.
Of course, lens flare can be used for effect.
In this image here, I feel that the bit of lens flare in the bottom of the image helps to frame  her face.
In comparison, here are two examples of where I filter saved me a lot of trouble, and a lot of expense.
This is the *splat* that a floating bubble left on my filter at a wedding shoot. When they have bubbles after the ceremony when the couple leaves the church, then the bubbles become hard to avoid.  And this spot is hard to clean without using water .. something I'd rather not put my lens through.  (The white stripes are just the blinds in my office reflected in the filter.)
This image of a shattered filter which had protected my lens, is something I've already posted about before.  I truly believe this filter saved my lens from considerable damage.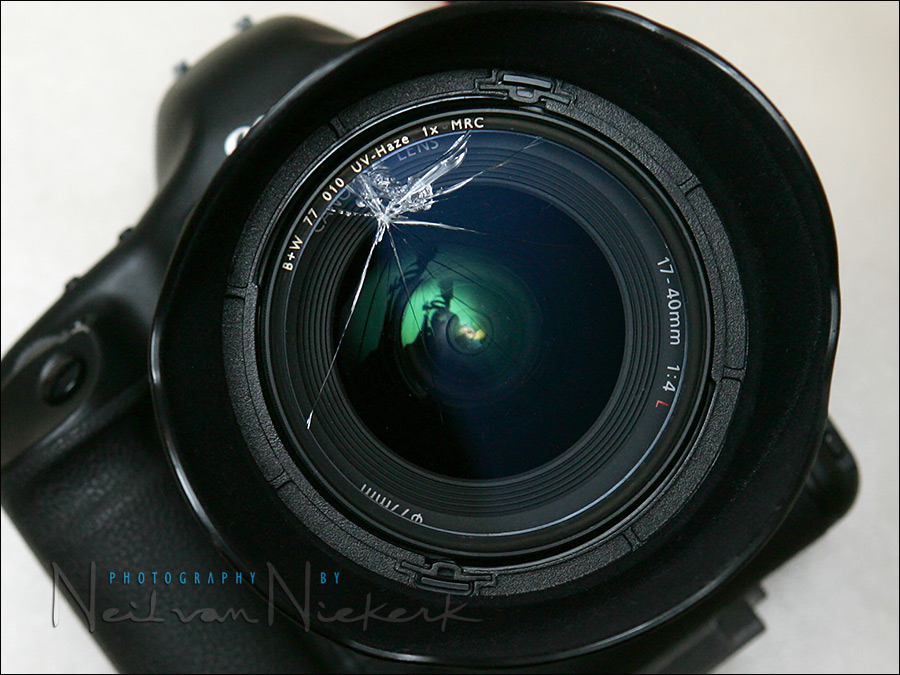 .
So, should you use a filter?  It depends entirely on where you shoot and what you shoot. Do you need your lens protected?  Are you risking flare?  Balance these needs and requirements and there's the answer.  Sometimes you need a filter, but quite often, it makes most sense not to use one. Best not to argue about it, and just adapt your choice on the shooting situation you find yourself in.
ETA: As mentioned elsewhere on this site: lens hoods are the best protection for your lenses.
The filters that I use:
Nikon Clear NC filter, 77mm (B&H)
B+W 77mm UV Haze 010 Filter (B&H)
B+W 77mm Kaeseman Circular Polarizing Filter (B&H)
B+W 77mm #103 Neutral Density (ND) 0.9 Glass Filter (B&H)
newsletter / forum / workshops & seminars
Stay informed of new articles via the monthly newsletter.
Also join us on the Tangents forum for further discussions.
If you need more direct help or instruction on flash photography,
I do present workshops & seminars and also offer individual tutoring sessions.
If you find these articles interesting and of value, then you can help by
using these affiliate links to order equipment & other goodies. Thank you!