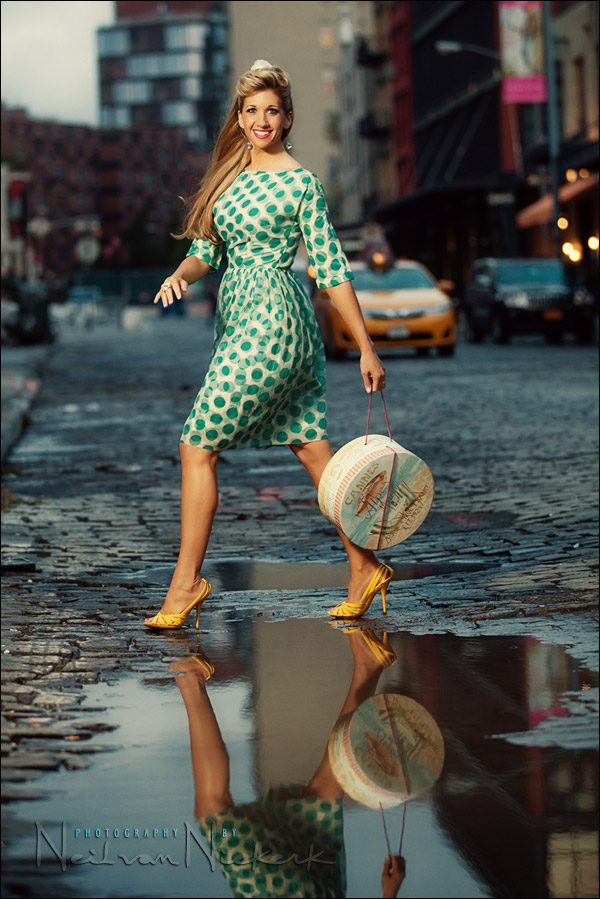 off-camera flash for a photo session with a Vintage look
Anyone who regularly follows the Tangents blog or has my 2nd book, off-camera flash photography, might recognize Sarah. When she told me she was visiting New York, I made sure that I squeezed in a photo session with her in my schedule. The weather on the day was grey and drizzly … enough reason to juice it up with some off-camera flash. And then play with the images in post-processing a bit …
If you find these articles interesting and of value, then purchasing your photography equipment & other goodies through these affiliate links would be a great help in maintaining this site. Thank you!
camera settings and decisions
Coinciding with the opportunity to photograph Sarah, I wanted to try out the new Canon 24-70mm f/2.8L II (B&H) that I had on hand. (More about that in a follow-up article.) But of course, not all situations warrant a medium-range zoom. With some scenes you really need that compressed perspective that a 70-200mm f/2.8 can give you. So for this sequence, I used the  Canon 70-200mm f2.8L IS II (B&H) at its widest aperture.
On this rainy day there were random pools of water in the street, and it took just a few minutes to find a viewpoint where we could get Sarah's reflection in the water. My favorite image is this one though, where her reflection is only partly shown. The wide aperture helped give some separation from the background.
Since it was early evening, the color balance had gone very blue compared to Daylight. With this final image, I warmed up the tones for my subject considerably in post-processing. Even then, the background remains with the colder blue hues. Despite what the image appears like, I did not gel my flash for effect here, like I sometimes do.  The available light really had that cold a color balance compared to the flash's color balance.
I loved using the Canon 600EX-RT speedlite (B&H) and ST-E3-RT Speedlite Transmitter (B&H) during the entire day's shooting. My enthusiasm for the amazing flexibility of the current Canon flash system is still undiminished since my review of the Canon ST-E3-RT and Canon 600EX-RT speedlites (with Molly K as a model), and my review of the Canon 600EX-RT speedlite, (with Karyn as the model).
The lighting here was quite straight-forward again, as my lighting setups tend to be. It was my regular Lastolite  EZYBOX Softbox (24″x24″) (B&H) to camera left.
Sarah took multiple passes until we had a few shots in the bag where I caught her stride perfectly, and the movements of her arms and body fit the image too. For this reason, I wanted to shoot more than one image per pass. I had the flash in manual output, and had figured out my settings so that the flash would emit slightly more than than 1/4 full power per shot. This way I made sure I could fire off two shots every time she walked across that part of the puddle.
camera settings: 1/200 @ f/2.8 @ 640 ISO
With that decision made … my flash output had to be balanced with the ambient light to some extent at least. And this is where I ended up.  1/200 was max sync speed. I couldn't risk going into HSS mode. Now, with the Canon 5D markII and the Canon 600EX-RT, there is a warning sign on the speedlight or controller that will come up, warning the shutter speed is too high. Despite that, as reported in my previous review, the flash worked perfectly well.
post-processing the image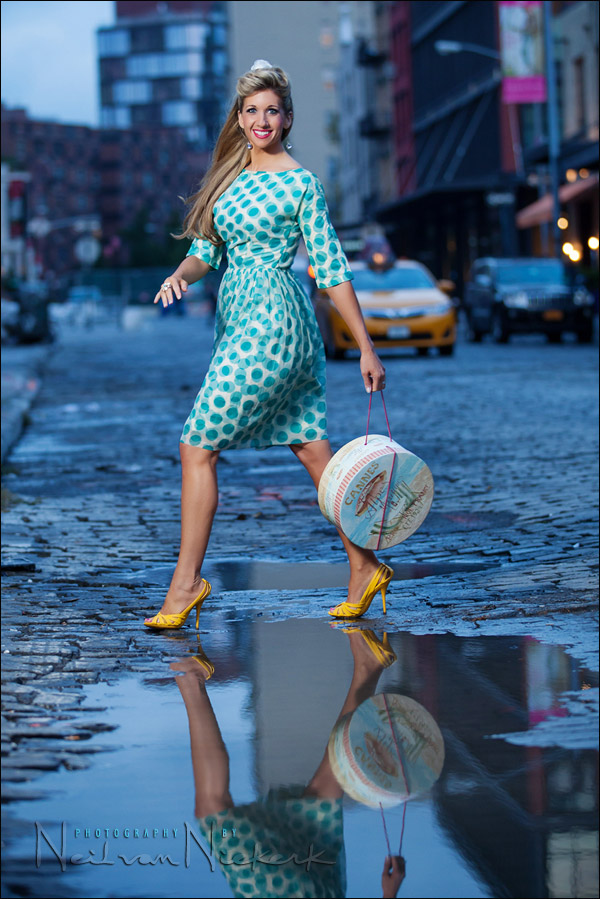 For this initial retouch of the photo, I used the Healing Tool in Photoshop for any skin blemishes and marks. Then I used two essential Photoshop plug-ins – Shine-Off and Imagenomic Portraiture – as described in this article: Photoshop filters – retouching for portraits. That gives me a basic file that looks good and I can work on a little bit.
For this version, I tried out the new action by Totally Rad – Pro-Retouch 2, and used the "Pop-It" action. It really does bring a certain zest to the details in the image.
But my favorite edit of this image, was the one shown at the top, where I used Totally Rad's RadLab Filters. I enhanced it with numerous of the built-in Stylets to give a warm Vintage  feel to the photograph. I saved this as a recipe for future use and further tweaking.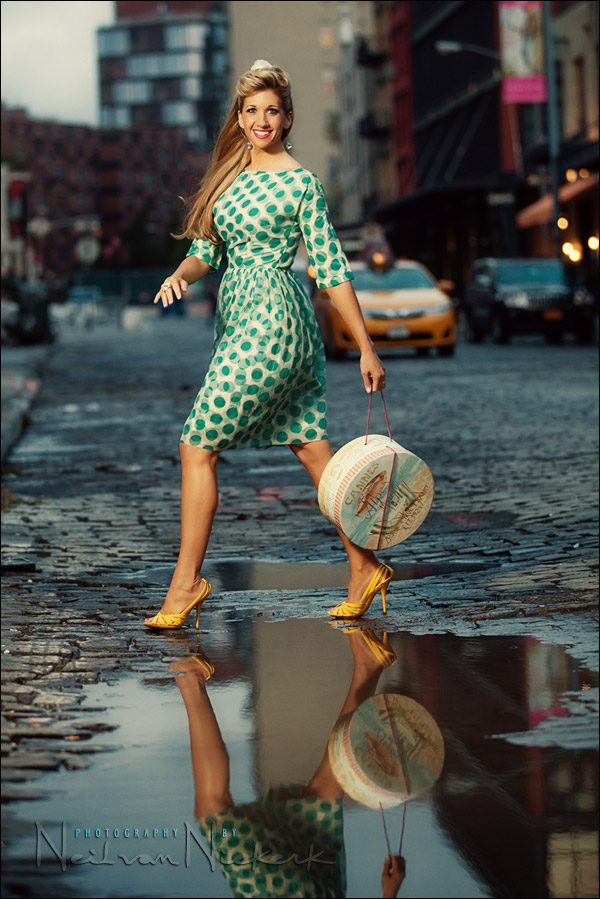 equipment used during this photo session:
Canon 5D mark II;
Canon 70-200mm f2.8L IS II (B&H)
Canon 600EX-RT speedlite (B&H)
ST-E3-RT Speedlite Transmitter (B&H)
Canon CP-E4 battery pack (B&H)
Lastolite  EZYBOX Softbox (24″x24″) (B&H)
other articles featuring Sarah
- the progression of an idea (photo session with Sarah & Mark)
- overpowering the sun with flash (models: Sarah & Mark)
- NYC photo sessions – Sarah & Mark  (Vimeo clip)
- what you see might not quite what was there
photography books written by Neil vN
newsletter / forum / workshops & seminars
Stay informed of new articles via the monthly newsletter.
Also join us on the Tangents forum for further discussions.
If you need more direct help or instruction on flash photography,
I do present workshops & seminars and also offer individual tutoring sessions.
If you find these articles interesting and of value, then you can help by
using these affiliate links to order equipment & other goodies. Thank you!