wedding photography – adapting photographic light & lighting during the wedding day
When I posted the photographs of a recent wedding in an album on FB, there were a lot of questions regarding my lighting. The answer is an easy one – I change it up as needed, throughout the day. Whatever is needed to give me the best results the fastest. It's rarely just one thing. So with Alesha and Patrick's wedding, I used on-camera flash, off-camera flash (with a soft box), Profoto on-location lighting kit, and of course, if it worked, then I just used the available light. The one only lighting option that I regularly use at weddings, that I didn't use on this day - video light.
The image at the top, of Alesha just as she finished her prep, was shot with just the fluorescent lights in the room. The color versions look good too, but I really liked the simplicity of B&W here.
More images: Alesha & Patrick – wedding – Rockville, Maryland
Let's step through a few images, and discuss what I used in terms of lighting, and the how and why …
using on-camera bounce flash
I don't often use flash during the ceremony. I prefer the less noticeable option of just using the available light. But this church was particularly dark. I used my 50mm f/1.4 for some of the photos, but I had to rely on on-camera bounce flash for a large part of the ceremony. With this, I have more control over DoF and the quality of light.
Using the black foamie thing, my flash is bounced off the church wall to my right. Higher up. I don't want to blitz anyone in the face.
camera settings: 1/125 @ f/3.2 @ 2000 ISO
I had my flash set to full output in manual, to be sure I had correct exposure. In other words, I set my flash to full output, bounced it … and then changed my settings until I had correct exposure. Doing it this way, meant that I had the optimum between DoF, shutter speed and ISO.
I did my test shots earlier on, before anyone walked down the aisle. So I knew the range of my settings for proper manual flash exposure.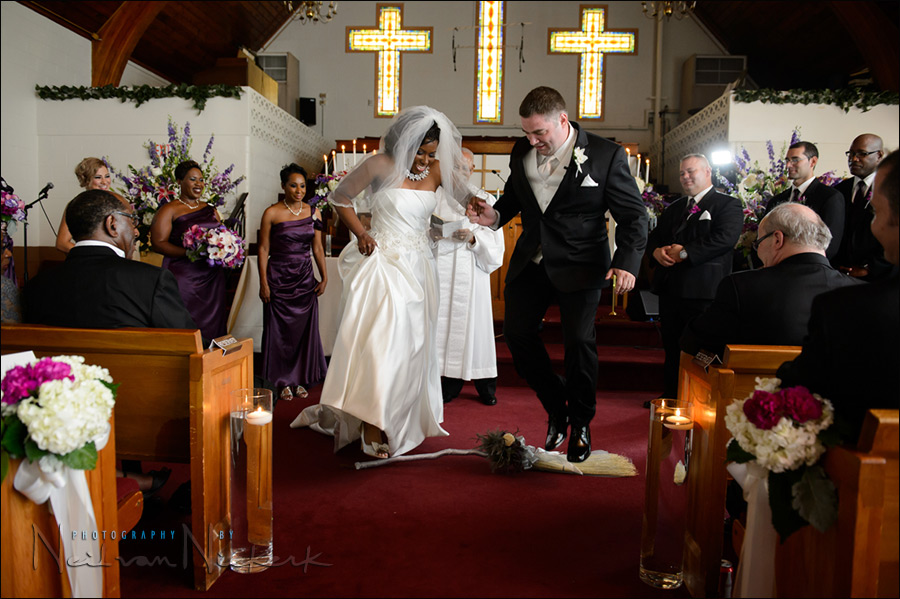 Jumping the broom, an interesting part of wedding ceremonies in some cultures. As Patrick put the broom into position, I pre-focused. So I was ready for the shot.
camera settings: 1/125 @ f/3.2 @ 2000 ISO
All images so far, were shot with just the 24-70mm f/2.8
With the reception, I also just used on-camera bounce flash. The uplighting helped in avoiding that very dark background. The ceiling here consisted of light-colored wooden panels that were angled, which made it difficult to get good results everywhere in the room. But, knowing this, I found a few good spots that worked well.
For the cutting of the cake, I bounced my flash over my right shoulder, off the glass and structures. It does work! And I get the typical directional quality to my bounce flash that I like.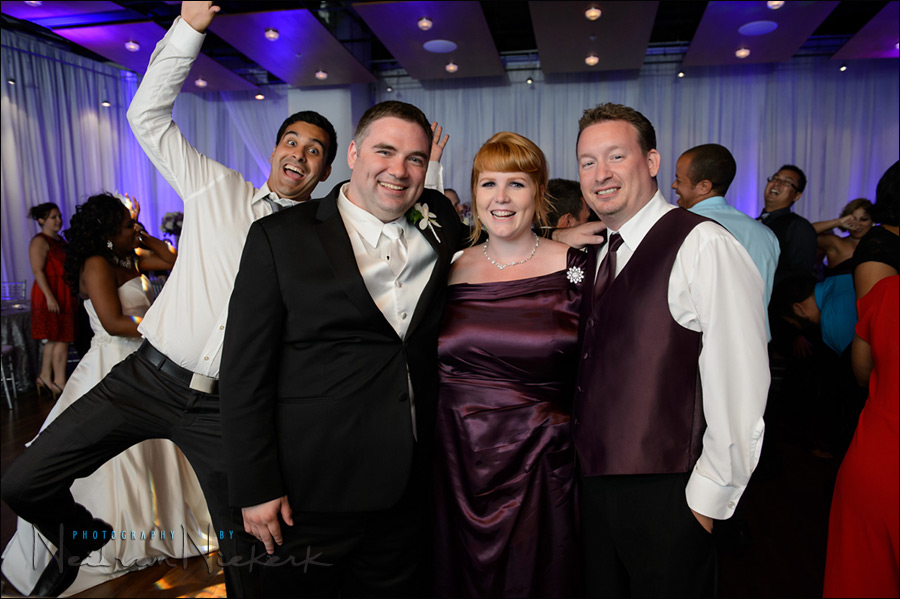 off-camera speedlight and a softbox
For the romantic portraits in the evening, we went out on the street in front of the reception venue. I specifically looked for backgrounds where I knew the out-of-focus lights would help create a great background. But I also had to make sure that the existing light didn't intrude too much or create odd patterns on the couple. It really is a matter of quickly summing up where to take the images, and posing the bride and groom.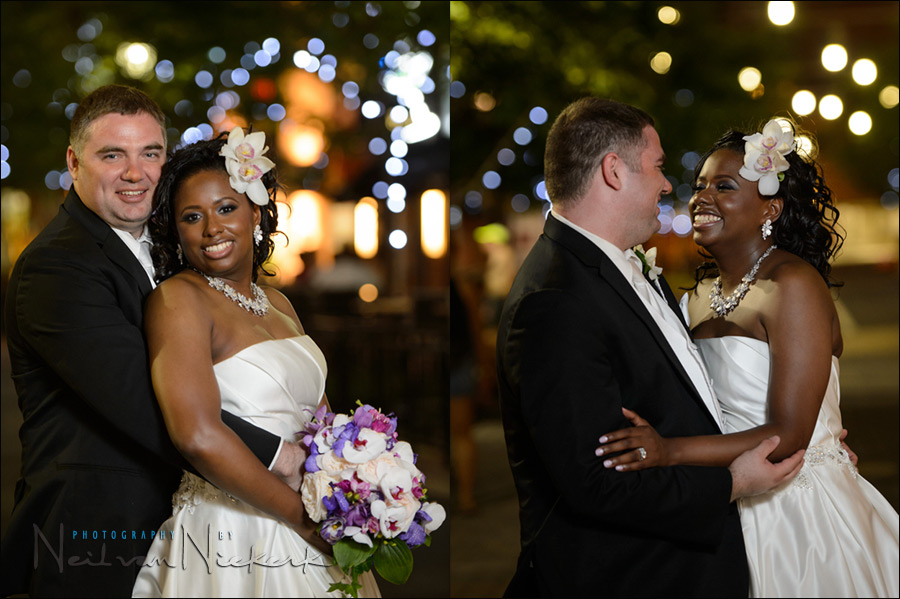 For these images, I used the Westcott Rapid Box – 26″ Octa Softbox (B&H) with a speedlight, triggering them with my PocketWizard TT5 units. Manual flash.
My assistant on the day, (my wife, Sara!), holding up the softbox on a monopod, knew to keep a specific distance from the couple. I had chosen my camera settings so that I was at the best possible point for DoF, shutter speed and ISO.
camera settings:
shutter speeds ranged from 1/30 to 1/40
apertures ranged from  f/2.8 to f/3.2
ISO was set to 1600
I changed the settings (within that very small range), depending on what I saw on the back of my camera's preview. I also dialed the flash's output via the PocketWizard TT5. But I had to work super-fast, because I didn't want to delay the couple from enjoying the rest of the reception party.
I had two cameras that I switched between. One had the 24-70mm f/2.8 and the other the 70-200mm f/2.8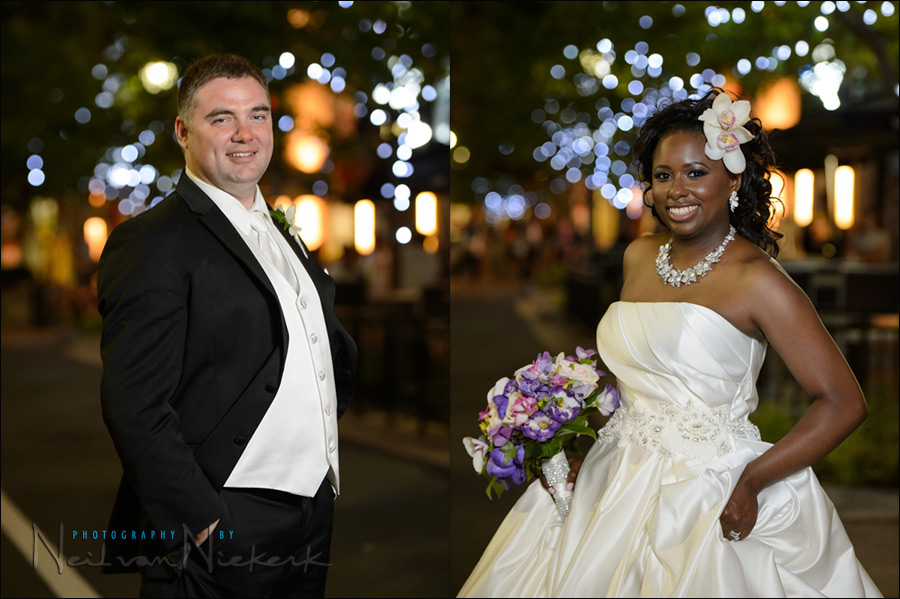 This last image is one of whole sequences that I shot, walking backwards, firing a number of frames. My assistant had specific instruction to keep to the same distance in relation to them, regardless of my position. (Why?  A little bit of homework!)
For the family groups, I used the he Westcott Rapid Box – 26″ Octa Softbox (B&H) with a speedlight, because it is easy to set up and light-weight … and the family groups were small. Yup, a fun group. And no, not all my family group photos look like this.
off-camera lighting with larger studio-type strobes
The couple specifically wanted photographs in front of this historic venue. I didn't want particularly want to directly fight the sunlight. So I moved everyone into the shade of a large tree. But now I had to match the very bright late afternoon sunlight in the background: 1/250 @ f/5.6 @ 200 ISO
I knew the small speedlight in the small softbox was going to be insufficient for this task. This called for something beefier.
So I had my assistant (my poor wife), run to the car to fetch the  Profoto AcuteB2 600 AirS/R Power Pack  (B&H). The softbox is the Profoto Softbox RF 3×4′ (90x120cm) (B&H). In the meantime, in closer range, I kept photographing the bride and groom, using the Westcott RapidBox. I didn't want to lose any time, waiting for the larger unit. The RapidBox and speedlight were good for working closer to the smaller grouping (ie, just the couple).
We then very quickly set up the Profoto – and I do love how easy it is to set up – with the large 3×4′ double-baffled softbox, and continued photographing the entire bridal party. The quality of light from this larger strobe (and much larger softbox), is very easy to see in the images of the bridal party.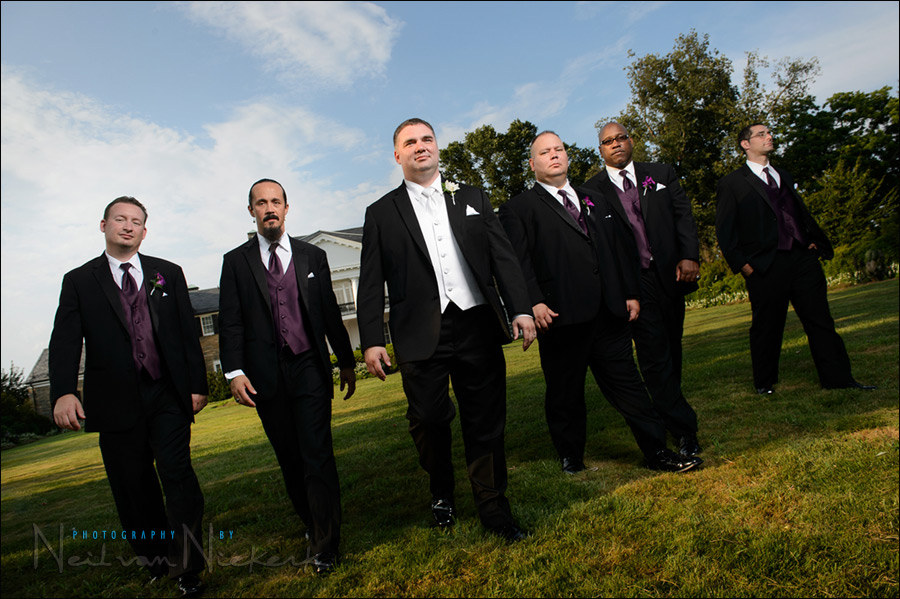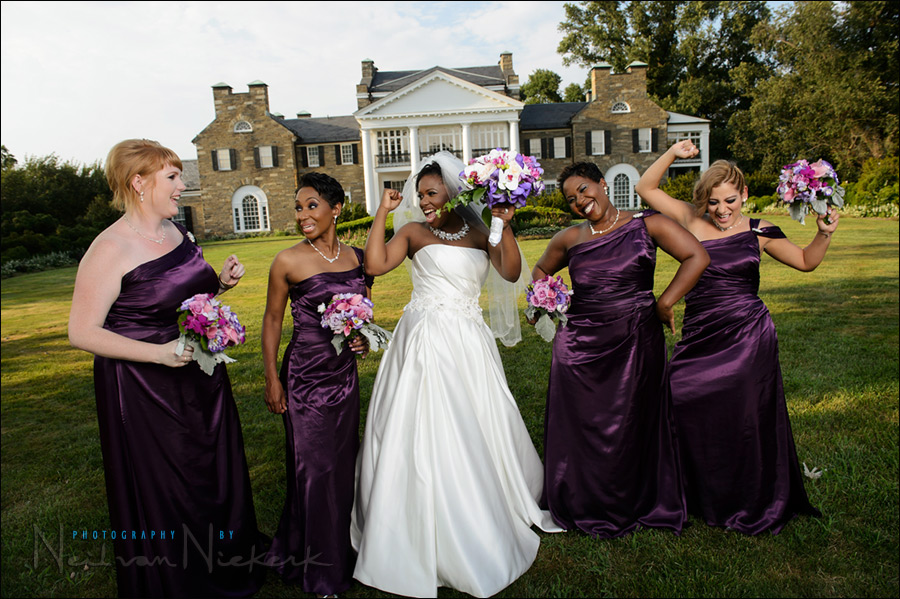 summary
When photographing weddings, I have a larger arsenal of lighting gear in my car than just my on-camera speedlight … or just an off-camera speedlight. To give the best results, I have to be flexible, and be able to adapt what I use, to the challenge I am facing. So it rarely is just one way of working, and one way of doing things.
photo gear (and equivalents) used in photographing this wedding
Nikon D4 (B&H)
Nikon 24-70mm f2.8G AF-S  (B&H)  /  Canon 24-70mm f/2.8L II (B&H)
Nikon 70-200mm f2.8 AF-S VR II (B&H)  /  Canon EF 70-200mm f/2.8L IS II (B&H)
Westcott Rapid Box – 26″ Octa Softbox (B&H)
Nikon SB-910 Speedlight (B&H)  /  Canon 600EX-RT Speedlite (B&H)
Nikon SD-9 battery pack (B&H)  /  Canon CP-E4 battery pack (B&H)
Profoto Acute B2 600 W/s powerpack (B&H)
Profoto  Softbox RF 3×4? (90x120cm) (B&H)
Manfrotto 1004BAC light-stand (B&H)
related articles
- lighting ideas for romantic wedding portraits  (Melissa & Dennis)
- shooting wedding formals in the mid-day sun  (Aluanda & Clarence)
- photographing the wedding processional with extreme bounce flash  (Alli & Scott)
- flash photography during the wedding ceremony in church
- bounce flash photography at wedding receptions  (Juana)
- bouncing on-camera flash in manual mode  (Julie)
- Alesha & Patrick – wedding – Rockville, Maryland
a little bit of homework
Why did I give my assistant (holding the softbox), specific instruction to ignore my own movements and keep to the same position relative to the couple when they were walking?
How did going to full manual output on my speedlight, (when I bounced flash in the church), give me my optimum settings?