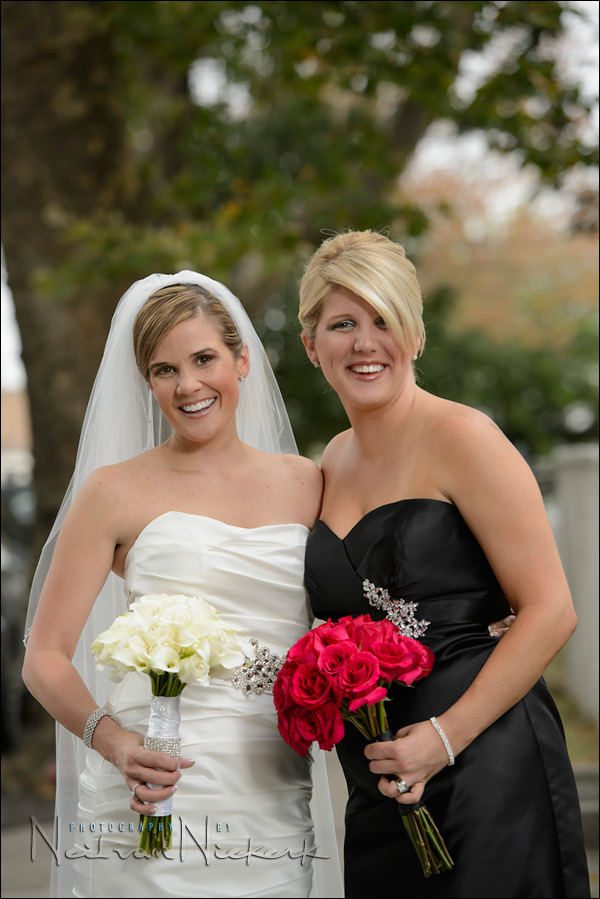 wedding photography: portraits of the bride & bridesmaids
Continuing with the theme of photographing great portraits on a wedding day when there aren't beautiful surroundings: when I have the time at the bride's house, I will always try to get individual portraits of the bride with each bridesmaid.
I like doing this early in the day already at the bride's house, because everyone's energy levels are still up. Everyone is still excited, and emotions are still high. No one is hungry; with shoes that hurt them. So, with that idea in mind, I like getting as many of these portraits "in my pocket" while I can. We may not have the time again later on in the day when the schedule starts to run tight.
In the recent article where I showed how I use a fast telephoto zoom to eliminate background clutter from the image. The shallow depth-of-field throws the background out of focus, and the long focal length compresses perspective. This compressed perspective you get, by shooting at the longest focal length, makes the background "stuff" appear larger, and hence even more out of focus than with a wider lens. Conversely, you can say that the tighter view allows less of the background to appear.
This time I remembered to take a pull-back shot as well, to show where we were:
If you find these articles interesting and of value, then purchasing your photography equipment & other goodies through these affiliate links would be a great help in maintaining this site. Thank you!
I had to stand behind the opened gate, to get the angle and distance I needed. There is a red fire hydrant to the left, behind the bride. There is also a yellow traffic sign behind them in the distance. I positioned myself so that the yellow sign and red fire hydrant would be behind them in the final image.
By shooting tightly, the background is not intrusive and forms a pleasant out of focus pattern.
The idea here is that you can make this type of portrait nearly anywhere, by finding the correct angle to shoot from. Specifically placing yourself and your subject in relation to the background is the key. Yup, it needs some shuffling to the left and right, and some crouching, to find that shot.
While I try to bring some spontaneity to the portraits, I do direct a bit.
I start off with fairly straightforward photos of the bride with the bridesmaid.
Then I ask them to turn to each other and talk to each other. Sometimes there is an emotional reaction, or laughter. Even if they think it is silly and goofily over-act, there is still a photograph there. If they think it is a silly idea, a look at the camera's preview usually is convincing that the photos do indeed look great.
Then, as a third part of the sequence with the bride and bridesmaid, I ask them to give a big hug for the camera, with both facing the camera. This is usually the preferred shot over the first one where we started.
It's a formulaic sequence perhaps, but in there, I nearly always get a photo with some expression that will make a nice memory of the day for them. Sometimes that spontaneity needs a bit of a nudge.
I used off-camera flash here to give me control over the light. 
Because of the fence, I couldn't quite place it in an ideal position and distance from them. I would've liked the softbox closer, and less at an angle from them. But this is a small compromise, since the final images look great. I used the flash in manual mode to keep exposures consistent.
camera settings:
1/250 @ f/4.0 @ 100 ISO … flash in manual mode
equipment used:
Nikon D4 (B&H); Nikon 70-200mm f/2.8 VR II (B&H)
The lens was zoomed to 150mm.
Nikon SB-910 Speedlight (B&H);  Nikon SD-9 battery pack (B&H)
Manfrotto 1004BAC - tall light stand (B&H)
Lastolite  EZYBOX Softbox (24?x24?) (B&H)
(PocketWizard TT5 units for radio triggers) – TTL output
related articles:
- simplifying composition with a fast telephoto zoom
- wedding day portraits – simplifying composition for effect
- wedding day portraits – bride and bridesmaids – finding a background
more articles on wedding photography 
Again, the lens that is essential here, is a fast 70-200mm zoom.  Both the Nikon and Canon lenses here are stellar.