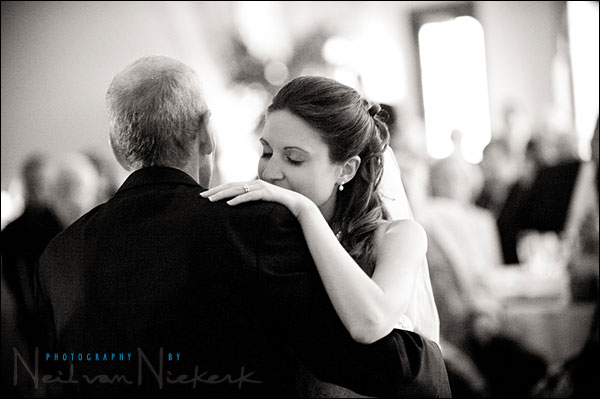 [ click on the image to see a larger version ]
What do you do with an image that is under-exposed but there is a certain moment that you love?  
Well, perhaps you get lucky that when you convert it to B&W and crank up the exposure and embrace the noise / digital grain … and all this adds to the mood and in this case even poignancy of the moment.
Here is the original unedited image of the bride dancing with her dad …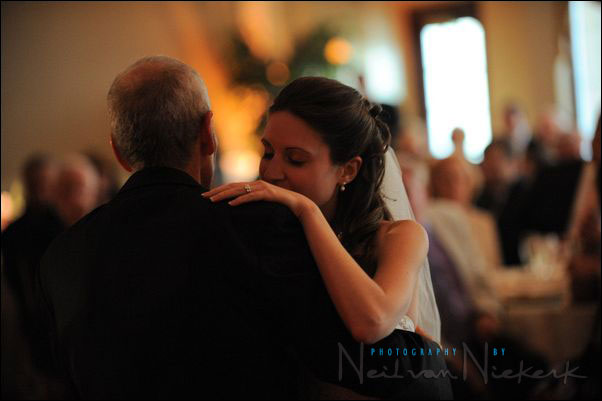 I was shooting a little too fast for my flash to keep up, and got the occasional under-exposed frame when the flash didn't fire.  As I often do, I try to keep the ambient light 2 stops or so under, and then use TTL  flash to bring up the exposure on my subject. 
Even though I did get lucky here, I did help it in my favor by how I position myself in relation to my subject and the background.  I do try to place myself so that I can use some background light to give a sense of place, and help giving the image depth as well.  Doing so helped here in creating a lighter background when I pulled up the exposure by 2 stops to give "correct exposure" on the image.  With the background now blowing out, it gives an ethereal look to the image, which for me, enhances it.  
For us gear-heads:
Nikon D3;   70-200mm f2.8 AF-S
1/60th @ f2.8 @ 2500 ISO 
At such a high ISO, under-exposed by two stops .. the digital grain / noise will be there.  But really, the noise?  Does anyone even notice the noise here?  Look at the photograph again … and feel it instead. The mood and the moment. It's all there.
newsletter / forum / workshops & seminars
Stay informed of new articles via the monthly newsletter.
Also join us on the Tangents forum for further discussions.
If you need more direct help or instruction on flash photography,
I do present workshops & seminars and also offer individual tutoring sessions.
If you find these articles interesting and of value, then you can help by
using these affiliate links to order equipment & other goodies. Thank you!