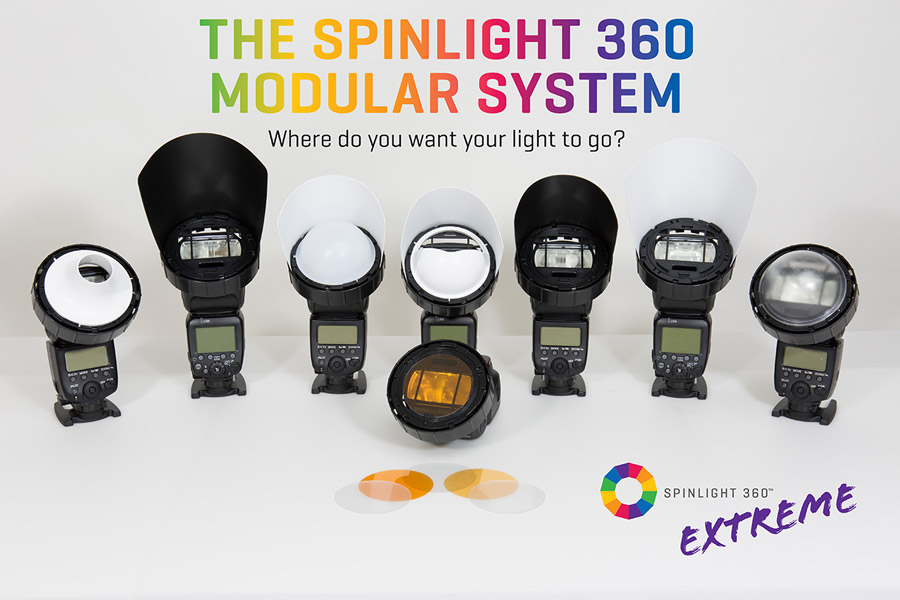 Spinlight 360 – flash modifier system
The Spinlight 360 Extreme is a flexible system to modify your light from your on-camera flash. It can be changed between just being a flag (similar to the black foamie thing) with either of 2 black cards. Or it can take two sizes of white bounce card, with a dome diffuser or half-dome diffuser. You can even insert a gel if you need to. The design philosophy behind the Spinlight 360 was to offer an flash modifier that is versatile and easily adaptable.
You can order a Spinlight 360 Extreme from their site.
Using the discount code neilvn10 will get you 10% off.
official website: Spinlight 360, with video clips on how to use the Spinlight 360
Clarification & transparency:
No, I'm not the creator or designer of the Spinlight. Another photographer, who I've become good friends with since, created and designed the Spinlight. I was graciously allowed to be the first to announce the Spinlight. Because the Spinlight, in part, follows the philosophy behind the BFT, I'm comfortable endorsing this product. I do get a small affiliate commission on sales, just as I do with B&H and Amazon. And yes, I have been using the Spinlight at recent weddings.