comfortably attaching the Nikon camera strap vertically
Something I really like about the Canon D-SLRs, even though it seems a small point, is that they have lugs for the camera strap at the bottom of the camera.  This allows you to hang your camera in a vertical position off your shoulder.  This image showing the Canon 1D mk III, should make it clear.
I find this much more comfortable than having the strap attached to the two lugs at the top of the camera.  With the strap attached to the grip's side, the strap doesn't fall over the eyepiece or is in the way when you swing your camera to your eye. I also find it more comfortable to tuck the camera and lens like this under my elbow, than if the strap was attached in the usual way.
The Nikon D-SLRs don't have this though.  They only have the camera strap lugs at the top, and I missed that simple little feature on my Nikon D700 and D3.  But then someone pointed me to the Camdapter Hand Strap system.
With the Camdapter attached to the bottom of the camera, I'm now able to dangle my Nikon camera from a vertical position as well.  I don't use the Camdapter for the hand strap, but simply for attaching the one end of the camera strap the bottom of the camera.  (Still no model, just the camera.)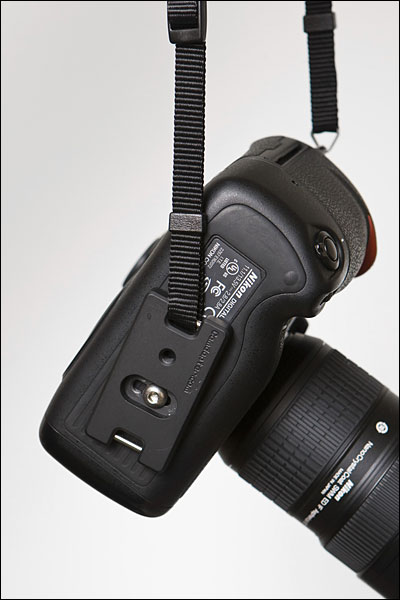 It's a simple solution, and the attachment is very solid.  (The skew angle at which I attached it, is on purpose.)  Not only is it more comfortable for me to attach the camera strap this way,  I also find it easier to reach for my camera when it hangs like this from my shoulder, when the grip is open like this to my hand.