BTS video clip: Studio photo shoot with a model
I've mentioned before how much I like to shoot with and observe other photographers at work. I recently got to hang out with my friend, Andy Foord in the studio while he photographed a model, Olga. The inspiration was a Vanity Fair style portrait – soft, yet with a hint of the dramatic. I watched Andy set up the lights and photograph Olga – during this I shot a behind-the-scenes video which I've posted below. It is short, and meant as a glimpse into the process, and as a way of seeing the lighting setup and see the studio.
Instead of a longer video that takes much more time to edit and deliver, I wanted to test a new direction here – to see how feasible it is to shoot some behind-the-scenes footage to add to new articles here. The video is meant to be quick and easy to shoot and edit … yet hopefully will add something. Maybe it is fun to watch, and perhaps reveals more than the typical pull-back I usually show. If there's interest in more, this is something I could add more regularly – let me know.
Also, keep in mind that if you need a rental photo studio in New Jersey, my studio is available.
Before we get to the BTS video clip, some of the photos I shot of Olga using Andy's setups: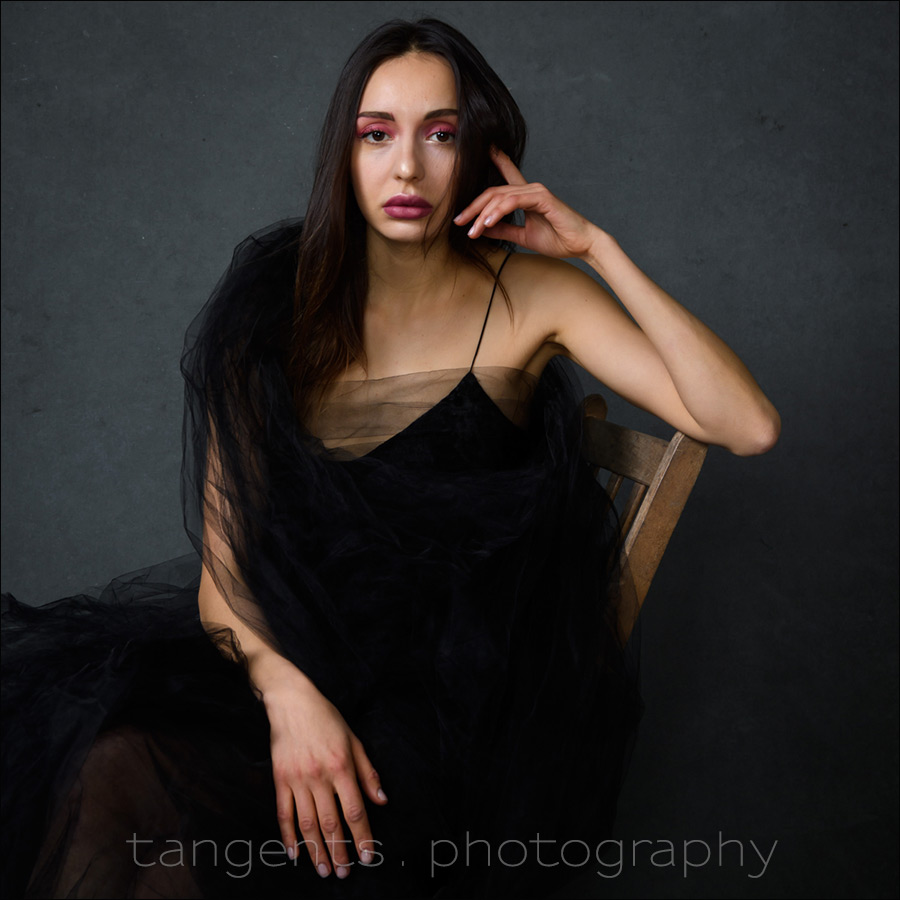 ---
BTS video clip: studio photo shoot with Olga
And of course, here is the pull-back shot, and the techie details with the listing of photo gear used:
Camera settings & Photo gear used in this photo session
This pull-back shot will show the lights in position – the main light is the 5′ octabox to our right here, and the fill light is via the Softlighter 46″ (affiliate), and the white V-flat opposite that light. All this added to a fairly even light, but with slightly more shadow on Olga's left side (camera right).
Related articles