New to flash photography?  Start here!
In preparing the material for the just-completed webinar, Don't Fear Your Flash, I had given some thought to where I should start with the material. Flash photography on one level is so simple once you "get it" … but from the outside, it can look intimidating and complex. I feel that flash photography is one of those subjects which start to make sense once you grasp a bunch-of-things simultaneously. But how to explain it all at once so that it makes sense?
So I wondered about where exactly I should start the material for the webinar. What should I start a seminar with when I have a 90 minute time limit? Camera settings? Aperture, ISO and shutter speed settings? Manual flash vs TTL flash? Metering for flash and ambient light?
During a test run with the Clickin Moms team who had arranged and hosted the webinar, I had to check voice levels, and was told to say something. I just started riffing on the idea of starting the webinar … and as I said, "where do we even start?" to the imagined audience, it hit me .. that's exactly what we need to do. We just have to start. We just have to take those first photos!
We can spend too much time caught up in first trying to understand all the technical aspects and all the nuances of lighting. We can be too intimidated by all that to actually use a flash … when all we need to do as a start, is to actually start using the flash!
Take a photo.
Adjust to taste.
Take the photo again and check.
It's that simple.
Learning the rest will come with time. But we can't wait for complete understanding before venturing out. It will only hinder us from growing as photographers if we don't get out there and shoot. Avoiding something because it is perceived as being difficult, will just hold us back.
There will be time still to get to grips with all the aspects of flash photography and lighting. But we have to start somewhere, and we have to start now! Right here.
And it is from this position that I kicked off the webinar, in the hope that this simple instruction – just start taking photographs! – will empower anyone who has just started to use a flash, or may have been too intimidated to actually use a flash.
The two images above were shot during the practical demonstration. They're not art, nor artistic. In a sense the image on the right which has the better, cleaner light, is just a snapshot. But the light looks just great! And that is the entire point here.
The flash photography method here was very simple:
1. We under-exposed the available light to a certain extent.
My settings weren't specific. I just needed the ambient exposure on her to be under. My settings were 1/250 @ f4.5 @ 500 ISO. Middle of the road settings. I did this on purpose, because I wanted to show everyone that the settings here were attainable by everyone with a camera and a speedlight. We don't need those f1.4 optics or fast zooms yet. But we do need a speedlight which allows us to bounce the flash off the wall and ceiling behind us.
So the settings didn't matter all that much. We just needed to under-expose our subject to an extent. Someone standing next to me would've chosen different settings, and it would've worked too. But we have to be realistic … we're not going to be able to bounce flash at f11 or such small apertures.
2. We need correct exposure from our flash.
The simplest for now, is to rely on TTL flash. Allow the technology to help you get correct flash exposure. And if the camera under- or over-exposes, then nudge it in the right direction with the flash exposure button. Make the decision and take a little bit of control. It's still not scary.
3. We need soft, flattering light from our flash.
Direct on-camera flash will give us harsh shadows and unflattering results. We need soft, flattering light. By turning the flash's head around and bouncing the flash off the wall and ceiling behind you, you just created a much larger light source. This will give you softer, more diffuse light that looks so much better.
Here is the comparison between hard direct on-camera flash, and the bounce flash with softer light: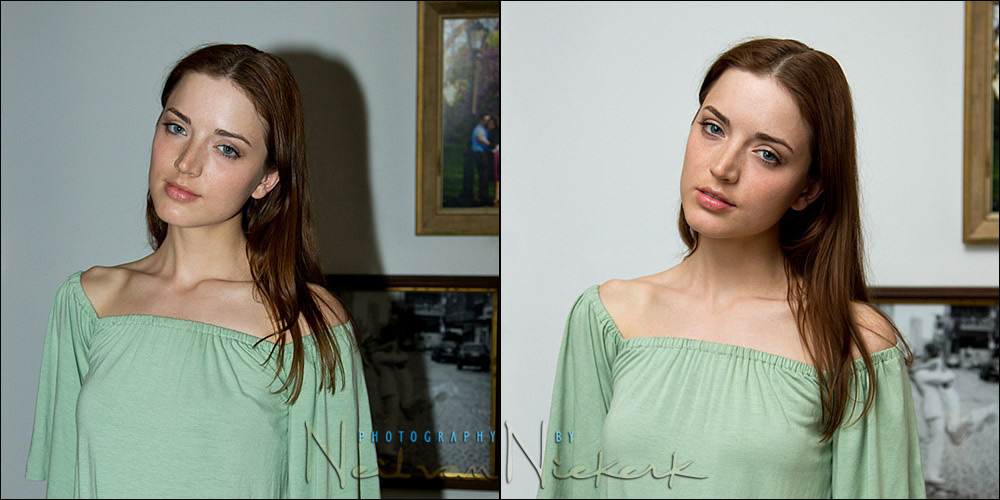 Don't fear your flash
The idea that I wanted to push through here is that it is very simple – and very accessible – to get such quality of light with your on-camera flash.
From this point on, we can continue to learn more about flash photography and lighting over time. But we can at the very least, take cool photos right now with great light from our flash. Then it is up to us to find those essential moments, and finesse our composition. But the flash part is an easy start. We can have fun with our photography now, and not let our flash stress us out.
It's an easy place to start from, and it's a great start.
Further articles