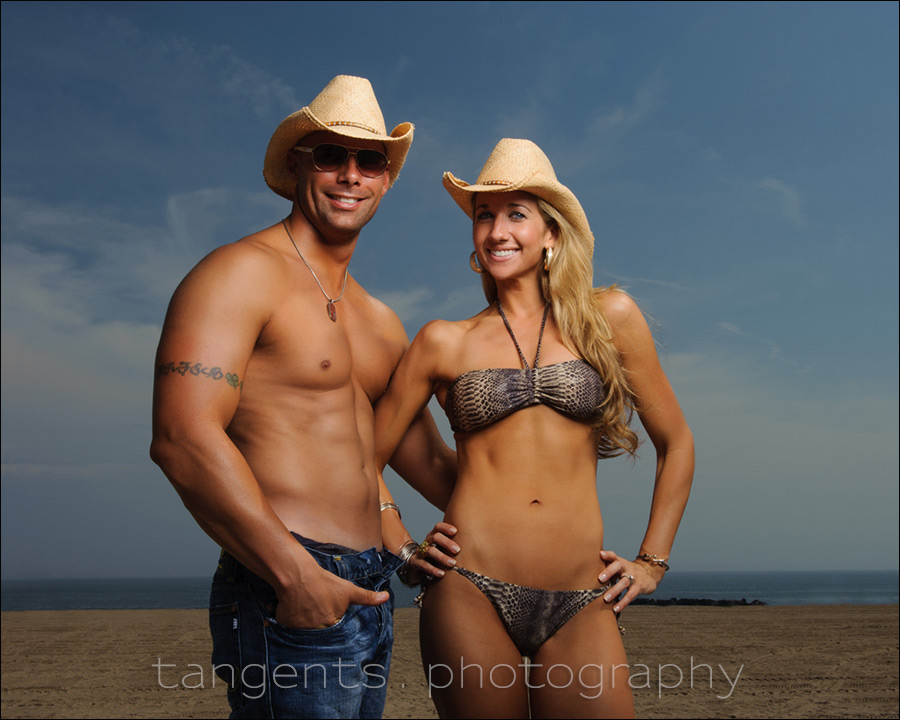 Flash photography: Overpowering the sun with flash
When we think about overpowering the sun with flash, we are most often really considering to match the sunlight with enough flash. We usually want to lift the shadow areas to the same level as the sunlit areas. There's a tiny bit of math involved here which makes the algorithm or thought-process predictable. Since the Sunny 16 rule has it that broad daylight is in the order of 1/200th or 1/250th @ f11 @ 100 ISO … you'd either have to shoot with a bare speedlight, (which, as a small light source, will cause hard shadows) .. or use a much more powerful strobe with a softbox. But you want to be at (or near) that exposure level of f/11 @ 100 ISO with your flash.
If you want the flash to dominate, then you'll have to be at f/16 or even f/22 to really be able to over-power the sun with flash.
The sunlight on Coney Island was pretty harsh during this photo session with Sarah and Mark, and I needed to / wanted to clean up the sun's harsh shadows with flash. For this image I used the Profoto AcuteB 600R lighting kit with 2×3 Profoto softbox off to my right, adding flash at full power. These days it would be the Profoto B1 flash (affiliate) that I would use on location. I placed the softbox and flash to come in from the same direction as the sunlight, adding as much light as the sun.  The intention is to clean up the shadows caused by the sunlight, and because I am then under-exposing the background by a stop ..  thereby also saturating the sky. Camera settings: 1/250th @ 160 ISO @ f22
If you're unsure how the Sunny 16 Rule and maximum flash sync speed come into play here with these decisions, check out these related articles:
Better yet, let's step through the thought-process on working in bright sunlight with flash – one of the most challenging lighting scenarios we'll most likely encounter.  There are a couple of steps we can take to make things a lot easier for ourselves …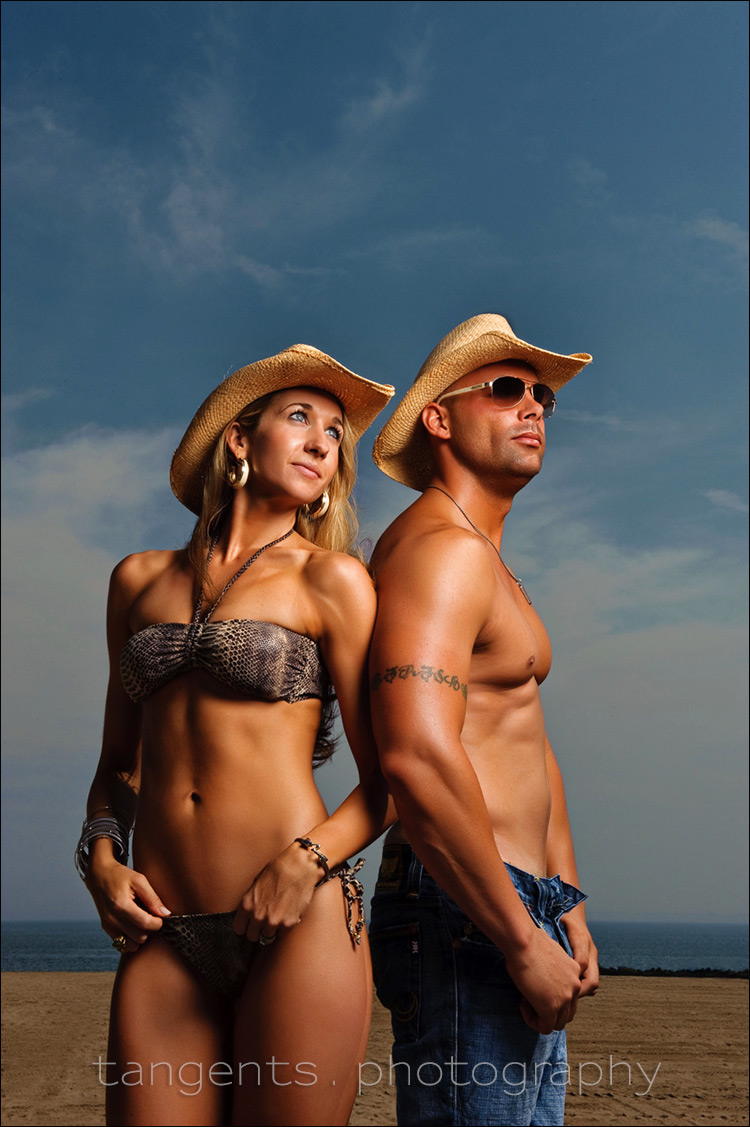 How to overpower the sun with flash
If we can move our subject so their back is to the sun, we can get away without using flash. We make sure our subject is not unevenly lit with sun, and then we just let the highlights blow out as a rim light.
If we can use flash (whether off-camera or only on-camera), we'd still ideally move our subject so that their back is to the sun, and make sure they aren't half-lit by sun and half in shade. But even if we can't move our subject, this easy algorithm is the best approach:
When using flash with bright daylight:
1.)  Use your lowest ISO 
We don't need 1600 ISO in bright sunlight, so take your ISO immediately down to 100 ISO or 200 ISO. If you really need the extreme depth-of-field of f22, then you can raise your ISO. You would risk image softness due to diffraction though. But that is the option.
2.)  Go to your camera's max flash sync speed
There is a reason why we'd go to the maximum flash sync speed,
a.) and not lower (for then our aperture becomes smaller and our flash needs to give more output),
b.) and not (immediately) higher than max sync speed (for our flash loses power in high speed sync.)
3.)  Find the aperture
Ideally you'd use an aperture where you don't lose important detail in your subject. But we don't want to get too caught up in controlling all our highlights, for rim-light helps separate our subject from the background. So that controlled loss of detail where the highlights blow out, is a good thing. And also, sometimes we have to compromise and accept that some detail will be lost.
4.) Now, for that ISO and aperture combination, dump as much flash as is required .. and if you have reached your flash's maximum, and still not getting enough light, then move closer.
The recipe is as simple as that. And it is an easy enough approach to keep things on track when battling under pressure in hard sunlight.
---
---
Using High-Speed Flash Sync (HSS)
If you find you have the flash range / energy / power to spare at max sync speed, and you'd like the shallower depth-of-field that high-speed flash sync (HSS) affords us, then by all means go to HSS mode. But it is a good idea to start at max flash sync speed if you're unsure, because at max flash sync speed you have the most likely chance of success in adding flash to bright sunlight. If you can't do it at max sync speed, you can't do it at any other shutter speed. This is explained further in the article on maximum flash sync speed.
Most often, when we're working in the f11 region of apertures, and using a softbox or some light diffuser, then we'll be at our flash's maximum output. So then we'll move our flash closer or further to give us correct exposure.
Using a light meter is the easiest and most sure way of getting right exposure of your flash. But, this isn't an absolute. With the image at the top, I checked the back of the camera's preview and estimated how close I need to move my softbox to my subject to get the correct exposure. I know, it's strobist heresy.
If you don't want to go to HSS, or your flash doesn't allow it, then there is always the option of using a Neutral Density Filter to get to wider aperture.
---
Camera settings & photo gear (or equivalents) used with this photo session
And for comparison, here is a test photo without flash.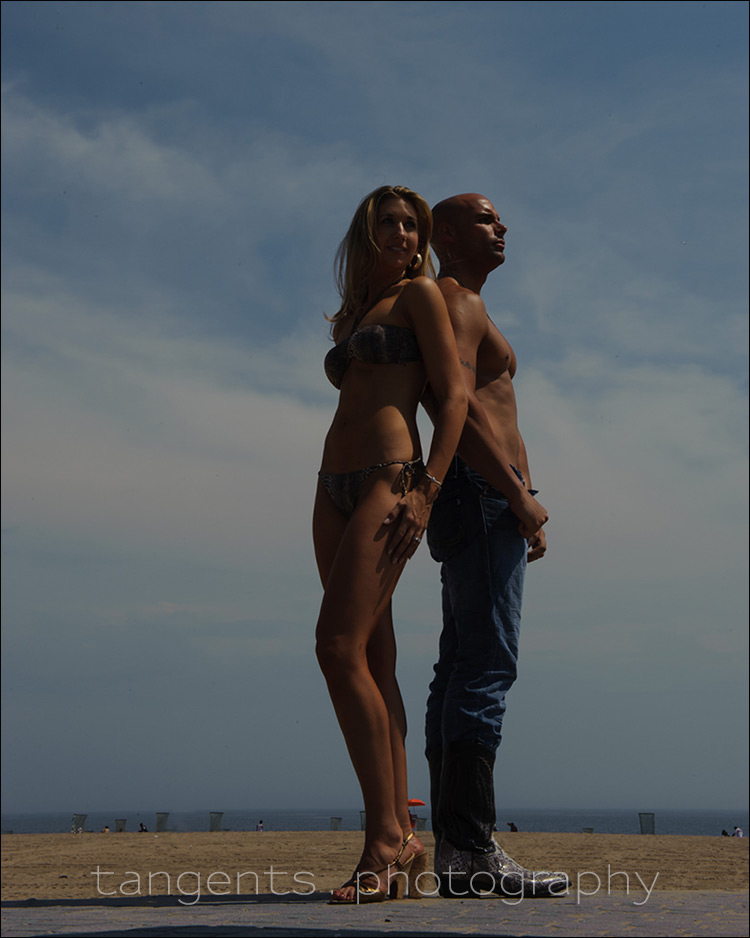 Related articles
---
---