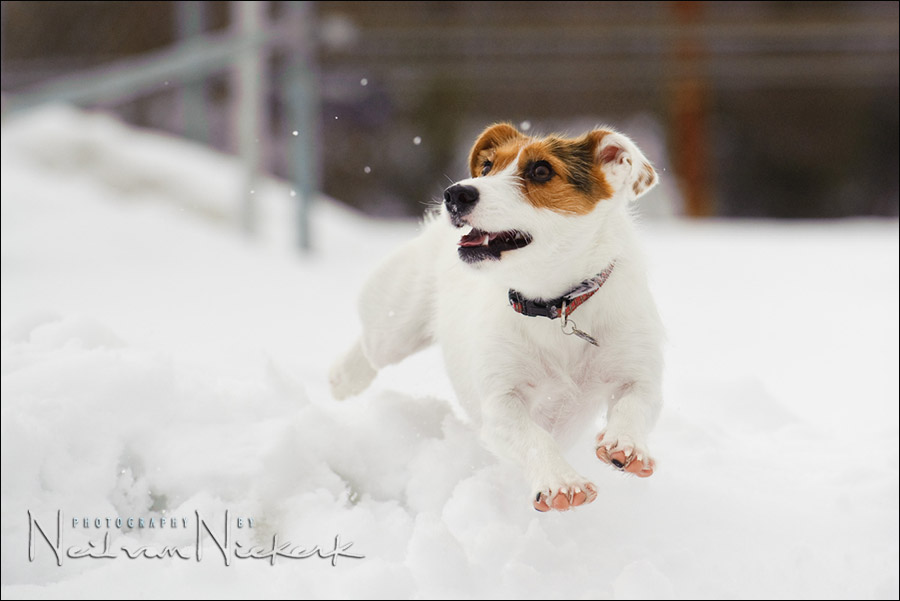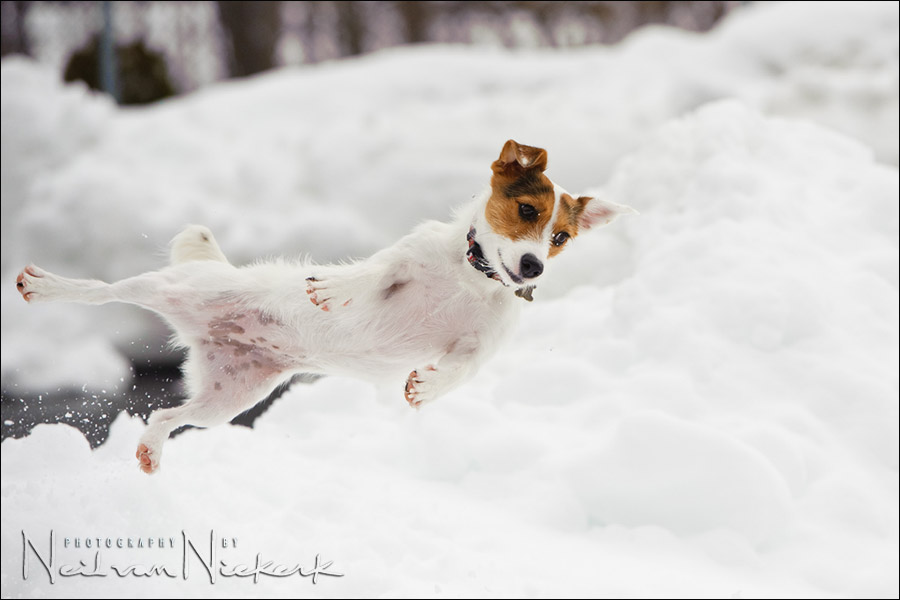 pet photography
I had the pleasure challenge recently of photographing this super-cute Jack Russell terrier of clients of mine.  Sundae just loves snow!  So after one of the heavy snowstorms, we went to a park where I could photograph her acrobatically snatching at bits of snow hurled at her.  She was very fast!  Even with the Nikon D3 set to maximum burst rate of 9 frames-per-second, I could barely get 2 frames before she was back on the ground.
So there were a few challenges.
– I needed a responsive camera, and a lens that focuses fast.  The Nikon D3 and the brand-new Nikon 70-200mm f2.8 AF-S VR II (B&H) took care of that.  This lens is surprisingly fast to focus for such a large optic.
– I needed a very fast shutter speed, and enough depth-of-field.  A few initial images showed that I was getting movement blur even at 1/2000th of a second.  I therefore pushed up my ISO to 800, and settled on 1/8000 @ f5 for the majority of the photo session.
– focusing modes.  With the D3 set to AF-C (continuous focus mode), and 51 AF points, I let the camera control most of the focusing for the session.  For a few more static images, I did flip to AF-S mode to be sure of exact focus on her eyes.
– I was again surprised by my success rate.  To compensate for how difficult it was to get a neatly composed shot of Sundae, I completely over-shot and had to wade through more than a thousand images to pick the best for my clients.  Of those, about 250 were solid keepers, so it was tough to pare the selection down further to just give the best and most representative shots.
– exposure metering.  The metering was actually the easiest part of the photo session …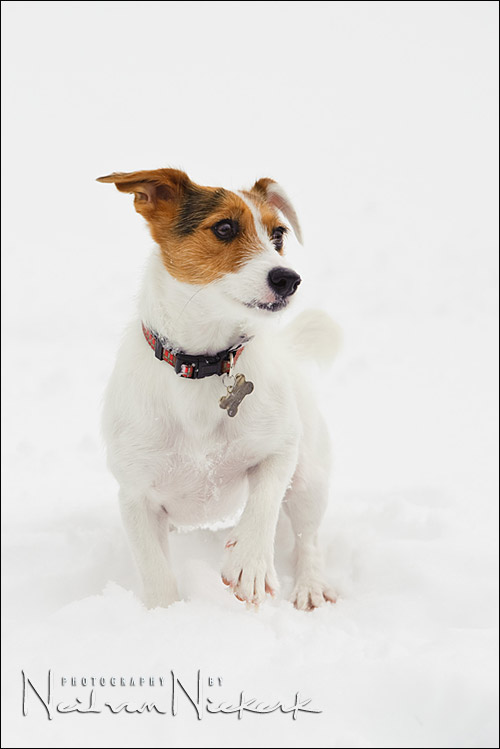 This is a white dog on white snow.  Fortunately, it was overcast, so the light was very even / flat.  (One man's meat / even light, is another man's poison / flat light.)
With the tonal values mostly white, I used my camera's built-in meter to get to my initial settings. I couldn't just zero my camera's meter since the snow is white, and any camera wants to take the scene it is metering, towards middle grey.

I therefore had to push the meter up so that white would appear as white in the final image, and not grey.  For most cameras this would be around 1.7 stops (5 clicks) up from zero.  For the Nikon D3, I know it is around 1 stop up. (3 clicks)  You have to figure out for yourself how your own camera responds, and where the brightest area is, in relation to what the camera meters .. and what the sensor can record without clipping.
I double checked my histogram to be sure I had correct exposure.  Using the histogram is actually the most important step for me in determining correct exposure in this situation.  The usefulness of the histogram will of course vary, depending on the situation you find yourself in.
Then I also used the blinking highlights feature as even more assurance that I wasn't blowing the important highlights of the scene.
Oh, essential to all of this, I have to shoot in manual exposure mode on my camera.  For images where I got more of the background of the park, I didn't want my camera to change exposure on me. I wanted all the images to be exactly the same.  This speeds up post-production if I don't have to adjust individual images.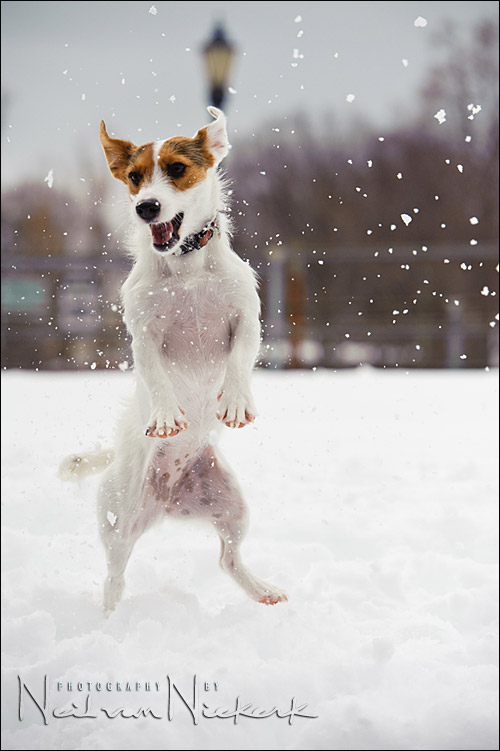 My white balance was set to Cloudy for the photo session, but I changed it slightly in post-processing of the RAW files.  I wanted the snow to be neutral white.
I also bumped up the contrast and local contrast and black point as part of processing the RAW files.