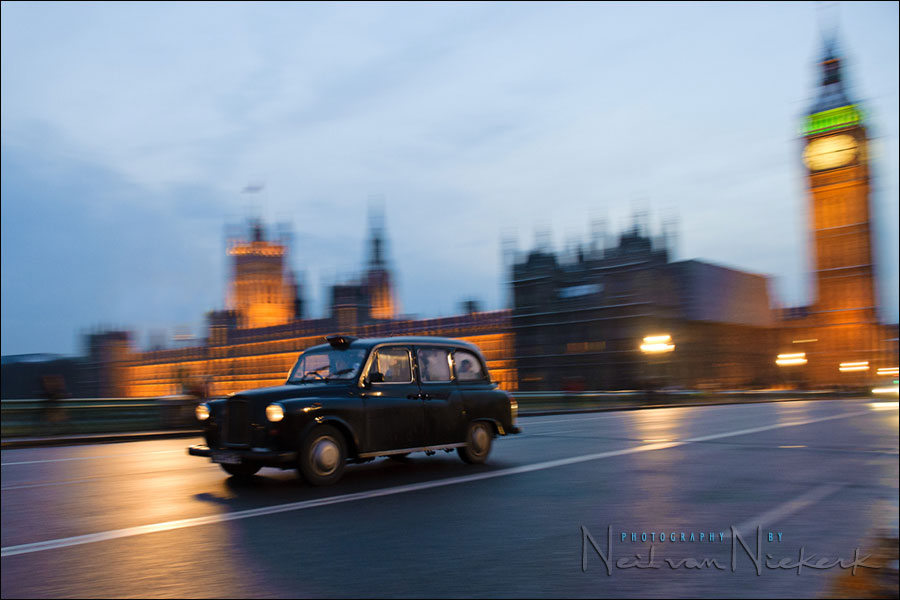 I always enjoy hearing from photographers who read the articles here. However, as this site has become more popular, and with my own increasingly busy schedule, it is now an impossible workload to reply to the 20+ emails per day, asking questions about photography. The main problem with directly replying to emails is that I am spending an inordinate amount of time on an audience of one. But I have stuff to do!
I do like to help others, and here it is – a photography forum as part of the Tangents blog. Anyone is welcome to post questions and reply to any questions. So please feel free to join in!
With this then, I am giving official notice that I will NOT be replying to any photography questions via email. Any questions will have to go through the Tangents forum or the Tangents blog.

Now, about the photo at the top …
The photo of the London taxi cab careening past, with the Houses of Parliament and Big Ben in the background, was taken during my trip last week to London.  My first vacation in more than 5 years! As with the previous vacation I took to London back in 2005, I went with the express intent of catching my favorite band, Van Der Graaf Generator, in concert.  I'm a fan.  Doing some sight-seeing in London over the course of the week there, I'd wander around taking photographs.  What else? I'm kinda into photography as well.
I wanted to get some iconic images of London … and what better than a London taxi cab careening over the bridge next to the Houses of Parliament and Big Ben? I panned with the moving vehicle, using a wide-angle focal length.  This caused the background to streak in an interesting way.  It took multiple attempts though to have a few images that worked.
camera settings: 1/30 @ f5.6 @ 1600 ISO
Anyway, back to the top … welcome to the Tangents forum!
I would also like to mention again, that there is the monthly newsletter that you can subscribe to. I use the newsletter to keep everyone up to date with all kinds of relevant snippets of info and news.