Creative studio portraits with continuous lighting – two perspectives
When my friend, Marco Leibetseder, a commercial photographer in Germany, came to visit, it was time to play in the studio again. Continuing within the theme of 'Two Perspectives' we decided on using only continuous lighting in the studio, and see how we could create portraits that had a bit of depth to them, rather than just being straight-forward renditions of the person in front of the camera. We decided the theme should be: Creative studio portraits with Continuous Lighting.
The concept behind the Two Perspectives videos was that I get to meet up with a fellow photographer, and that during some kind of photo shoot or conversation, something might be revealed in the contrasting styles and ideas – hopefully it is informative and of wider interest.
As I mentioned in the video, and in other articles here, the biggest challenge for me when working in the studio, is in making that rectangular "box" interesting. And that's where you have to become creative with studio portrait sessions. My studio has a wide range of light shaping tools, but doesn't have much in terms of props. For the most part you really have to work it with light and lighting!
Marco brought his medium-format Fuji gear along. The Fuji GFX 50S camera (B&H / Amazon), and several lenses. I  have never used this camera, but the Fuji took very little to adjust to – it's a lovely camera, even though it was unfamiliar in my hands. Something I have wondered about before – whether it makes you a stronger photographer if you are able to use any camera that's handed to you. I'm still pondering that idea. But back to the photo session:
Our model was someone I hadn't ever worked with before – Julianna. Similar to the photo session with the previous Two Perspectives video, I kept a lot of footage to show how we worked with Julianna and used her poses as springboards, adjusting them a bit as we looked through the camera. With workshops, I have found that many newer photographers are completely unsure about themselves when they have to direct a model. Hopefully, this video will give a little bit of insight into that – just talk to your model. It really is as simple as that – quietly talk to the person you are photographing. Make that connection.
As always, comments and questions are very welcome.
---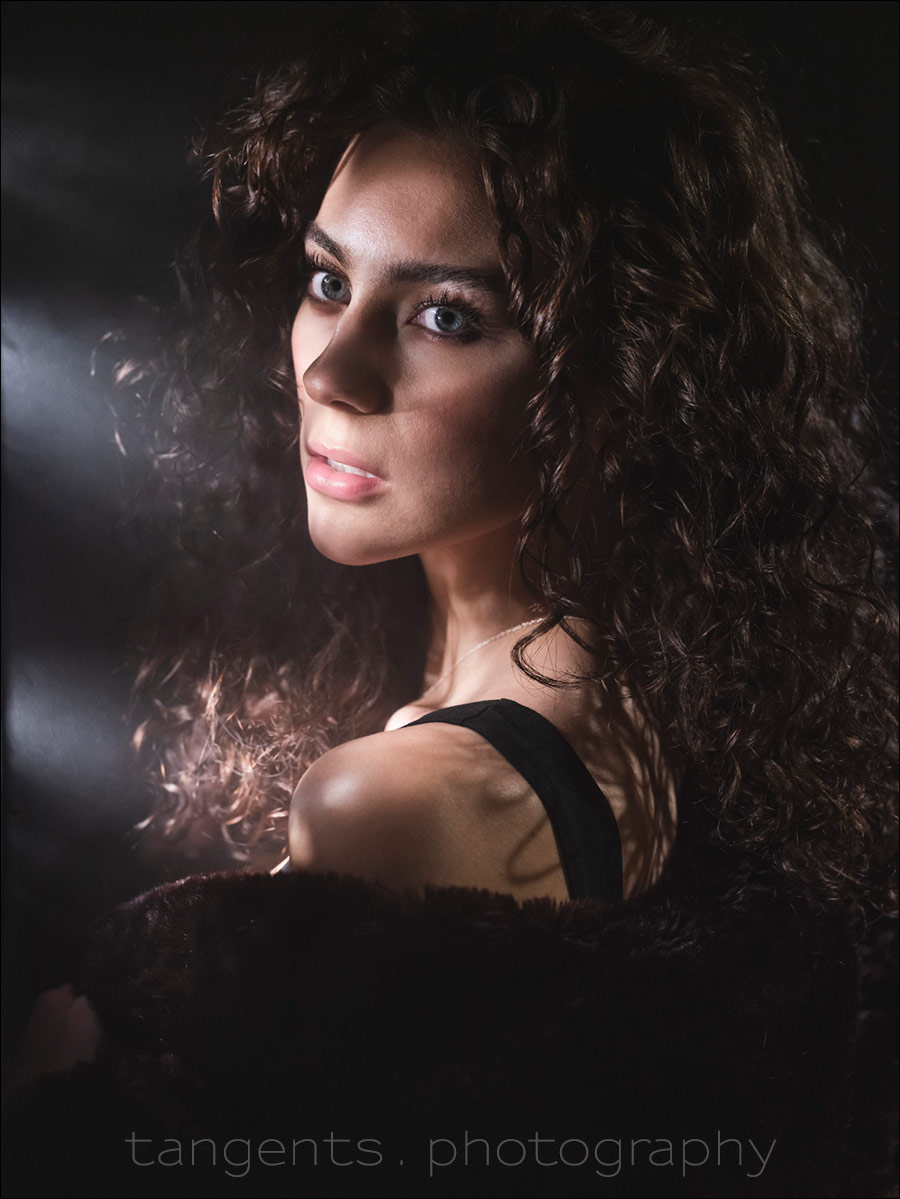 As shown in the video, Marco lit Julianna via an LED panel shining through a black board with random holes in it. The smokiness is via an aerosol spray, Atmosphere (affiliate), which is specifically for this kind of thing – adding some atmosphere to your photos. A 120mm macro lens was used here on the Fuji GFX 50S (B&H), which is equivalent to a 95mm focal length on a regular full-frame camera. Perfect portrait lens.
Camera settings & photo gear used for this photo
---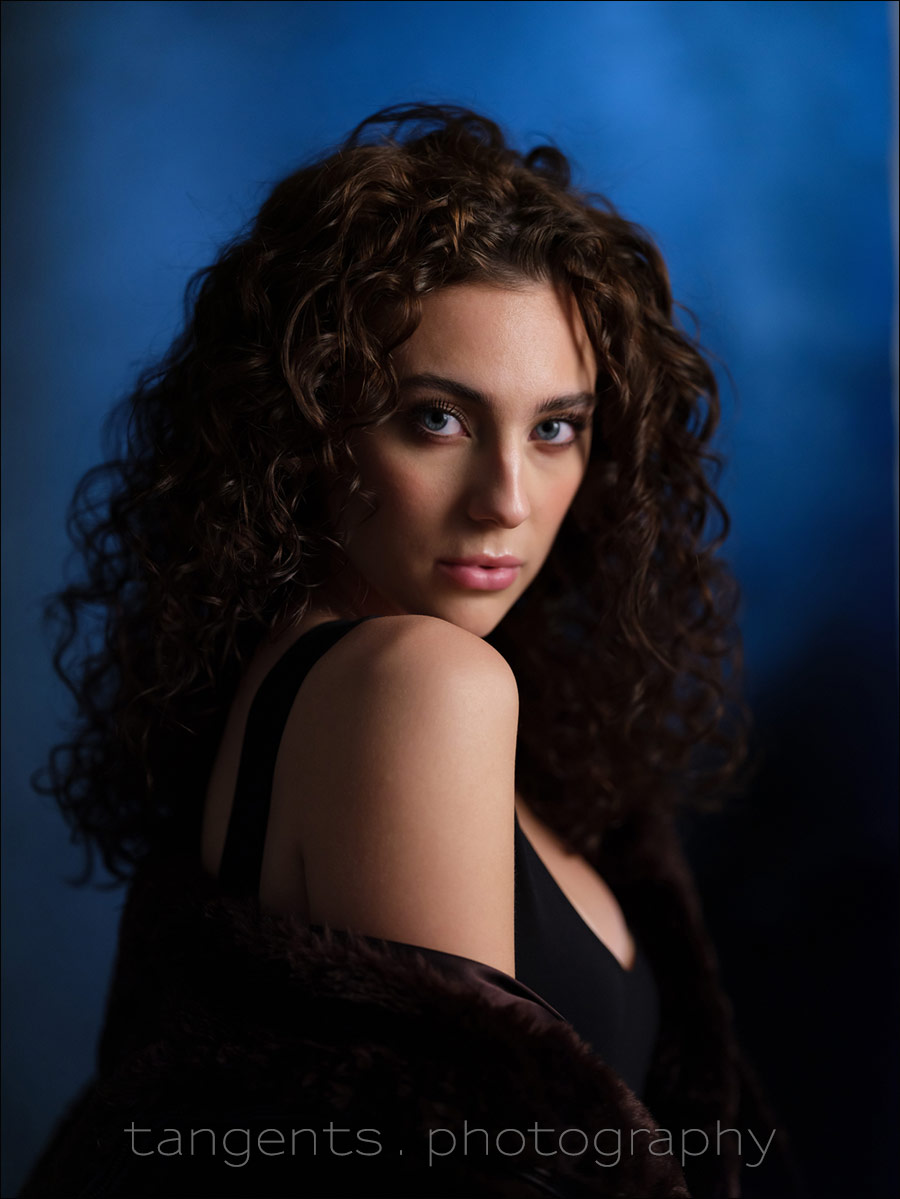 It was my first time working with the Fuji GFX 50S (B&H), a 51 megapixel medium-format mirrorless camera. It felt good in my hands, and the controls were obvious. Fuji has always been great with the ergonomics of their cameras.
The image quality is stunning. When viewing images at 100% there is so much clear detail. Of course the camera handles slower than a fast professional full-frame camera, but I do believe this camera is meant for more thoughtful shooting style.
I opted for the fast aperture Fuji GF 110mm f/2 Lens  (B&H / Amazon), which is about equivalent to an 85mm full-frame lens. The f/2 aperture on this lens gives about the same depth-of-field as an 85mm f/1.4 would.
Since we were shooting with continuous lighting, I couldn't rely on the flash to freeze the action. I therefore pushed the ISO to 1600, to get a shutter speed of 1/1000 so I could shoot hand-held, as I prefer.
The foreground LED panel lighting Julianna, was set to around 3000K, and the background light to approximately Daylight WB. This allowed the background light to go blue. The background itself is the back of a canvas backdrop which has a lot of texture. This helped create an  interesting swirl of blue tones in the background.
Camera settings & photo gear used for this photo
---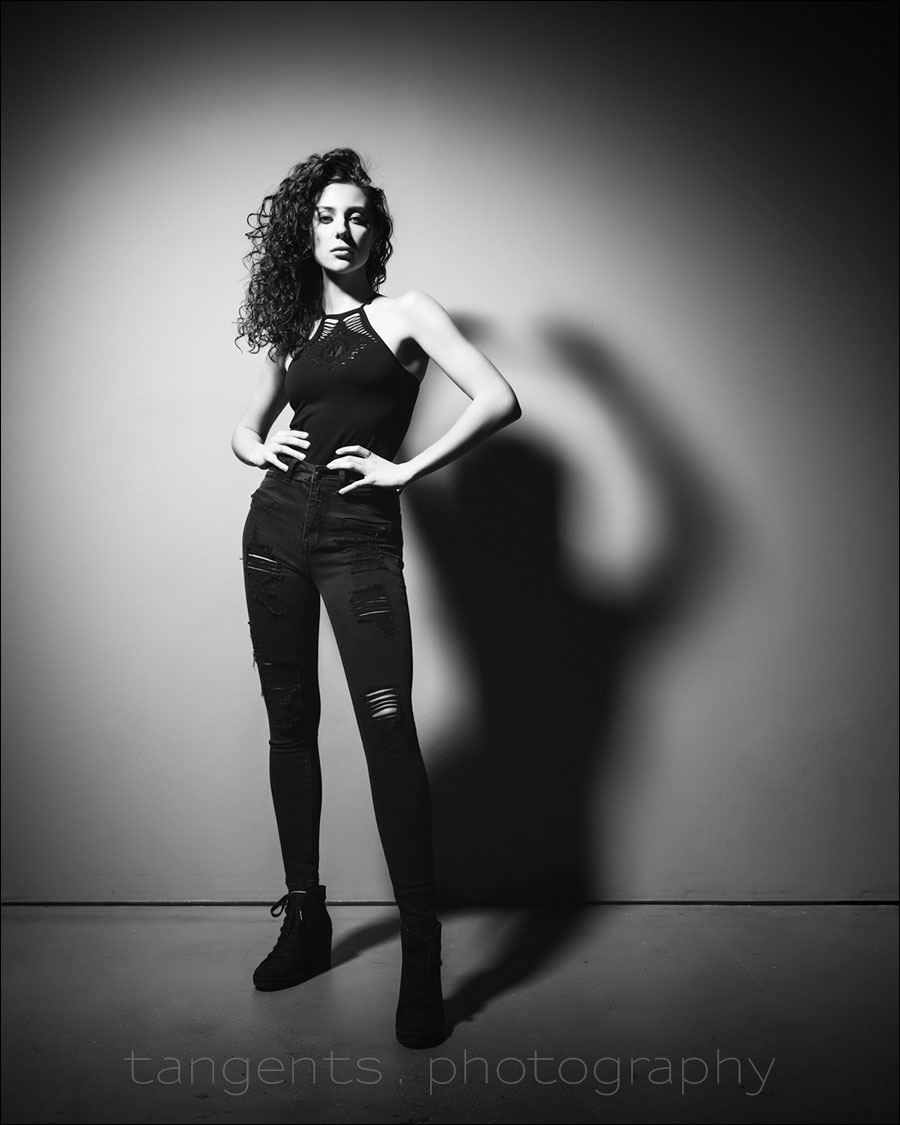 A cool trick that Marco did here, as he explains in the video — compositing the shadow of another image to the main image, to create this disconcerting and surreal photo.
Camera settings & photo gear used for this photo
---
Working with a wide-angle lens, shooting from low down, Marco used the perspective distortion for effect.
Camera settings & photo gear used for this photo
---
Using  technique you surely must have seen on Instagram and elsewhere – shooting through little LED lights hung right in front of the camera. The video will show exactly how they were placed.
Lighting Julianna with two Litepanels Astra 6x Bi-Color LED Panels  (affiliate), set to different WB values, to give a colder tone to her left side. The background was brightened with a Fog Machine (affiliate) blowing smoke / fog into the scene. Again, the video will show this.
Camera settings & photo gear used for this photo
---
Fuji medium format camera and lenses used during this photo session
---