Time-lapse photography: New York Fashion Week
Another interesting time-lapse project was for Bureau Betak, a French production company that specializes in fashion shows, events and exhibitions and operates worldwide. They built a stage for the Tommy Hilfiger show at the 2022 New York Fashion Week. Building the set took 6 days, and they tasked me with creating a time-lapse video to show the construction of the set.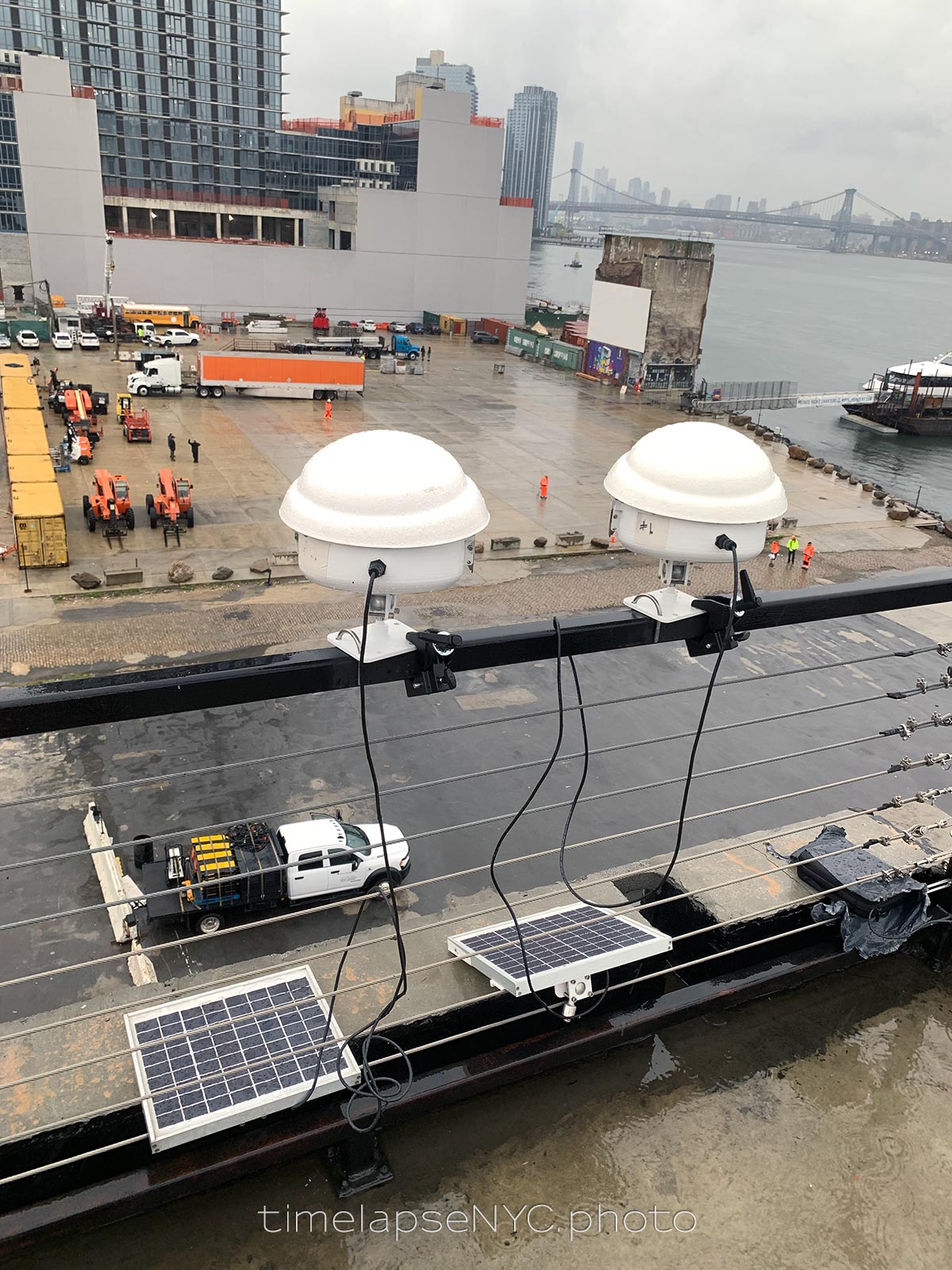 More info of the technical side of capturing the time-lapse footage:
For the baseline timelapse video, I was able to set up a long-term wether-proof timelapse rig on the roof of a building adjacent to where the set was to be built in Brooklyn. The set was on the edge of the East River, with a magnificent view of Manhattan across the river.
Even though I only needed footage from the one camera, I used two identical cameras here because of paranoia about data loss. Since this is the main footage over which other timelapse video sections would be edited in for the final video, I could not risk any equipment failures.
Each camera is in a waterproof housing, which contains a timer / controller unit, and a battery which is charged via the solar panel.
These cameras ran non-stop for the entire 6 day project. The first and final days had continuous rain, so it was essential these cameras were in waterproof housings. 
Then for the final 4 days of the 6 days, I set up various cameras on the site itself to capture eye-level time-lapse video footage to intersperse with the bird's eye-view of the rooftop camera.
The final day also had several rainstorms, with the fashion show itself happening in during a downpour. Guests huddled under umbrellas while the models paraded fearlessly in the rain.
I had my other cameras wrapped up in plastic to protect them against the rain. The footage from these eye-level cameras were then cut into the longer rooftop timelapse video, which was the baseline video for the final edit.
The video shown above is a 3'30" video, shortened by a minute from the main timelapse video, to keep the flow of the construction interesting. My client received the longer version, as well as this shortened version, and also a video with just the rooftop timelapse.
---
---