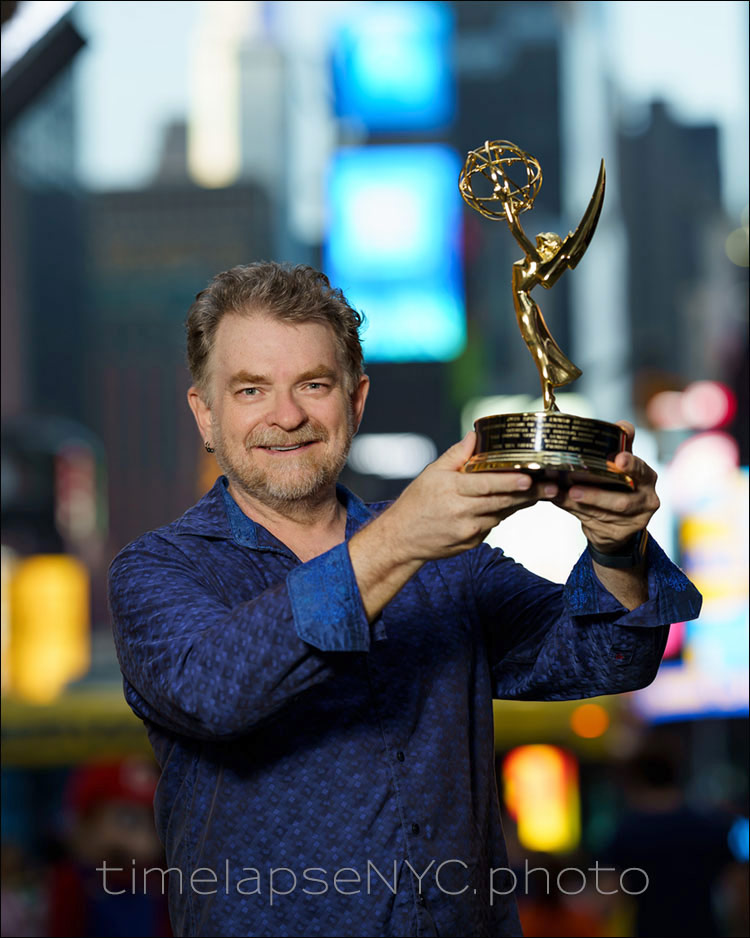 Time-lapse photography NYC
I'm a New Jersey / New York based photographer specializing in time-lapse photography.
Time-lapse photography is a very effective way to compress the time-line of an event or process that you want to show in a shorter, more appreciable time-frame. It is a superb tool for showing how events or processes unfold.
Have a look at the various projects shown below to get a scope of all the ways time-lapse photography might help you. There are various options – static viewpoint time-lapse, or rotational time-lapse, or time-lapse with a cinematic motion of the camera. Time-lapse clips can be fluidly integrated with other video clips in a promotional piece.
About this photo  – with time-lapse photography, I received an Emmy as part of the team that won a Sports Emmy for an advert for MLB.
---
Please contact me for more details & pricing, and to discuss your project and see how I may be able to help you.
Neil van Niekerk
[email protected]
862-485-7276
---
---
---
---
I worked with Jaguar's social media team to create behind-the-scened time-lapse video sequences of a photographer shooting promotional images of a new range of hybrid Jaguar cars. This was in the early hours of the morning to avoid the crowds in Times Square. I compiled the footage from the two motion dollies that I brought along. This fast-paced video helps show the frenetic mood of New York.
---
---
The largest time-lapse photography project that I've worked on to date, involved seven cameras running simultaneously while recording six graffiti art murals being painted – all during the course of one afternoon! These time-lapse sequences were shot for an agency that was creating a promotional video for MLB. The concept behind this was that they had five artists painting murals of the six most likely drafts for MLB this season. The challenge here was then simply one of logistics – making sure everything was set up and in place, ready to go before everyone started.
---
---
This video shows the magic of time-lapse photography – an event that took 3 days to complete, was compressed into a much shorter visual time-line. This time-lapse video was created for an event planner for a wedding at Cipriani in Wall St, New York.
This is one of the largest time-lapse projects that I have worked on, since I had 4 cameras set up to capture footage at various angles as the activity took place in various sections. The one camera with the aerial view was mounted statically, and the other 3 were moved around to different areas over the course of the 3 days that it took to set up the decor for this wedding reception.
---
---
Another interesting time-lapse project was for Bureau Betak, a French production company that specializes in fashion shows, events and exhibitions and operates worldwide. They built a stage for the Tommy Hilfiger show at the 2022 New York Fashion Week. Building the set took 6 days, and they tasked me with creating a time-lapse video to show the construction of the set.
---
---
This video again shows how time-lapse photography reveals details that weren't really visible at the time. This crane being moved from the construction site to the berth in the harbor, took nearly 4 hours to move — so slow, that it was barely visible to the eye. Anyone not specifically observing, would not have seen any movement. But with time-lapse you get a sense of the incredible power it took to move this colossal crane into its new position.
---
---
On October 29th, 2015, the Google Photos Pumpkin Patch was constructed in Times Square, New York. This time-lapse video is a compilation of the total of 20 time-lapse sequences we photographed. The pumpkin patch was constructed through the night (in a pouring rainstorm) to be ready in the morning when New Yorkers would start to visit Times Square, or just move through on their way to work. Of the 20 time-lapse sequences, two were finally used as the intro to Google Photos' promotional video.
---
---
As part of a team creating material for a promotional video for the company that owns this refinery, I was tasked with producing time-lapse videos of various sections of the plant. For this section, the polypropylene refinery, I used a rotational device which allowed the camera to gradually rotate, giving a cinematic sweep.
---
---
Four cameras capturing different angles as this 500 ton crane was erected overnight. There were a few challenges here that night –  this crane was massive. Really tall, and I had to show that in a horizontal format. This meant that cameras had to kept being moved to photograph the construction as the crane was laid out in the parking lot before finally being hoisted up.
---
---
To show the unfolding of a project, or progress on a building site – events which take weeks, or months or even years – it becomes necessary to compress the timescale. With long-term time-lapse photograph we can get a much quicker visual overview of how the project developed. This particular project took 3 years to complete!
The time-lapse camera is protected inside a weather-proofed housing, with the camera and timing device powered by a solar panel.
---
---
As an example of a vertical time-lapse video, which works especially well for Social Media purposes, check this time-lapse created on behalf of Warner Brothers. To announce and advertise the new Harry Potter Store on 5th Avenue, Manhattan, they had this mural painted on the side of a building.
It is fascinating to watch the precision with which the artists painted the mural over a period of four days. Of course, with time-lapse photography, we get to watch this event unfold in less than a minute.
Since the mural is (obviously) vertical, it just lent itself naturally to a vertical video format — perfect for posting in many of the social media sites that favor a vertical format.
Here I used a waterproof housing specifically designed for long-term outdoor time-lapse photography. The camera is protected, by the housing, and is powered via a solar panel connected to it. For more details, click through on the behind-the-scenes description.
---
---
---
---