Time-Lapse Photography project: New York events, NYC
This timelapse shows an event space being prepared and decorated over the course of 4 days at the South St Cipriani, NYC. There is also an example of a similar event at the prestigious Wall St Cipriani — Time-Lapse Photography: Cipriani, New York. As with any other timelapse project that I have worked on, the idea is to compress a timeframe into a concise, watchable video. Just a minute and a half here to give you a clear impression of what went into preparing this reception venue.
This time though, instead of cameras on tripods that I moved to different parts of the floor, I mounted four high-resolution cameras on ledges higher up next to the doors. The high resolution of the cameras mean I can zoom into the video without any loss of quality. The cameras ran continuously for the entire time, giving me ample footage from different angles for the final video.
This timelapse video was created for the event planner, so that she can show to future clients the scale of events that she works on. The video explains it so much better than a few still photographs would.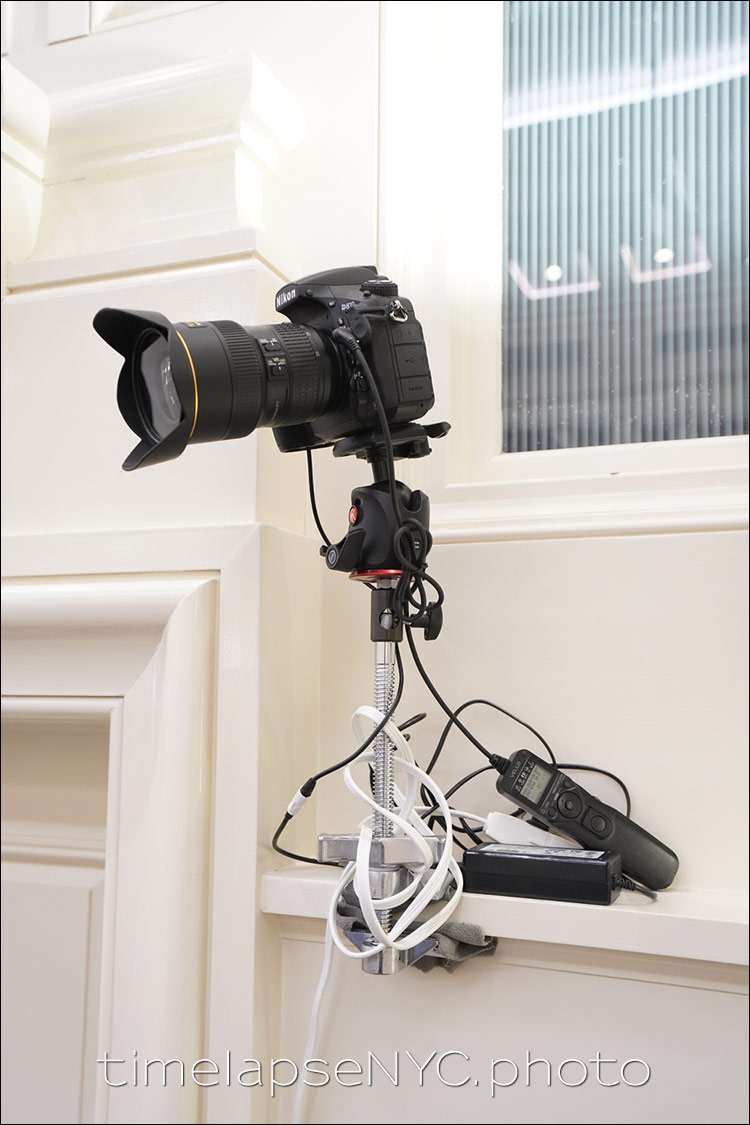 To have the cameras out of the way of staff members, and the eventual guests, the cameras were clamped securely to a ledge above people. Out of the way. In the detail photo of the camera, you can see that the clamp was used with padded material to make sure that none of the paint work or wood were damaged. The power cord running down to the AC outlet, was neatly taped away with white gaffer tape. Gaffer tape leave no residue, and also doesn't pull any paint off.
Everything set up to be low impact during the build, and during the event, and also no impact afterwards in terms of damage to the furnishings of the place.
That in a sense sums up my approach to timelapse projects — overcoming any challenges, to create a seamless video for my clients, showcasing their work. Please contact me if you have any kind of project where timelapse photography might be an elegant way of showing your services and final product, or the creation of that.
---
---