NJ Photography studio rental – New Jersey / NJ
This large photography studio space, located in Fairfield, NJ, is available for hourly and daily rental. The studio is 1,700 square feet and has an extensive Profoto studio flash system, as well as Litepanels continuous lighting gear – all available for use in the studio. The image above only shows a partial selection of the studio equipment. This helps extend the possibilities that you can achieve, varying the look of your photographs. Click on the drop-down menu below for the list of lighting gear available to you in the studio.
I will be on hand to help you on the day of your shoot with initial setting up of gear, and to show you around. If I am not available, my assistant will be able to help you. Check the studio calendar for availability.
Please get in touch with me if you're interested in using the studio space – I'll gladly show you around.
And if you are new to working in a studio, here are my tips for your first time in the studio.
Studio NvN 
333 Passaic Ave
Fairfield,  NJ 07004
How to book the studio
Studio Rental Fees
∆ Studio rental fees
Option B:

12-hour pack for $600
 ($50 per hour)
• 12-hour pack for studio rental @ $600
The 12-hour pack doesn't have an expiration date, but has to be used in chunks of 2+ hours at a time. That's the minimum.
Past the 2-hour initial segment, you can use 1/2 hour segments.
You are allowed to use a 2-hour segment over weekends.
---
∆ How to book studio time
Check on the Calendar to see if the date is available.
Then confirm the date with me before paying the reservation fee.
This fee will count towards your final fee payable on the date.
… or …
---
∆ Please note:
Refund policy: In paying this studio reservation fee, the time is blocked out exclusively for you. This means that I can't book the studio out to other photographers for the same period. Hence, this fee is not refundable.
Setup and wrap time count as studio time, and will be billed accordingly.
Additional time are per half hour, at $30 per half hour, even if you don't use the full 30 minutes.
Additional fees for the use of

glitter & confetti

: $50 if you clean it up, or $100 if I clean it up.
All equipment and backgrounds are included in the rental fee. Just bring your camera and lenses. If you shoot tethered, bring your laptop. If you need to rent specific camera gear, Unique Photo is less than 2 miles away, and has a large selection of cameras and lenses available for rent.
About the studio and lighting gear
Studio Description
The total floor area is 1,700 square feet.
WiFi is available
The studio has a Bose Soundlink and a dedicated iPad with Spotify and Pandora for music.
There are two windows with lots of available light.
There is a fridge stocked with water, and there is a Keurig coffee maker.
A large lighted make-up table is available for hair and make-up artists to use.
There is air-conditioning to keep the studio at a nice even temperature whether summer or winter.
There are two wind-machines if you want that wind-swept look for your subjects.
There is a hand-held steamer for clothes.
Studio gear for Photography
(6x) Profoto D1 studio flashes (500 Ws)
  – 3 of the lights are set up on boom arms for better positioning.
  – all 6 lights are on light-stands with caster wheels.
large Profoto 5′ octabox
Profoto 3′ octabox, with a grid
(2x) Profoto gridded 1'x3′ stripbox
(2x) Profoto gridded 1'x4′ stripbox
Profoto gridded 1'x6′ stripbox
(2x) Profoto 2'x3′ softbox
(2x) Profoto 3'x4′ softbox
Profoto beauty dish (with grid or sock, if needed)
Profoto Spot Small
(4x) Profoto reflectors (with 10 degree grids, if needed)
(3x) Profoto Air wireless remote controllers
Westcott Eyelighter reflector
Westcott 7′ Parabolic umbrella
various handheld collapsible reflectors
two large white V-flats
(4x) Litepanels Astra 1×1 LED panels  –  continuous lighting; 3,200-5,600 K
(2x) Litepanels Sola 4″ LED fresnel lights  –  continuous, focusable; Daylight WB
large Manfrotto product photography table
(2x) wind machines
Studio gear for Videography
(4x) Litepanels Astra 1×1 LED panels  –  continuous lighting; 3,200-5,600 K
(2x) Litepanels Sola 4″ LED fresnel lights  –  continuous, focusable; Daylight WB
Additional gear available:
Sennheiser lavalier microphones
Teleprompter (via iPad)
(2x) wind machines
What I don't supply
Computer & monitor / screen. You need to bring your own.
Cameras and lenses. If you need to rent specific camera gear, Unique Photo is less than 2 miles away, and has a large selection of cameras and lenses available for rent.
Important: Guidelines & Terms of Use
Guidelines & Terms of Use
Do not remove any of the lights from the boom arms!
Please do not change out the light modifiers on the boom arms, with the one exception of the 3-ft gridded octabox which can be swapped out for the beauty dish.
Please do not remove the grids from the reflectors or the stripboxes. There are enough other light modifiers without grids.
If you are new to working in a studio, here are my tips for your first time in the studio.
Either myself or an assistant will be present at all times, and can help with with the basic setting up of lighting gear and the use of the studio space. (I'll be quietly working on my computer, unless you need help.)
You'll agree to leave the stu­dio and adja­cent grounds in the same con­di­tion as they were when you arrived.
The equipment is in good work­ing order, but I make no spe­cial guar­an­tee as to the equipment's func­tion­al­ity or suitabil­ity to your intended pur­poses.
Dam­ages to equip­ment and premises are your responsib­il­ity and must be settled after rental period, at mar­ket value.
Use of the stu­dio and equip­ment is at your own risk.  By hiring the studio and equipment, you waive any rights to seek legal redress for mis­haps, acci­dents, and/or loss related to their actions whilst on the premises. Neither myself, (dba One Perfect Moment), nor the stu­dio will be held respons­ible for any acci­dent or injury caused by you or any mem­ber of your party whilst using the stu­dio facilities.
Safety & COVID-19
The health and safety of my clients are of utmost importance.
There are cleaning protocols that I maintain before and after every time the studio is in use.
Everyone except the person(s) being photographed, will be required to wear a face mask.
If you don't have a face mask, I can supply you with a fresh N95 face mask. Yours to keep obviously.
There are Clorox wipes and hand sanitizer in the studio.
The UltraHEPA air filtration unit in the studio is capable of purifying the air once per hour.
The number of people in the studio will be limited to 10 people only, including myself.
It is expected that we honor social distancing as much as possible.
I will set up all the lighting gear for you, and in that way we minimize the risk of cross-contamination.
Do you need a photographer?
The studio is available to anyone who already has a photographer, or is a photographer themselves. However, if you don't have a photographer for your shoot, I could help.
If you're looking for someone to photograph fashion catalog, or if you need headshots or portraits, or product photography, please contact me.
---
The large lighted make-up table for the hair and make-up artist to use. There are also hand-held and wall-mounted mirrors.
The studio also has a comfortable living-room type area with two couches. There is also a work table as you can see against the wall in the back. This makes for a nice workspace for any team that visits the studio.
---
Example setups
There are two fans / wind-machines available for that wind-swept look.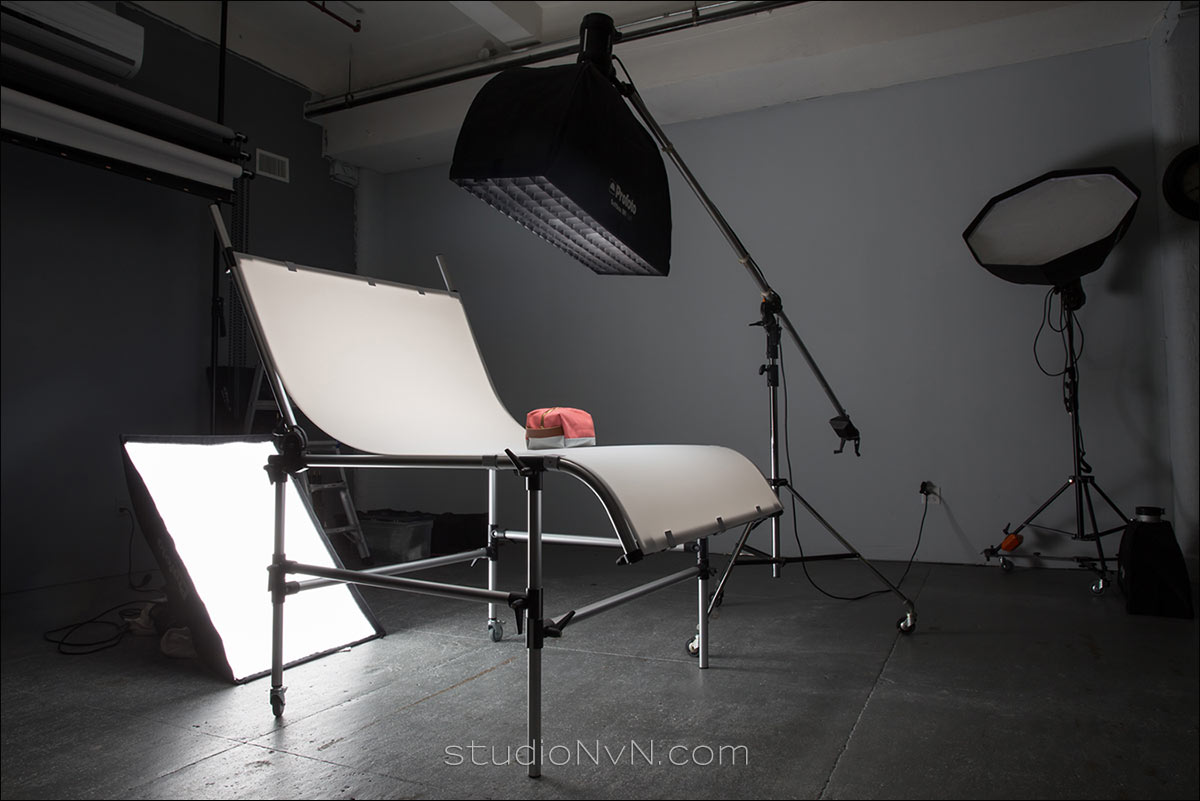 There is a large white product photography table available.
For smaller projects, we can also accommodate you if you need to chroma-key a different background in to your photos or video via a green screen.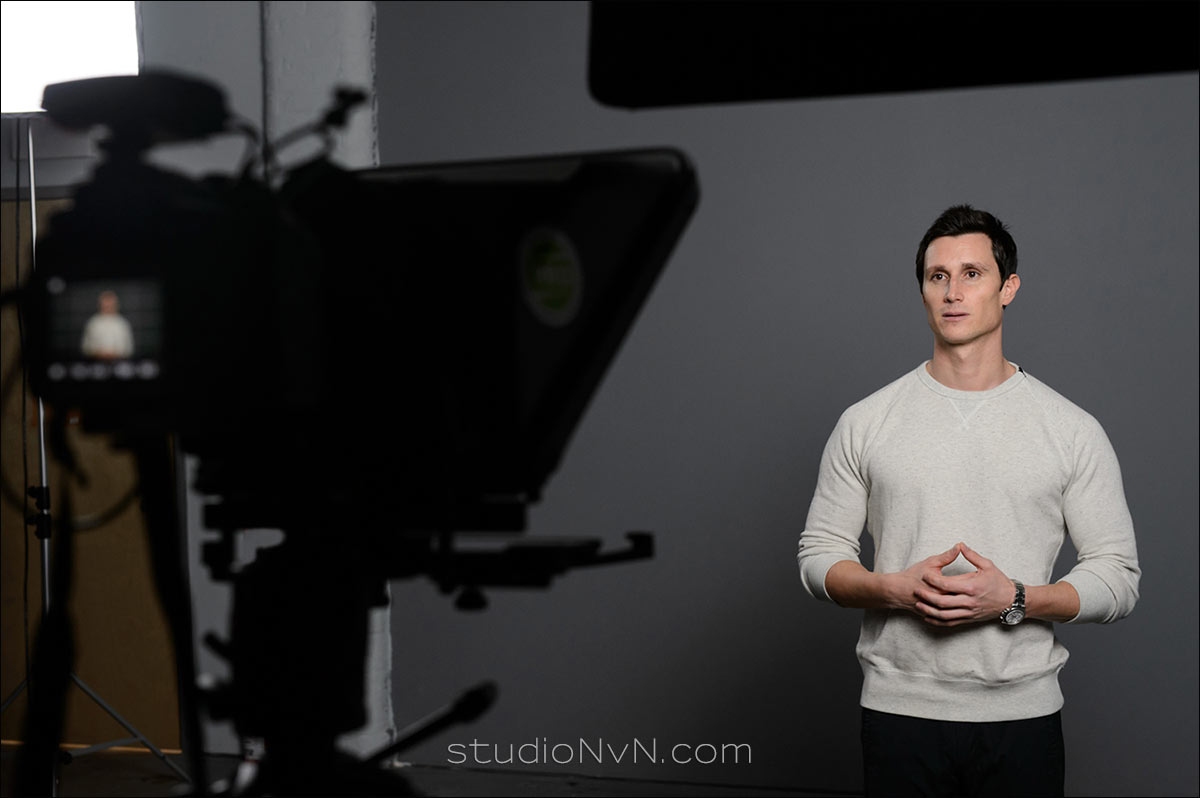 There is an iPad teleprompter for smaller video productions such as Youtube clips or promotional pieces.