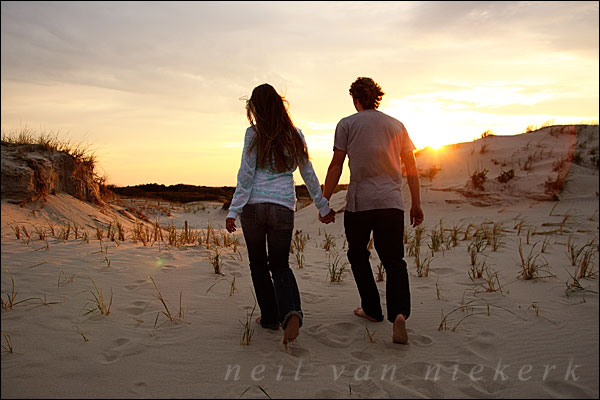 During the portrait sessions with my couples, I try to maintain a fluid style of photographing them.  Instead of rigidly posing I try to direct only a little, adjusting my position and my composition.  I really want as natural looking and flattering portraits as I can, while getting a variety of images.  For these reasons I move around a lot while shooting … and I often try to get some lens flare on purpose.  I love the way the image warms up and the flare creates pools of light within the image.
This is an unpredictable effect, but when it works, I feel that the flare adds something to the mood of the image – perhaps an image that is more romantic because it is drenched in light.
I shoot in manual exposure mode since I don't want my composition to affect my exposure and because I want as fast and efficient a workflow as possible.  But then I sometimes get a few frames that blow out completely because of the amount of flare …
If I had shot this in JPG, there wouldn't be much there to work with.  But since I only shoot in the RAW format, I'm more often than not, able to pull back something from that kind of image and get something that works and really looks good.
As much I believe that an approach to 'get it right in camera' is without a doubt the best way approach, much of photography done outside of the studio is under less than perfectly controlled situations. And there is simply no photographer good enough to be able to set the exact exposure, correct white balance, and proper contrast and saturation while busy shooting in a situation where the light and conditions change while shooting.  So this already presupposes that to get something more from the out-of-camera image, that post-processing of some kind will be needed, it just makes more sense to shoot in the RAW format.
In addition to exposure adjustments, and white balance and contrast and saturation, other parameters such as sharpening, local contrast, black point and brightness can be adjusted at will with a RAW file.
Another way to look at it is that with the RAW format, your worst case scenario is that you'd have an image which looks like your JPG that you would've had.
.



.
This brings me to a related topic – the implied insult that I've seen a number of times on the forums that if you knew what you were doing, you wouldn't need to shoot in RAW format.  Simply get it right in camera .. all the time.  That may work for controlled environments, but I photograph in an uncontrolled environment.
Here's an example.  Even though I had my exposure and WB nailed during the actual photographing of the wedding ceremony, when the couple kissed at the end, quite a few of the guests took photos at the same time.  Someone else's flash blew out my photo by more than a stop.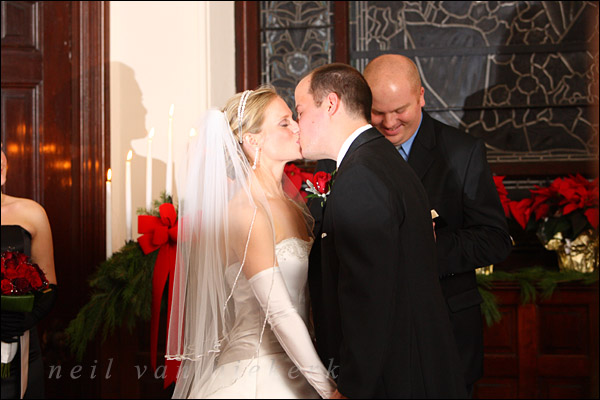 In this case it might be fixable in a JPG image without being really noticeable, but who cares?  It is so much easier doing this as part of a normal raw workflow – merely dragging the Exposure slider down until the image looked good.
I also wanted to use this image here as only one example of being able to give my clients an optimal image without breaking a sweat because something was out of my control at the time.
.



.
In a large way, my choice of workflow heavily affects my shooting style.  It's as simple and broad a statement that shooting in RAW frees me up to concentrate on the actual moment of taking any photograph.