Exposure Metering Technique
Camera metering modes | Exposure compensation
more articles on exposure metering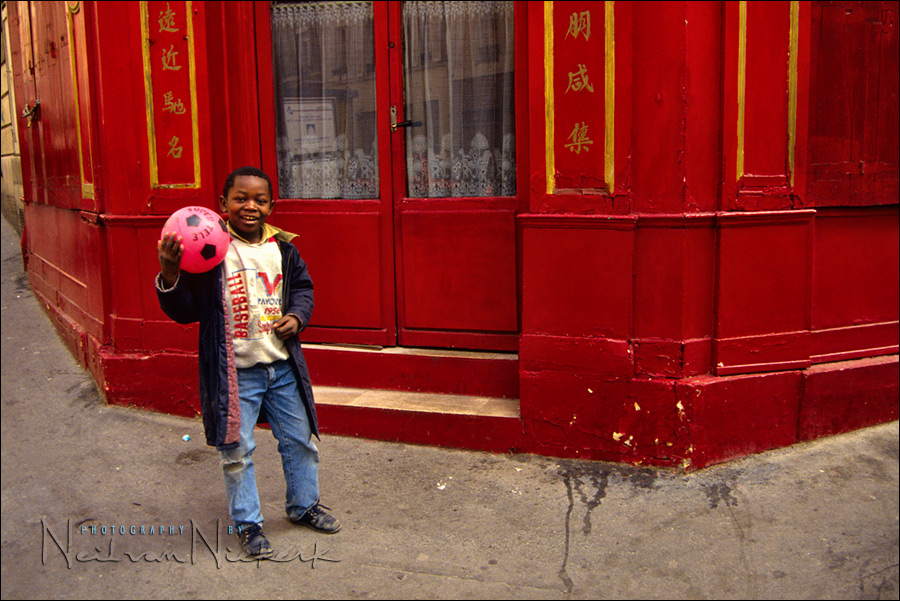 Exposure metering using your camera's built-in meter
The essence of achieving good and consistent exposure technique, is to decide what is the actual subject in the scene that you're photographing .. and then expose for that. In the same way that you decide what the actual subject is that you want to focus your camera on, you also need to decide what the subject (or area of the subject) is that you want to expose correctly for.
If you look at this first photograph, there are no large dark areas or shaded areas, and neither are there sections which are brightly lit compared to the rest. This image has tones and colours which are all kind of 'average'.
There aren't any large areas which are overly bright or overly dark. The few scattered dark sections are more or less balanced with the lighter sections. There shouldn't be any camera or any photographer who'd have a problem getting the exposure right for a scene like this.
---
But what about scenes which aren't so evenly lit?
Now here comes the crucial part .. take a look at this next photograph.
What is the subject matter here ?? The two men standing in the band of sunlight of course. Not the dark areas. The shadows merely form a natural border around the two men, and should not be allowed to affect my meter reading at all.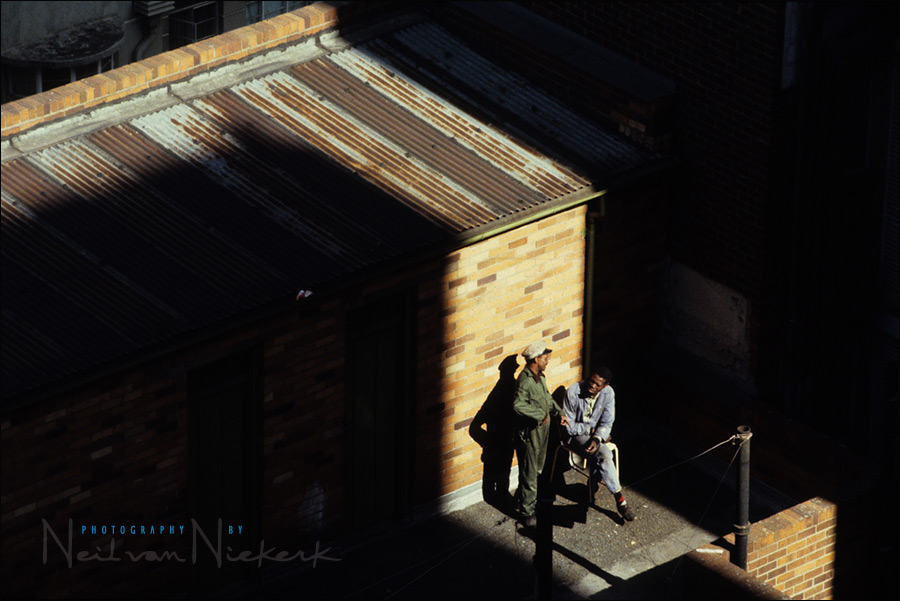 I need to expose correctly for my chosen subject – the two men – so that they appear neither too dark nor too light in this particular setting. By basing my exposure on the two men in the sunlight, the shadow areas will become dark shapes.
My actual method of exposing for the men, was to put my camera into manual metering mode and then I moved my camera to point to another subject which was completely sunlit, and I set my exposure reading accordingly. In this specific instance, I used normal centre-weighted metering, because it was the only metering option on that camera.
If the camera I used had a spot-meter option, I could have used that to take a selective meter reading off the sunlit area. I could've locked the meter reading either by either using manual mode or with the meter-lock in one of the auto modes. My preference is to always shoot in manual mode where I can, since this gives me the greatest chance of consistency between images.
In this case I specifically did not use purely automatic metering. The large areas in shadow would've fooled any camera's meter. Center-weighted metering meters for nearly the entire scene. It has no way to distinguish what is my actual subject. With the shadow areas dominating in that photo, the camera meter would have given the entire scene an average exposure reading, which would have been too much for the actual subject – the 2 men – and they would have been grossly over-exposed. (Even matrix metering can only 'guess' at what is the subject and try and expose correctly based on an algorithm.)
Therefore I had to control my exposure – in this case by locking a relevant meter reading in manual mode.  By doing this, I'm now able to shoot a series of photos, all correctly exposed, and all consistent.
Working with digital
These pages were originally written with the idea of exposing for slide film (transparency film).
Slide film has very little latitude for error, unlike negative film (colour or B&W). If you, as a digital photographer approach exposure metering with the same mind-set as a slide-film user, you're much less likely to run into the same frustrations that negative-film users usually have when they first switch over to digital.
Even though there are further methods available to the digital photographer, such as combining different exposures as layers into a single image, and thereby side-stepping a lot of problems regarding exposure metering, the method explained here remains an essential base.
Digital photographers have an amazing advantage with the immediacy of the histogram and blinking highlights display. These are two essential tools that every serious photographer need to understand how to use.
Also, every serious photographer will ultimately have to become acquainted with the Zone System, or elements thereof. The method I describe here is a distillation of that. I definitely recommend that anyone interested in understanding exposure metering, delve further into the Zone System.
---
Further notes
Please note: for simplicity of explanation on this page, I didn't take into account the tonality or reflectivity of the various areas, but just how the light falls in the scene and subject. (Taking the reflectivity of your subject matter and the scene into account, is just an extension of the same approach and thought process, but I didn't want to make the explanation overly complex.)
There are specific reasons why I did not simply use auto-metering and dial in exposure compensation, but chose to use manual mode.
Something else to take cognizance of is that metering with variable-aperture zooms can be problematic if done at maximum aperture, and you zoom in and out.
I explain more on a following page on when to choose between center-weighted, evaluative (matrix) and spot-meter metering modes .
Averaging various spotmeter readings, is another alternative method mentioned sometimes – where you would spot-meter the dark areas and the high-light areas and then set your exposure as a happy medium. In my opinion, this might work some of the time, but most times, you will find that your actual subject will still be under or over-exposed – simply because the exposure value calculated this way is different from the settings needed to expose correctly for the actual subject.
Even if you want ensure correct exposure in tricky situations by bracketing your exposures, using a consistent method like this would ensure that you bracket with some specific idea in mind, and will most likely be very close to a correct exposure anyway.
By getting used to a specific way of measuring and evaluating exposures, you are eliminating random guesswork and building up towards a consistent and repeatable method of metering accurately and correctly.
---
Help support this website
---