Exposure Metering Technique
Camera metering modes  |  Exposure compensation
more articles on exposure metering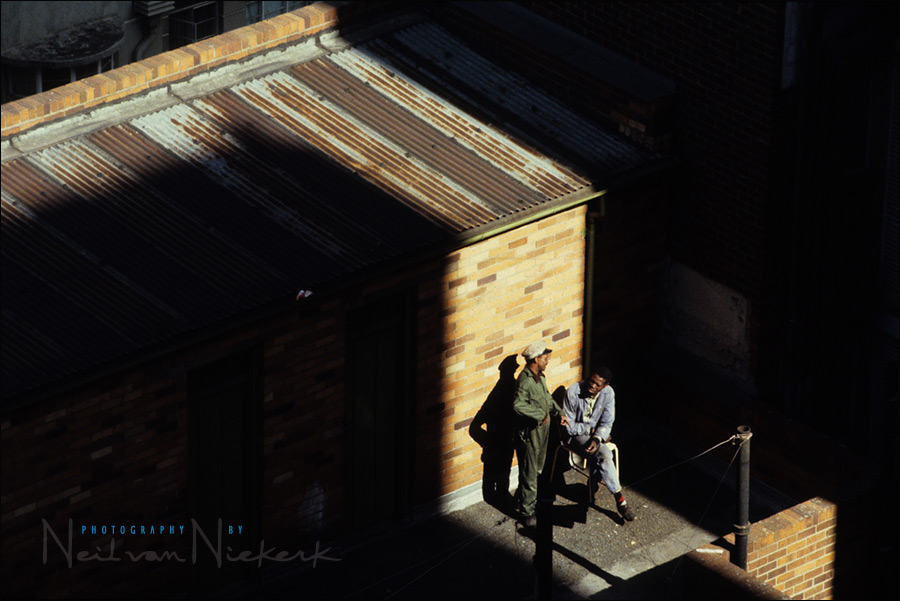 Using exposure compensation vs manual exposure
Using the exposure compensation dial on your camera is only useful when the area that you are metering off, is consistently darker or lighter than "average". Then you could simply dial in the exposure compensation to have the subject appear appropriately darker or lighter. I also use exposure compensation to bracket exposures.
For any other practical situation, I find it frustrating to try and use exposure compensation with in-camera metering. Let me explain again with a previous photograph ..
The men in this photo are my subjects, not the dark areas. So depending on the actual composition I chose or how much I zoomed in or out, I would have had to set different exposure compensation for EACH composition. This is because the amount of dark areas in the frame would vary dramatically each time for differing compositions – affecting my camera's light meter differently each time – yet I would want to maintain the proper exposure of my real subject.
The crucial thing to realise here is that even though my camera's meter reading will change as I zoom in and out, the exposure that I correctly calculated for my subject – the two men – won't change. (Unless the lighting should change, eg. clouds passing overhead. But then I would need to take a meter reading again in the same way as described before.)
---
If had I decided to make the figures larger in the final frame, there would have been less dark patches, and the general meter reading in auto would have been different. And similarly, if I had used a shorter lens or zoomed out to get a wider view, there would have been more dark areas and the subject – the two men – would have been even more over-exposed in the photograph if I had simply used auto-exposure.
Also, how much exposure compensation would I have had to dial in for each shot? I would only be able to decide on that if I metered for the 2 men anyway, and then compared that reading to the overall reading I'm getting now when I have recomposed the image in the viewfinder. So if I had tried to use exposure compensation, I would have had to twiddle buttons or dials for so much time, that taking a photo in this instance would have taken me far too long. This is no problem if you are photographing a cactus in the desert which isn't going to go anywhere for the next couple of decades, but for non-static subjects like people, using exposure compensation like this is just too slow. You could quite likely miss the actual opportunity while bracketing or setting exposure compensation.
On the rare occasions that I use an automatic exposure mode, I do use exposure compensation though, for when the whole scene is uniformly darker or lighter than average in tone. If the scene is uniformly darker than *average*, I will dial in -1 EV for example. This will bias the meter into giving one stop less exposure, and hence a darker image. And similarly for a scene that is lighter than average, I will dial in +1 EV for example. This will bias the meter into giving one stop more exposure, and hence a lighter image. The exact amount of compensation depends though on how dark / light the scene is and how dark / light I want to render it.
Also, familiarize yourself with Flash exposure compensation if you are using TTL flash. It is a related topic to general exposure compensation.
---
Help support this website
---